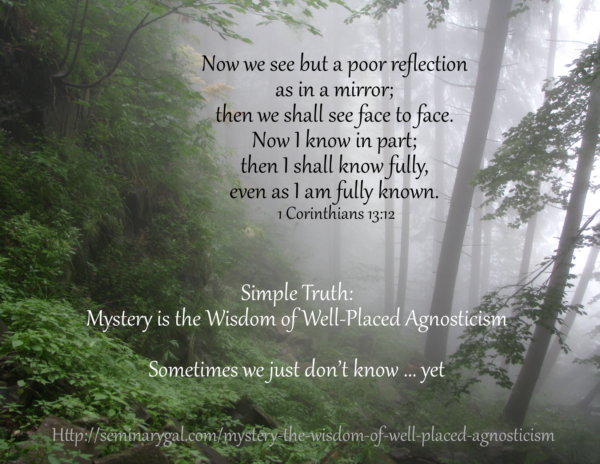 Part of the ongoing debate in the public square that is never mentioned is that we do not have the complete picture, only a part: selective stories, fragments of information from our slice of social interaction and media consumption. We only have partial information about many things about which only God knows the complete story and how it unfolds. Sometimes, the thing—if tomorrow's fuller knowledge were known today—would change the way we view it.
I'm reminded that among Jesus' last words before His ascension, Acts 1: 7 "He said to them: 'It is not for you to know the times or dates the Father has set by his own authority. 8 But you will receive power when the Holy Spirit comes on you; and you will be my witnesses in Jerusalem, and in all Judea and Samaria, and to the ends of the earth.' 9 After he said this, he was taken up before their very eyes, and a cloud hid him from their sight. 10 They were looking intently up into the sky as he was going, when suddenly two men dressed in white stood beside them. 11 'Men of Galilee,' they said, 'why do you stand here looking into the sky? This same Jesus, who has been taken from you into heaven, will come back in the same way you have seen him go into heaven.'"
Jesus didn't say the date or the time. He said, "It's not for you to know." It's none of your business. Live with the mystery since it keeps you humble. It keeps you waiting. It keeps you watching. It keeps you hungering for more to go on.
Max Lucado, one of the Christians who couldn't keep his judgments silent in recent months, somehow forgot the point of a fable he writes about called the Woodcutter's Wisdom and the important lesson about patience with earthly judgments and holding the fragments of knowledge loosely lest they break in our hands. I'll link to the fable here and reprint the text below. It's a long fable, but worth the read.
I'm reminded every day that I must look to the Author of all Wisdom and allow myself to live with the mystery…the things I don't know, the things I can't know, and instead, to remember the Simple Truth that there's Wisdom in a well-placed agnosticism, and a willing acceptance that I just don't know, I can't know, and I won't know until some other day that God has determined is the right time.
1 Corinthians 13:12 Now we see but a poor reflection as in a mirror; then we shall see face to face. Now I know in part; then I shall know fully, even as I am fully known.
===
Lord Jesus, please help me to accept the mystery of Your return, of Your Kingdom, and of the way You work all things for our good and Your glory. When things seem out of control, when things make no sense, please help me to show the greater part of wisdom in holding fragments of knowledge loosely, being content with what You have chosen for me to know. Grant that I should listen and look to You, seeking the wisdom of Your Holy Spirit to discern the times as You see them, and avoiding the so-called wisdom of our times however much sense they might make in fragments. Protect my heart, my mind, and my spirit. Guard it in Jesus Christ my Lord, Amen.
===
As told by Max Lucado, "The Woodcutter's Wisdom".
Once there was an old man who lived in a tiny village. Although poor, he was envied by all, for he owned a beautiful white horse. Even the king coveted his treasure. A horse like this had never been seen before—such was its splendor, its majesty, its strength.
People offered fabulous prices for the steed, but the old man always refused. "This horse is not a horse to me," he would tell them. "It is a person. How could you sell a person? He is a friend, not a possession. How could you sell a friend?" The man was poor and the temptation was great. But he never sold the horse.
One morning he found that the horse was not in the stable. All the village came to see him. "You old fool," they scoffed, "we told you that someone would steal your horse. We warned you that you would be robbed. You are so poor. How could you ever hope to protect such a valuable animal? It would have been better to have sold him. You could have gotten whatever price you wanted. No amount would have been too high. Now the horse is gone, and you've been cursed with misfortune."
The old man responded, "Don't speak too quickly. Say only that the horse is not in the stable. That is all we know; the rest is judgment. If I've been cursed or not, how can you know? How can you judge?"
The people contested, "Don't make us out to be fools! We may not be philosophers, but great philosophy is not needed. The simple fact that your horse is gone is a curse."
The old man spoke again. "All I know is that the stable is empty, and the horse is gone. The rest I don't know. Whether it be a curse or a blessing, I can't say. All we can see is a fragment. Who can say what will come next?"
The people of the village laughed. They thought that the man was crazy. They had always thought he was fool; if he wasn't, he would have sold the horse and lived off the money. But instead, he was a poor woodcutter, an old man still cutting firewood and dragging it out of the forest and selling it. He lived hand to mouth in the misery of poverty. Now he had proven that he was, indeed, a fool.
After fifteen days, the horse returned. He hadn't been stolen; he had run away into the forest. Not only had he returned, he had brought a dozen wild horses with him. Once again the village people gathered around the woodcutter and spoke. "Old man, you were right and we were wrong. What we thought was a curse was a blessing. Please forgive us."
The man responded, "Once again, you go too far. Say only that the horse is back. State only that a dozen horses returned with him, but don't judge. How do you know if this is a blessing or not? You see only a fragment. Unless you know the whole story, how can you judge? You read only one page of a book. Can you judge the whole book? You read only one word of a phrase. Can you understand the entire phrase?
"Life is so vast, yet you judge all of life with one page or one word. All you have is a fragment! Don't say that this is a blessing. No one knows. I am content with what I know. I am not perturbed by what I don't."
"Maybe the old man is right," they said to one another. So they said little. But down deep, they knew he was wrong. They knew it was a blessing. Twelve wild horses had returned with one horse. With a little bit of work, the animals could be broken and trained and sold for much money.
The old man had a son, an only son. The young man began to break the wild horses. After a few days, he fell from one of the horses and broke both legs. Once again the villagers gathered around the old man and cast their judgments.
"You were right," they said. "You proved you were right. The dozen horses were not a blessing. They were a curse. Your only son has broken his legs, and now in your old age you have no one to help you. Now you are poorer than ever."
The old man spoke again. "You people are obsessed with judging. Don't go so far. Say only that my son broke his legs. Who knows if it is a blessing or a curse? No one knows. We only have a fragment. Life comes in fragments."
It so happened that a few weeks later the country engaged in war against a neighboring country. All the young men of the village were required to join the army. Only the son of the old man was excluded, because he was injured. Once again the people gathered around the old man, crying and screaming because their sons had been taken. There was little chance that they would return. The enemy was strong, and the war would be a losing struggle. They would never see their sons again.
"You were right, old man," they wept. "God knows you were right. This proves it. Yours son's accident was a blessing. His legs may be broken, but at least he is with you. Our sons are gone forever."
The old man spoke again. "It is impossible to talk with you. You always draw conclusions. No one knows. Say only this: Your sons had to go to war, and mine did not. No one knows if it is a blessing or a curse. No one is wise enough to know. Only God knows."