Near the cross of Jesus stood his mother, his mother's sister, Mary the wife of Clopas, and Mary Magdalene. When Jesus saw his mother there, and the disciple whom he loved standing nearby, he said to his mother, "Dear woman, here is your son," and to the disciple, "Here is your mother." From that time on, this disciple took her into his home (John 19: 25-27).
In this third installment of Jesus' Seven Last Words, we see His progressive separation from earthly attachments and His installation of Kingdom priorities.  During the time frame of His crucifixion, He would be separated from
His disciples through betrayal and arrest;
His reputation in an unfair trial with false witnesses;
His right to justice through an undeserved death sentence;
His dignity through flogging and being stripped of clothing;
But now Jesus was faced with a most difficult separation: one involving His mother.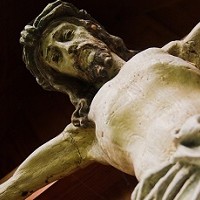 Mary had known since Jesus' birth that something would happen to pierce her soul (Luke 2:29-35).  It is unlikely she'd ever have imagined crucifixion of her son.  So Jesus, upon the Cross, gazes down at His mother and His beloved disciple John.  While separating Himself from both family and friend as He faces death, He gives them both a new vision and new relationship.
Jesus installs Kingdom priorities that redefine relationship as one by faith. 
Jesus had brothers and sisters–Mary's other children fathered by Joseph.  But instead of telling Mary to go home to her eldest son for care and comfort, Jesus redefines her family—His family—in relation to faith.  Mary believed.  John, the beloved disciple, believed.  This common belief created a bond of relationship—of love.
This is the Church (or at least how it is supposed to be):  People related in love to one another by our common faith in Christ, our brother; people who have been brought into the family of God by Christ's sacrifice; and people who call upon God as our Father in heaven. Kingdom priorities value faith over flesh. 
How great is the love the Father has lavished on us, that we should be called children of God! And that is what we are! (1 John 3:1)
How do we see Victory in Jesus' Last Words here?  It is seen in a relationship of common faith, displayed in the Spirit's bonding of one human heart to another through the love of Christ.