Everyone likes an atta-boy or atta-girl from time to time.  Being recognized for doing a good job.  Affirmed in something that we've worked hard to accomplish.  A cheer along the marathon of life saying, "Keep it up!  You're doing great!" 
With the finish line ahead, sometimes the final lap can feel like such a struggle that if it weren't for a good coach instilling in us the desire to finish the race, finishing strong would be difficult, if not impossible.
In our Lenten devotionals series, we're in the midst of a marathon of New Testament writings and seeing how to walk on the Way of Holiness (Isaiah 35:8-10).  The Way of Holiness is our finish line and our finishing strong—even in the midst of persecution—is possible because of God's protection.  Our goal is to be counted worthy to walk on the Way of Holiness.
Therefore, among God's churches we boast about your perseverance and faith in all the persecutions and trials you are enduring.  All this is evidence that God's judgment is right, and as a result you will be counted worthy of the kingdom of God, for which you are suffering (2 Thessalonians 1: 4-5).
The Apostle Paul knows what he's talking about.  Arguably, there have been few who suffered as much as Paul (2 Cor 11:23-12:10).  For us, reading the writings of the Apostle Paul can be likened to being coached by the world record holders for endurance in suffering: Jesus and Paul.
What do Jesus and Paul say about endurance on the Way of Holiness?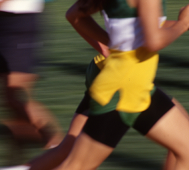 The keys to enduring suffering and being worthy of our calling are continually growing in both faith and love.   Keep up your pace!  No pain, no gain!  The hecklers will eventually eat your dust and you will be proven faithful.  So Paul calls out some encouragement to finish strong,
With this in mind, we constantly pray for you, that our God may count you worthy of his calling, and that by his power he may fulfill every good purpose of yours and every act prompted by your faith (2 Thessalonians 1:11)