Psalm 127:1 A song of ascents. Of Solomon. Unless the LORD builds the house, its builders labor in vain. Unless the LORD watches over the city, the watchmen stand guard in vain. 2 In vain you rise early and stay up late, toiling for food to eat– for he grants sleep to those he loves. 3 Sons are a heritage from the LORD, children a reward from him. 4 Like arrows in the hands of a warrior are sons born in one's youth. 5 Blessed is the man whose quiver is full of them. They will not be put to shame when they contend with their enemies in the gate (NIV).
As our Songs of Ascents continue, we've seen that we can:
Expect Opposition
Gaze Beyond the Hills
Seek God's Presence and Know His Peace
Cry Out, 'Have Mercy'
Remember God's Ways of Escape
Have Blessings of Security Coming from Him
Reap a Harvest of Joy
And today, we come to the eighth Song of Ascents.  Blessings of Security come from God –we've seen that already.  Today, we're seeing the bigger picture that God is the One from Whom All Blessings Flow.
In Psalm 127, we see that it's not just security that God provides.  He is the giver of everything from the place in which we live…to the food we eat…to the jobs we need… to the roof over our heads…to the sleep we require…to the children we are blessed to have…to the confidence of a right standing with God.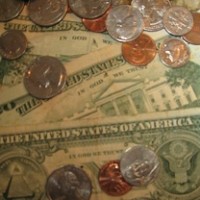 In God We Trust needs to be a lifestyle lived by a grateful people, not just a slogan printed on our currency and an issue to be tossed about like a political football.
Ultimately when we live as though it's just a national motto or a political advertising campaign, we risk leaving God completely out of the picture.  It's as if our life's blessings arose by our own will.
Are we grateful to God? 
Do we believe He exists apart from any benefit we might be able to gain from Him? 
Have we been living with the humble acknowledgement that He alone is God?  Do we truly depend on Him? 
When we act as though we've provided everything for ourselves, in Babel fashion, we will be put to shame.  Shame isn't the same as being embarrassed.  It's more like being exposed when what we have built–and been so proud of–falls apart when the storms of life come.  Unless God builds the house, its builders labor in vain.  We need to be careful where we place our trust.
The God of the Bible is the One from Whom All Blessings Flow!  Therefore, "In God We Trust" needs to be our confident and humble doxology, a thankful expression, a lifestyle, and confession of God-fearing believers everywhere.