Do you get the feeling that the farther "Up to Jerusalem" we're climbing, the harder the lessons get?  God's Way of Escape has been our hardest lesson to date. And the hits just keep on coming.
Luke 13:31 At that time some Pharisees came to Jesus and said to him, "Leave this place and go somewhere else. Herod wants to kill you." 32 He replied, "Go tell that fox, 'I will drive out demons and heal people today and tomorrow, and on the third day I will reach my goal.' 33 In any case, I must keep going today and tomorrow and the next day– for surely no prophet can die outside Jerusalem! 34 "O Jerusalem, Jerusalem, you who kill the prophets and stone those sent to you, how often I have longed to gather your children together, as a hen gathers her chicks under her wings, but you were not willing! 35 Look, your house is left to you desolate. I tell you, you will not see me again until you say, 'Blessed is he who comes in the name of the Lord.'" (NIV)
We're hearing the Songs of Ascent as the background musical score: Expect Opposition; Gaze Beyond the Hills; Seek God's Presence and Know His Peace; and Cry Out 'Have Mercy.'  God's Way of Escape begins with the dark notes of a world of sin from which we need to be delivered.  Look at all the problems of this world: spiritual darkness, physical problems, rejection, death, persecution, desolation.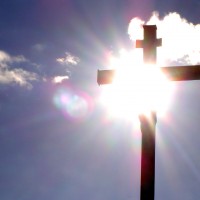 But God is concerned with redemption!
In today's passage, Jesus looks beyond the darkness and opposition of Herod and others who don't accept God's Way of Escape.
He presses onward with His calling. 
He presses on toward the goal! 
He presses into the hard way to the Cross, to His death, and to God's Way of Escape.
When the going gets tough, the tough get going—but this is far more than that!  It is acknowledging that God's Way of Escape is rarely the painless or easy route. 
Just like our discipleship journey is a long and winding road, Jesus' journey to the Cross had been paved since before the creation of man.  Now He was showing us the fullest extent of His love:  Christ Our Redeemer.
For you know that it was not with perishable things such as silver or gold that you were redeemed from the empty way of life handed down to you from your forefathers,  but with the precious blood of Christ, a lamb without blemish or defect.  He was chosen before the creation of the world, but was revealed in these last times for your sake (NIV) 1 Peter 1:18-20
For further thought:
Are there aspects of your life that God wants to redeem?

What opposition has taken its stand against God's Way of Escape for you?

In what ways has the easy route seemed better to you?