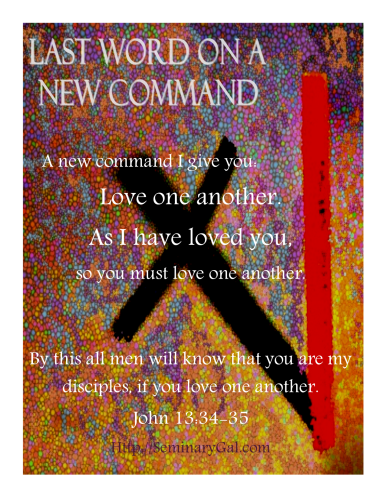 John 13: 34 "A new command I give you: Love one another. As I have loved you, so you must love one another. 35 By this all men will know that you are my disciples, if you love one another."
With Christ in the Upper Room, the disciples were probably still scratching their heads over the concept of increasing glory and wondering where Jesus was going.  Now He says He has a new command for them, but it's one they heard before—a long time ago, in fact.  Leviticus 19:18 "'Do not seek revenge or bear a grudge against one of your people, but love your neighbor as yourself. I am the LORD."
They must have felt totally confused and wondered,
What's so new about it?

A: The yardstick.
A while back Emeril Lagasse had a cooking show on the Food Network before he was banished to different time slots, networks, and roles.  One of his characteristic statements was "BAM!"  Another was to "Kick it up a notch."
That's what we're seeing in the new command Jesus gives.  It's a whole new level of love.  Suddenly BAM!  Jesus kicked it up a notch: "As I have loved you."  That's the new standard of love.
"As I have loved you, so you must love one another."
* * *
Give it Up for Lent: Settling for lower standards of love
Put it On for Lent: The love of Christ
For further thought:
The movie 50 Shades of Gray is in theaters right now and many people went to see it for Valentine's Day.  Pray about all the ways this cannot even begin to approach a celebration of love.  Instead of raising the standard, how has Hollywood deformed love beyond recognition and substituted God-given physical intimacy in marriage with Hollywood's lowest, most perverted cultural form?
Living by a new yardstick, how can your life display the kind of love Jesus commands?
Read

1 Corinthians 16:13 "Be on your guard; stand firm in the faith; be men of courage; be strong. 14 Do everything in love."

  What qualities do you see here that reflect the love Jesus is talking about in the new command?
Identify ways you can measure your love by the new yardstick of Christ's love for you.  What are some things you can do?
* * *
You can receive these devotional studies in your email (Monday through Saturday during Lent) by entering your email address on the SeminaryGal.com home page in the space provided in the sidebar.  Let's meet With Christ in the Upper Room.