I'm going to jump ahead a bit to talk about the Just War, mainly because of the present danger and horrible decision facing the United States and the world.
Within the past 48 hours, the Pope prayed with the faithful from around the world on a day he set aside for prayer and fasting.  The faithful prayed for a peaceful solution to the situation in Syria.  On the other side of the world, the President of the United States has been making a plea for limited military intervention to keep Assad from further use of chemical weapons against his own people.  President Obama has been interviewed on major news networks and will appear tonight in an address to the nation.
What is the right thing to do in this situation?  Jesus showed us by His example from 1 Peter 2:21-23 that suffering exists in this world, but that Christians entrust ourselves to the One who Judges Justly.  
1 Peter 2: 23 "When they hurled their insults at him, he did not retaliate; when he suffered, he made no threats. Instead, he entrusted himself to him who judges justly."
Tough questions abound.  How does not intervening differ from letting evil go unchecked?  Does entrusting oneself to God mean pacifism is the only way?  Is war ever right?  Is there such a thing as a Just War?
Just War.  For some there is no such thing.  It's an oxymoron.
Just War.  For some hawkish types, it's the answer to every problem.  What's our solution?  Just War.
Just War.  But for those who look at the world with Kingdom vision, it's not an individual or even a national interest that compels the Just War.  The Just War is a moral instrument of God to preserve life and good and truth over against death and evil and falsehood.
I really appreciate Jean Bethke Elshtain's perspective that I discovered when I read her obituary and all the tributes to her life and teachings.  She was a Divinity School professor and theological scholar at the University of Chicago and wrote about the Just War. According to the University of Chicago Magazine,  
As Elshtain wrote in that book, although just-war tradition never regards armed conflict as "desirable, or as any kind of social 'good,'" it nevertheless "acknowledges that it may be better than the alternative."
Just War Against Terror enumerated the complex criteria to determine whether force is justified and to keep its use within necessary limits: a war must prevent harm to innocents and be openly declared by a legitimate authority. It must be a response to unjust aggression against one's own people or an innocent third party. It must be the last resort after all other options are exhausted. It must be embarked upon only with a reasonable chance of success and conducted in a fashion that protects noncombatants.
Sad as it is for us to admit, an "innocent third party" is not the same as "civilian."  The Jews in the Holocaust were an "innocent third party" caught in the cross-hairs of Hitler who sought their extermination.  Many civilian casualties have happened in every war and are a function of a decision to enter into war by the governments representing the civilians.
I am troubled by the Syrian government, military, the Syrian rebels and indeed our own US government parading the dead bodies of children and other civilians all over TV as a means of swaying public opinion.  There is a blurring occurring—a declaration of those non-combatants to be innocent third parties in need of our intervention when, in fact, they are civilian casualties of a civil war.  They are not the same thing.
Death of non-combatants is awful to be sure.  Every death is awful.  But wars kill people  Wars will persist until Jesus returns.
Matthew 24: 3 As Jesus was sitting on the Mount of Olives, the disciples came to him privately. "Tell us," they said, "when will this happen, and what will be the sign of your coming and of the end of the age?" 4 Jesus answered: "Watch out that no one deceives you. 5 For many will come in my name, claiming, 'I am the Christ, 'and will deceive many. 6 You will hear of wars and rumors of wars, but see to it that you are not alarmed. Such things must happen, but the end is still to come. 7 Nation will rise against nation, and kingdom against kingdom. There will be famines and earthquakes in various places. 8 All these are the beginning of birth pains. 9 "Then you will be handed over to be persecuted and put to death, and you will be hated by all nations because of me. 10 At that time many will turn away from the faith and will betray and hate each other, 11 and many false prophets will appear and deceive many people. 12 Because of the increase of wickedness, the love of most will grow cold, 13 but he who stands firm to the end will be saved. 14 And this gospel of the kingdom will be preached in the whole world as a testimony to all nations, and then the end will come.
Wars will happen.  Nation will rise against nation, but sometimes a Just War is necessary.
This photo is from http://www.historic-uk.com/HistoryUK/HistoryofBritain/The-Kings-Speech/ and shows the transcript of King George VI's wartime speech as Great Britain entered into WWII.  Note the principles on which Great Britain entered into war…all the way to reverently commending their cause to God.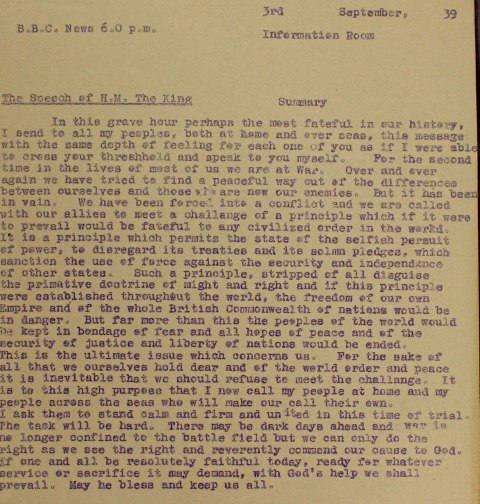 Standing firm and entrusting our cause to God is what Jesus modeled for us in 1 Peter 2:23.  We trust God to deal with whatever is facing us.  God will take up our case, defend our cause, minister to our pain, and vindicate us in the end. 
Ultimately a Just War protects and preserves.  Anything else is just war.