Genesis 37:5 Joseph had a dream, and when he told it to his brothers, they hated him all the more.
As if they needed a reason to hate him more.
Normally a person wears a coat on his back, covering his shoulders, arms, and part of his torso. In Joseph's case as we continue our look at Joseph: A Life With Many Colors, we can guess his coat went to his head. At least that's what the half-brothers thought and soon we'll see that his father, too, was wondering if he'd created a monster with that coat. And it's all because of two dreams that Joseph could have kept to himself, but he didn't.
(Stepping out of the story for a moment, I'm glad he told the dreams and it made it into Scripture, because it would be proof in the future that what happened was foreseen and foreordained by God. It adds to the narrative and the proof. You see, before the Holy Spirit's indwelling, dreams held a special place as evidence of divine revelation. These dreams are no exception so it's good that Joseph shared them, and it made it into Scripture).
These are two dreams hinting not only at God's sovereignty, but also at the importance of dreams for Joseph's future. Here's the first dream, in Genesis 37:6 He said to them, "Listen to this dream I had: 7 We were binding sheaves of grain out in the field when suddenly my sheaf rose and stood upright, while your sheaves gathered around mine and bowed down to it."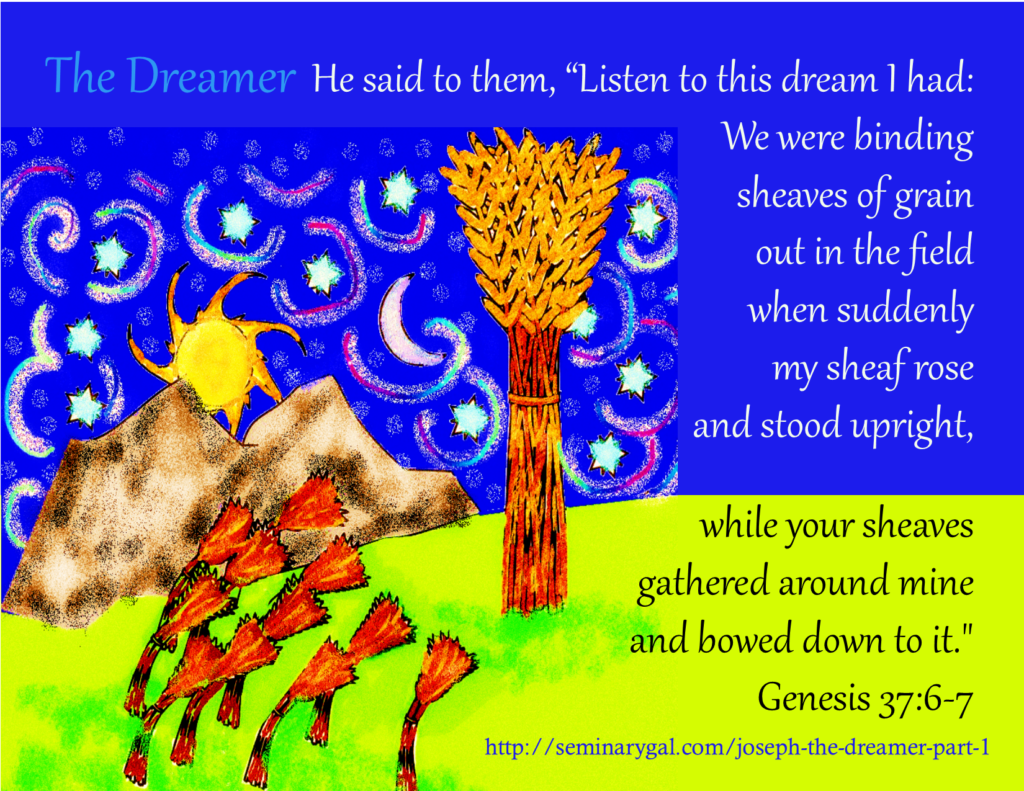 Do you see it's the issue of authority, same as with the coat?
That's certainly how the brothers interpreted it. Genesis 37:8 His brothers said to him, "Do you intend to reign over us? Will you actually rule us?" And they hated him all the more because of his dream and what he had said.
As if they needed a reason.
Think about it:
Jacob deceived his brother Esau and his father Isaac to get a birthright and a blessing. Joseph was gaining the edge over his 11 brothers simply by being Daddy's favorite. No deception required. All he had to do was exist. How might this have particularly irked Reuben, Leah's and Jacob's firstborn who usually received a father's blessing and double inheritance?

Does anything in this first dream indicate this ruling will extend beyond the family dynamic of Joseph's ruling over his brothers?

These guys were herders/shepherds, not farmers. Do you find it an interesting detail that this dream involved grain? (See Genesis 41:53-42:3 for insight)