There are very few Bible characters about whom we know as much as we do Joseph, son of Jacob (also known as Israel). And there's a good reason we know so much. But don't let me get ahead of myself and spoil the telling of this amazing story.
In our new series, "Joseph—A Life With Many Colors" we'll look at this person who first appears in Genesis 30:22 and predominates the next 20 chapters of Scripture. He also appears in the speech Stephen gave before the Sanhedrin in Acts 7 even though he's not strictly one of the 3 patriarchs: Abraham, Isaac, and Jacob. He was a favorite son of Jacob–indeed a favorite of the Jewish people throughout history but he's not even in the lineage of the Messiah. He's not that Joseph.
For thought:
Why does Scripture devote 20 chapters to someone who doesn't lead directly to the Christ?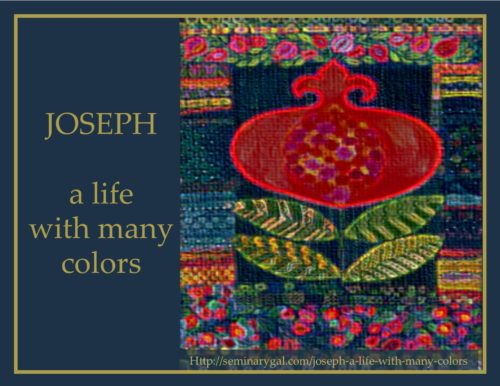 .
Join me next time for the first lesson on Joseph– "A Cherished Birth" — as we work toward answering that question of why there's so much air time for Joseph along the way. As always, you can have these studies in your email in-box by signing up on the sidebar of the Seminary Gal Home page or if you have Facebook and you "Like" my page (Seminary Gal), they're always reprinted there. Or visit every day. I love having your readership since you are the reason I write. Thank you for blessing me and let's start the New Year with learning together! In His grace, Barbara <><