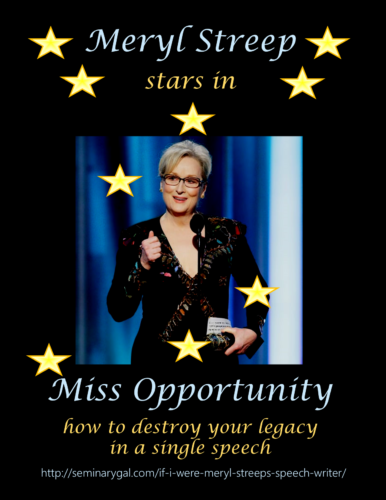 Instead of using the glorious opportunity of being awarded the Cecil B. DeMille Award for lifetime achievement and using that acceptance speech in good and productive ways, Meryl Streep chose to have her legacy be one of arrogance and sniping bitterness. Meryl Streep's speech will go down in history as a missed opportunity.
That's a pity.
A few throwaway lines about empathy displaying that when she's not acting, she apparently has very little, if any.
It's all an act.
Meryl Streep's speech was both an opportunity and a legacy squandered.
* * *
Here's the speech I WISH she'd given:
I love you all. You have to forgive my reading my speech. Sometimes in life there are no words for the sobering gratitude for such an honor bestowed on such an unworthy person as me.
A lifetime achievement might seem like a lot. But my lifetime's not over and my legacy is one historians of Hollywood have yet to finish writing. Just like yours. But who are we and, you know, what is Hollywood, anyway? It's just a bunch of people from other places who have been gifted and privileged to be on TV or the silver screen—a privilege whether it be for a flash of genius or a lifetime of powerful performances.
To be recognized by the Foreign Press and the company of your peers is deeply humbling. And I have no words to express my sincere gratitude.
So I will use the remainder of my time to say that we'd be nothing without the people of this world who watch us on the screen as we portray the lives of people not so different from them. As Shakespeare's wisdom in "As You Like It"—"All the world's a stage, And all the men and women merely players; They have their exits and their entrances, And one man in his time plays many parts." Or Walt Whitman's immortal words recalled by one of our own, the late Robin Williams in Dead Poet's Society: "The question, O me! so sad, recurring—What good amid these, O me, O life? Answer. That you are here—that life exists and identity, That the powerful play goes on, and you may contribute a verse."
The people of this world who endure the unthinkable, who see tragedy upon tragedy, who experience the horrors of war, the violence of the streets, the passions of love lost do so–not on a silver screen and for fame or recognition or money–but as their real lives. Yes, they also know the raptures of joy, the satisfaction of a job well done, the beauty of life, and the pride of accomplishment as their powerful play goes on, and they contribute their verse to this thing called life. Their verses are real yet never receive the celebrity that ours do.
For them, life is real and day after day in an endless stream…far too often, their stage offers them nothing but a new worry. They look to us to be a place of blessed relief when life gets too hard. So let us honor them. Let us be the kind of community that honors their lifetime achievements, telling their untold stories of hope, perseverance, and inspiration, of beauty and brokenness, of redemption and healing. Or as my friend, the dear departed Princess Leia, said to me once: "Take your broken heart, make it into art."
We can offer back to them a voice, as my friend Bette Midler sang,
From a distance
The world looks blue and green
And the snow-capped mountains white
From a distance
The ocean meets the stream
And the eagle takes to flight
From a distance
There is harmony
And it echoes through the land
It's the voice of hope
It's the voice of peace
It's the voice of every man
Yes, with the right perspective, my dear friends, we can be that harmony and offer that hope. We can share a verse that exalts the very best of ideals. We can be that peace. And through our craft, we can be that voice of every man. Thank you, America the beautiful. Thank you, world blue and green. And thank you, Foreign Press, for this tremendous honor.
===
And for comparison, here's the text of Meryl Streep's speech, the one she actually gave:
I love you all. You have to forgive me, I have lost my voice in screaming and lamentation this weekend and I have lost my mind sometime earlier this year so I have to read.
Thank you, Hollywood Foreign Press. Just to pick up on what Hugh Laurie said, you and all of us in this room really belong to the most vilified segments of American society right now. Think about it: Hollywood, foreigners and the press.
But who are we and, you know, what is Hollywood, anyway? It's just a bunch of people from other places. I was born and raised and educated in the public schools of New Jersey, Viola was born in a sharecropper's cabin in South Carolina, came up in Central Falls, R.I. Sarah Paulson was born in Florida, raised by a single mom in Brooklyn. Sarah Jessica Parker was one of seven or eight kids from Ohio, Amy Adams was born in Vicenza, Veneto, Italy and Natalie Portman was born in Jerusalem. Where are their birth certificates?
And the beautiful Ruth Negga was born in Addis Ababa, Ethiopia, raised in Lon – no, in Ireland, I do believe, and she's here nominated for playing a small-town girl from Virginia. Ryan Gosling, like all the nicest people, is Canadian. And Dev Patelwas born in Kenya, raised in London and is here playing an Indian raised in Tasmania. So Hollywood is crawling with outsiders and foreigners and if we kick them all out, you'll have nothing to watch but football and mixed martial arts, which are not the arts.
They gave me three seconds to say this, so. An actor's only job is to enter the lives of people who are different from us and let you feel what that feels like. And there were many, many, many powerful performances this year that did exactly that, breathtaking, compassionate work.
But there was one performance this year that stunned me. It sank its hooks in my heart, not because it was good, it was – there's nothing good about it. But it was effective and it did its job. It made its intended audience laugh and show their teeth.
It was that moment when the person asking to sit in the most respected seat in our country imitated a disabled reporter, someone he outranked in privilege and power and the capacity to fight back. It, it kind of broke my heart when I saw it and I still can't get it out my head because it wasn't in a movie. It was real life. And this instinct to humiliate when it's modeled by someone in the public platform, by someone powerful, it filters down into everybody's life because it kind of gives permission for other people to do the same thing.
Disrespect invites disrespect. Violence incites violence. When the powerful use their position to bully others, we all lose. OK, go on with that thing. OK, this brings me to the press. We need the principled press to hold power to account, to call them on the carpet for every outrage.
That's why our founders enshrined the press and its freedoms in our constitution. So I only ask the famously well-heeled Hollywood foreign press and all of us in our community to join me in supporting the Committee to Protect Journalists, 'cause we're going to need them going forward and they'll need us to safeguard the truth.
One more thing. Once when I was standing around the set one day, whining about something, we were going to work through supper or the long hours or whatever, Tommy Lee Jones said to me: "Isn't it such a privilege, Meryl, just to be an actor?" Yeah, it is. And we have to remind each other of the privilege and the responsibility of the act of empathy. We should be very proud of the work Hollywood honors here tonight,
As my, as my friend, the dear departed Princess Leia, said to me once: "Take your broken heart, make it into art."
Thank you, Foreign Press.