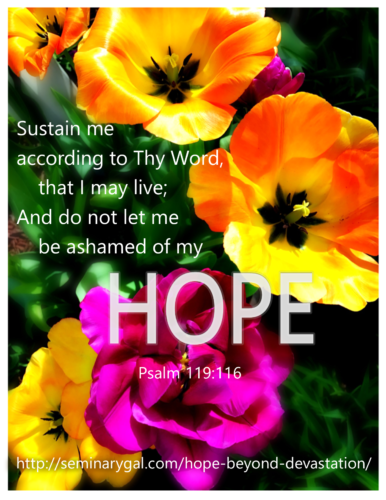 So here I am writing a series on Resurrection and suddenly I find myself feeling rather devastated. Since 1999, I've been a volunteer answering Bible questions and questions regarding relationships from a biblical perspective on a site called AllExperts. I was a volunteer there prior to its sale to About.com (2000) and suddenly this week, there's an email in my spam folder saying AllExperts has been closed. Devastation. If you search AllExperts and find a link, all you get is "After more than 19 years, and over two million questions answered, AllExperts.com is now closed. We apologize for any inconvenience. You can find our latest Expert-answered content at…" and I don't think I'll give them free advertising. There is no Christian section on it.
I have lost 18 years of carefully documented work—writings—which I suppose could be redone. It had been my most enduring ministry but now, it's gone.
I have lost touch with many people whose questions I answered over the past 18 years but who never contacted me personally. And that connection is irretrievable since their contact information was always kept private, as it should be.
The world has lost the ability to read through past answers—not just mine, but on a whole range of topics from many different experts—and I know this stealth searching happened because some people asked follow-on questions to someone else's answer many years prior.
I'm devastated. And being a person who likes analogies, I've been trying over the past few days to understand why I feel this way. It's worse than a computer crash because computers can be backed up, these days in the cloud or on special services, or even external hard drives. What I have lost cannot be recovered. It's worse than losing one's job after 18 years of dedicated employment because there would have been 18 years of paychecks along the way with contributions to a company and co-workers who can still get in touch with you. It's not quite like losing a family member, but there are definite similarities because I've lost people. Perhaps the best analogy regarding my work comes from the realm of art. It's like a warehouse of your best paintings burning to the ground, or a series of handwritten screenplays or symphonies never performed going up in smoke. Your life's work, suddenly gone. And you're left with … nothing.
But there's hope beyond devastation. Because that's the God I serve! His earthly ministry died on the Cross, but after 3-days-dead in a tomb, He was Resurrected. Resurrection doesn't happen without death.
I do not know what form this hope will take, but I'm looking for it. I want to believe I've made a difference in a few lives, made a few friends for eternity, helped some folks along the way for no benefit to myself, and that what has been destroyed in a suddenly closing is still recorded for the Lamb's glory and the quality of this woman's workmanship stored up in heaven will be something positive that I will see someday.
What does it mean to be Resurrected? Hope is ours and hope is real and hope is eternal…even when life devastates for a moment. Psalm 119:116 Sustain me according to Thy word, that I may live; And do not let me be ashamed of my hope.
Our series on 1 Corinthians 15 entitled What It Means to Be Resurrected will resume after this personal note on hope beyond devastation. The series can be read fully from the archives beginning April 2017.