Why is it so hard oftentimes to move forward…to feel like we're making progress?"
Well, that's something I ask myself frequently. One day when I was reading this passage, a thought occurred to me.
Philippians 3:3 For it is we who are the circumcision, we who worship by the Spirit of God, who glory in Christ Jesus, and who put no confidence in the flesh– 4 though I myself have reasons for such confidence. If anyone else thinks he has reasons to put confidence in the flesh, I have more: 5 circumcised on the eighth day, of the people of Israel, of the tribe of Benjamin, a Hebrew of Hebrews; in regard to the law, a Pharisee; 6 as for zeal, persecuting the church; as for legalistic righteousness, faultless. 7 But whatever was to my profit I now consider loss for the sake of Christ. 8 What is more, I consider everything a loss compared to the surpassing greatness of knowing Christ Jesus my Lord, for whose sake I have lost all things. I consider them rubbish, that I may gain Christ 9 and be found in him, not having a righteousness of my own that comes from the law, but that which is through faith in Christ– the righteousness that comes from God and is by faith. 10 I want to know Christ and the power of his resurrection and the fellowship of sharing in his sufferings, becoming like him in his death, 11 and so, somehow, to attain to the resurrection from the dead. 12 Not that I have already obtained all this, or have already been made perfect, but I press on to take hold of that for which Christ Jesus took hold of me. 13 Brothers, I do not consider myself yet to have taken hold of it. But one thing I do: Forgetting what is behind and straining toward what is ahead, 14 I press on toward the goal to win the prize for which God has called me heavenward in Christ Jesus.
Suddenly I knew: I can't move forward dragging the weight of everything God has told me to drop, to let go, or to leave behind.
Don't get me wrong. I've learned The Powerful Beauty of a Closed Door and I know better now than to try to keep doors open when God is closing them. If I know something is sin, I have plenty of reasons to let it go and with God's help, I can drop that, too. But…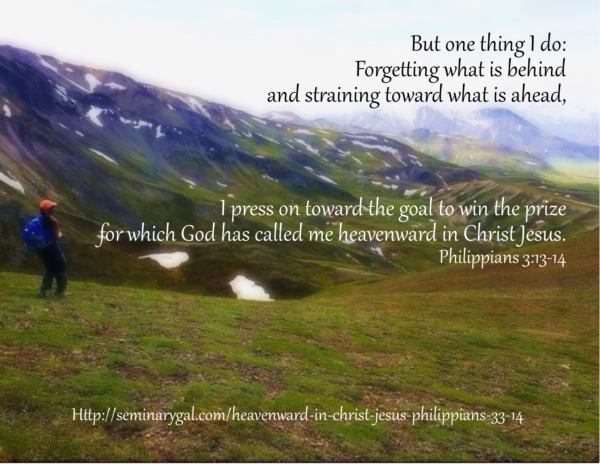 .
What's hard is letting go of things I really like. Things that make me feel important or needed. Accomplishments or work that has borne fruit.
It's like that scene from the movie Baby Mama when Kate Holbrook is interviewing her potential surrogate Angie:
Kate: You have a God-given ability that I just don't have.

Angie: I know I could

be good at this.

Kate: I think you could, too.

Angie: And, you know, it's nice to feel…

Kate: Needed?

Angie: Yeah. Needed.

Kate: Important, useful?

Angie: I like all those words.
Don't we all like to feel that way: important, useful, like our lives matter because of what we do? Isn't it hard when God says, "Let it go. Time to move on" and you're stuck with letting go of what you love (to be obedient) or end up holding on to what you love and rebelling against God?
Yet, the Apostle Paul reminds us to travel light as we head heavenward. To let go of everything in order to cling to Christ and follow Him.
Going back to the thought of absolutes. Think about it:
Look at verses 3, 8, and 13-14. What is absolute about them?

What did Paul put behind himself? Is he talking about sin or confidence in himself, his credentials?

Anything we cling to which separates us from God is an idol. Whether it's what's in your wallet or what's in your closet, if it's in the way of obedience, will you let it go, and leave it behind in order to head heavenward in Christ Jesus?
Praise Him for His wisdom and His perfect plan! Praise Him for His admonition to let it go, to keep us from thinking we can earn His love! Praise Him that He loves us unconditionally! Praise Him for this heavenward call to love and righteousness!