Healing and the Thorn
A message preached by Barbara Shafer at Advocate Condell Medical Center (May 4, 2014)
Whenever I come in here to the chapel, I'm always amazed at the prayer wall.  There are bulletin boards in the back and all kinds of prayer requests are on pinned onto it.  Prayers of thanksgiving.  Prayers asking God to bring someone into heaven and out of pain.  Prayers of concern for family members.  Prayer for surgeries.  And yes, prayers for healing.
As we explore the topic of prayer in our current series, Prayer: More than Conversation with God, no look at this subject would be complete without discussing prayers for healing.  After all, in a hospital setting, let's face it: it's on many people's minds.  And for good reason.
But prayers for healing are widely misunderstood. 
That's because there are churches out there that teach wrong things about prayers for healing.  In some cases, they exploit real human needs for their own purposes.  Sometimes, there are monetary exploitations…in which a pastor (particularly in churches in foreign countries) will ask for money in order to pray to remove a generational curse or a tantric.   Sometimes, it's emotional exploitation in which elders, leaders, or some other parishioner will tell you that you (or your loved one) is not being healed because you don't have enough faith.  And sometimes churches will make promises of healing that God is not obligated to fulfill.

When these misunderstandings, lies, and deceptions intersect with real human suffering and a person's deepest desire for healing, it can carve deep wounds…wounds in the Church and wounds in the individual in relationship to the Church and to God.
Let me just state this as clearly as I know how: If you believe in Jesus Christ and you're praying for healing, God's answer may not look like what we want.  It's not an automatic indictment on your level of faith, your level of giving to the church or anything else. 
Sometimes there's healing. 
Sometimes there's a thorn and God gives grace enough to cover it.
Today's passage of Scripture looks at a church that was dysfunctional in many ways and the Apostle Paul writes to them and offers his own life story as an example of how God's designs on someone's life may look very different than what they'd prayed for.  Even when they'd simply prayed to be healed.  Sometimes there's healing.  Sometimes there's a thorn.
Everyone wants a healing miracle.  No one wants to suffer.  I wish it was as simplistic as we pray for healing and God just does it.  The Apostle Paul's life shows us that sometimes there is something else going on.
2 Corinthians 12:1 I must go on boasting. Although there is nothing to be gained, I will go on to visions and revelations from the Lord.
The Corinthian Church was filled with a bunch of braggarts and show-offs.  Teachers who felt like they were worth a high payment because they're just that good.  To make matters worse, they looked down their noses at Paul.  He's not even worth being paid.  He's a loser who doesn't even have the guts to show up and look them in the eye.  All he does is write a bunch of letters and what do the people in Corinth do?  They doubt his authority.  So Paul plays their game.
2 Corinthians 12:2 I know a man in Christ who fourteen years ago was caught up to the third heaven. Whether it was in the body or out of the body I do not know– God knows. 3 And I know that this man– whether in the body or apart from the body I do not know, but God knows– 4 was caught up to paradise. He heard inexpressible things, things that man is not permitted to tell. 5 I will boast about a man like that, but I will not boast about myself, except about my weaknesses. 6 Even if I should choose to boast, I would not be a fool, because I would be speaking the truth. But I refrain, so no one will think more of me than is warranted by what I do or say.
He talks about this "man in Christ" but he's referring to himself.  He was given a job to do in the Body of Christ, to share the Gospel with the entire Gentile world and when Jesus first called him, the Lord told Ananias to lay hands on Saul who is also known as Paul.
Acts 9:13 "Lord," Ananias answered, "I have heard many reports about this man and all the harm he has done to your saints in Jerusalem. 14 And he has come here with authority from the chief priests to arrest all who call on your name." 15 But the Lord said to Ananias, "Go! This man is my chosen instrument to carry my name before the Gentiles and their kings and before the people of Israel. 16 I will show him how much he must suffer for my name." 17 Then Ananias went to the house and entered it. Placing his hands on Saul, he said, "Brother Saul, the Lord– Jesus, who appeared to you on the road as you were coming here– has sent me so that you may see again and be filled with the Holy Spirit.
I will show him how much he must suffer for My Name."
That's not anything that most of us would wish on ourselves.  But with a high calling comes a high price.  Seeing these visions and having an in-or-out-of-the-body experience of seeing the third heaven—paradise itself—must have been such an encouragement to a man who was in the process of suffering for the Name of Jesus.  The downside of such an obvious and amazing experience is that it could go to one's head.  So what does God do?
2 Corinthians 12:7 To keep me from becoming conceited because of these surpassingly great revelations, there was given me a thorn in my flesh, a messenger of Satan, to torment me.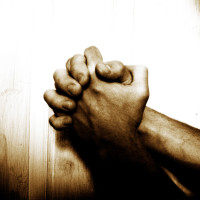 No one knows exactly what this "thorn in my flesh" was.  Was it a painful disease or condition?  Was it having his vision slowly taken from him?  Was it something else?  We don't know.  But we do know that Paul referred to it as a messenger of Satan…and that its role was to torment Paul.
It was good at it.  And Paul wanted it removed—whatever it was.
Let's bring it to us today. 
Is there something you want removed? 
A condition you want cured? 
A healing you're waiting for?
Let's ask some other questions about it: Might it be something God is intending to remind you of your frailty?  Might it be something to keep you dependent upon God?  Maybe is it something to keep your family members praying for you?
How often when bad stuff happens do we blame God for it, only seeing what's bad in the situation? 
We see the sickness.

God sees how He uses sickness and grace to help the Kingdom grow by the beautiful witness of faith.

We see the pain. 

God sees people dependent upon His provision of grace, and of medical treatments for the reduction of pain.

We see the infirmity. 

God sees eternity…and what can be done with one soul visibly devoted to Him.
There are many people in this world who were not healed physically (e.g. Fanny Crosby who was blinded from infancy…who credits blindness with giving her the ability to write some our most beloved hymns.  Or Joni Eareckson Tada whose paralysis has helped her to have compassion on others and a national ministry).
Paul felt the same way about healing:  2 Corinthians 12:8 Three times I pleaded with the Lord to take it away from me.
Paul wanted it gone!  But God had a different plan.  2 Corinthians 12:9 But he said to me,
My grace is sufficient for you, for my power is made perfect in weakness."
God's intent was that His power would be shown in the grace He would give.
There's a story in the Bible about a blind man:
John 9:1 As [Jesus] went along, he saw a man blind from birth. 2 His disciples asked him, "Rabbi, who sinned, this man or his parents, that he was born blind?" 3 "Neither this man nor his parents sinned," said Jesus, "but this happened so that the work of God might be displayed in his life.
(Then Jesus heals him and the leaders ask the man about it.)
…11 [The man] replied, "The man they call Jesus made some mud and put it on my eyes. He told me to go to Siloam and wash. So I went and washed, and then I could see."
(The leaders choose not to believe, yet the man continues to testify.)
…30 The man answered, "Now that is remarkable! You don't know where he comes from, yet he opened my eyes. 31 We know that God does not listen to sinners. He listens to the godly man who does his will. 32 Nobody has ever heard of opening the eyes of a man born blind. 33 If this man were not from God, he could do nothing."
The man had been born blind so that God could heal him … not so that he could be healed, but so that the grace and glory of God could be displayed in his life.  Healing was the agency by which God would receive glory and this man would have an ongoing testimony of God's goodness.
So back to our preaching passage, what is Paul's reaction when God tells him that Paul was not going to be healed, but that God's grace would be sufficient?  Hold on for Paul's reaction.  But first, sufficient.  What does that mean?  It means it will be enough to cover.  It is enough.  It won't leave you lacking.
So maybe you'll get healing.  Or maybe you'll be getting a thorn and grace that is sufficient to cover it.  But in either case, the grace and the glory and the power of God will be shown to you, to your family, and to those you know. It will be an ongoing testimony either way…whether it's healing or a thorn.
Can you view things the way Paul did?
2 Corinthians 12: 9b Therefore I will boast all the more gladly about my weaknesses, so that Christ's power may rest on me. 10 That is why, for Christ's sake, I delight in weaknesses, in insults, in hardships, in persecutions, in difficulties. For when I am weak, then I am strong.
When I am weak, then I am strong.
That's because when we come to the end of our own strength, that's when we will know the full grace of God.  We will know His power at work on our behalf.  We will know the hope that only comes in Him.
I know it doesn't make life seem much easier for those of you who want healing instead of a thorn.  In the moment, healing feels a whole lot better.  I've had both healing from cancer and a thorn of death of my own child and I know that healing feels better in my life now.  In the eternal and divine perspectives, God's grace and glory and power will benefit us and our families far more…and can happen in both healing and the thorn.  Both testify, if only we will choose to do so.
For all of us who would rather be healed physically, Jesus encourages us when His Word tells us that He heals.   Matthew 9:22 Jesus turned and saw her. "Take heart, daughter," he said, "your faith has healed you." And the woman was healed from that moment.
The Greek word translated as healing in so many of these passages where faith and healing are connected is the same word meaning "to save."  Healing—even the best ones here on earth—will eventually fail us.  Mortality is reality.  But when God gives us a temporal healing or a temporary thorn, the true healing that God alone gives will be an eternal healing, salvation!  This salvation is by faith in Jesus Christ and represents the best healing anyone could pray to receive.
So let's close by mentioning some strategies when you're not sure if you're facing a healing or a thorn:
Pray as if it is going to be a healing.  That's what Paul did.  He prayed for healing.  Three times, not as a magic number, but a number connoting fullness, completeness, and thoroughness.
Pray and watch what happens.  If you begin to see healing on the horizon, give thanks to God as if it's the full healing.  Offer prayers of thanksgiving.  When we are thankful for what God is giving us, we will have greater peace in our lives.  In your thanksgiving, tell God that you will testify whether He brings full healing now…or in eternity.
Pray for healing but if it's a thorn that is ongoing, pray and ask for wisdom to see what God is doing with it.  Ask Him to glorify Himself in your actions.  Ask Him for the strength to persevere.  Pray and ask for reduction of pain and discomfort.  Pray for your family and your caregivers—for them to see God at work, to see His glory in your actions, and for their peace and knowledge of the God you serve.

Pray that you will see His grace as sufficient, because it will be…whether it's a healing or a thorn.