I am angry.  I'll admit it.  But not at what most women are outraged over.  I'm angry that people-men and women alike-both in the Church and outside the Church have totally lost sight of the point of Christianity and the eternal beauty of grace.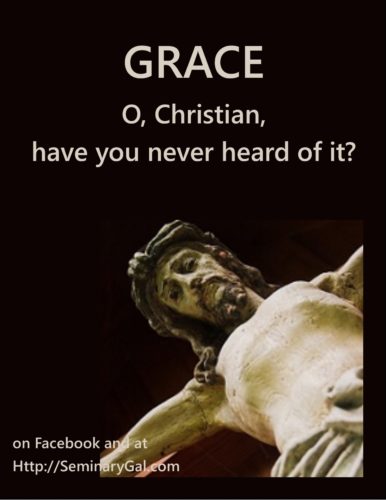 Re: Done!
As a seminary trained evangelical woman, what I'm done with are evangelical women who have decided to pick up the first stone and throw it…like a girl.  Giving further credence to the idea that women are clueless, thank you Katelyn Beaty for demonstrating that you, Beth Moore, and all the others can tweet and pick-a-little-talk-a-little.  But what have you displayed about the most basic concept of Christianity:  Grace?  If Jesus were to bend down and write in the sand, ladies, what would He be writing about you?  The media may welcome a cadre of female writers and popular speakers to denounce a fellow human in some Pharisaical show of proud piety, but I will tell you that I believe God is sifting hearts in this election to find out who will choke their fellow man for one hundred denarii (
Matthew 18:28
) and who actually understands what Christianity is all about.  Jesus saves sinners.
===
Matthew 18:21-35  English Standard Version (ESV) The Parable of the Unforgiving Servant
21 Then Peter came up and said to him, "Lord, how often will my brother sin against me, and I forgive him? As many as seven times?" 22 Jesus said to him, "I do not say to you seven times, but seventy-seven times.
23 "Therefore the kingdom of heaven may be compared to a king who wished to settle accounts with his servants.[a] 24 When he began to settle, one was brought to him who owed him ten thousand talents.[b] 25 And since he could not pay, his master ordered him to be sold, with his wife and children and all that he had, and payment to be made. 26 So the servant[c] fell on his knees, imploring him, 'Have patience with me, and I will pay you everything.' 27 And out of pity for him, the master of that servant released him and forgave him the debt. 28 But when that same servant went out, he found one of his fellow servants who owed him a hundred denarii,[d] and seizing him, he began to choke him, saying, 'Pay what you owe.' 29 So his fellow servant fell down and pleaded with him, 'Have patience with me, and I will pay you.' 30 He refused and went and put him in prison until he should pay the debt. 31 When his fellow servants saw what had taken place, they were greatly distressed, and they went and reported to their master all that had taken place. 32 Then his master summoned him and said to him, 'You wicked servant! I forgave you all that debt because you pleaded with me. 33 And should not you have had mercy on your fellow servant, as I had mercy on you?' 34 And in anger his master delivered him to the jailers,[e] until he should pay all his debt. 35 So also my heavenly Father will do to every one of you, if you do not forgive your brother from your heart."