I hear in your voices your genuine concern for your loved ones. A concern that is quite different than one rooted in fear. It is one rooted in genuine love for them. I sense this is a burden many Christians carry. It has taken me a long time to find words to put to this.
People we love have received the vaccine. 
People we love are refusing it. 
All are professing Christians,
those receiving the jab believing it to be a gift of God
and others concerned about it becoming the mark of the beast. 
We do not want Christians to worry, "Oh no!  I received the mark of the beast and there's no hope for me!  I made a mistake and believed the science, was worried about dying from COVID and got the jab.  I don't want to go to hell.  I didn't mean to get the mark of the beast!" 
Please don't worry.  God knows your heart and GOD IS GREATER! WHAT GOOD NEWS!
So here we have the outcome of closing churches and stripping people of Christian community due to COVID, of watering down theology to be non-offensive for a WOKE culture and dismissing evangelical Christians due to politics, impugning them as "conspiracy theorists" and "science deniers." Christian vs. Christian. It's pretty ugly out there.
The bad news is that we have just received global homework on fear vs faith that many people failed.  The test is yet to come.
Is the vax the mark of the beast?  Probably not the actual mark, but not for the reasons so many Christians are offering. (e.g. It's not a 666, it's not on the right hand or forehead, the church hasn't been raptured yet, we don't know who the beast is right now but according to a guru's magic decoder ring, the antichrist is probably the Pope…)  AAAIEEEEE. Don't get me started.
I believe God is greater than COVID.  He is greater than the vaccine.  Perfect love casts out fear.  I firmly believe that Christians NEED TO BE TALKING ABOUT THAT. 
The vaccine is not the unforgivable sin, nor is failure to get it. 
It's a wakeup call to your heart's loyalties, your willing submission to which authority, your fear threshold, and a call to follow Jesus Who is the only true cure out there when this life ends… which is 100% certain.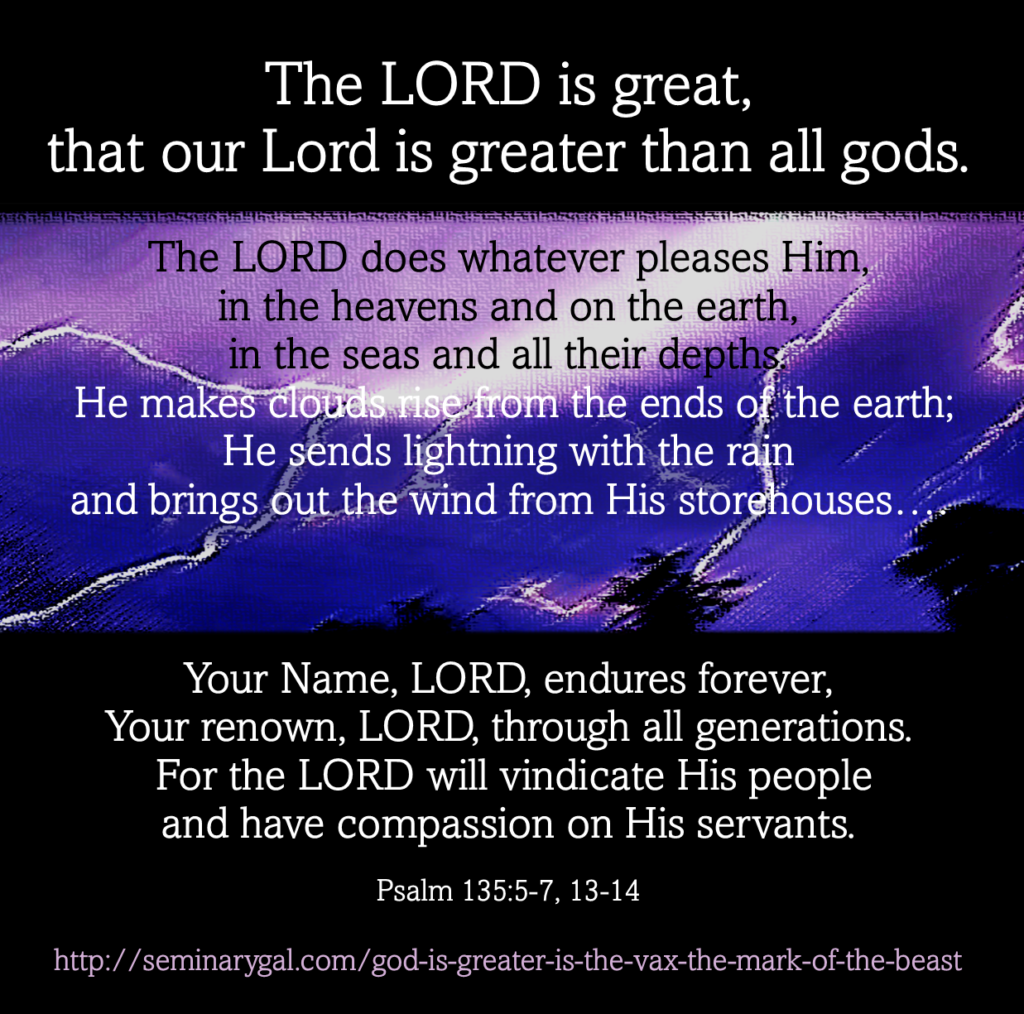 Equip yourself with knowledge, especially knowledge of God's Word.  God is greater. 
I know the LORD is great, that our Lord is greater than all gods. The LORD does whatever pleases Him, in the heavens and on the earth, in the seas and all their depths. He makes clouds rise from the ends of the earth; He sends lightning with the rain and brings out the wind from His storehouses….Your Name, LORD, endures forever, Your renown, LORD, through all generations. For the LORD will vindicate His people and have compassion on His servants. (Psalm 135:5-7, 13-14)
Pray over your loved ones and if they are not people of faith, that's the real healing needed.  For God so loved the world…
Lord Jesus, help!  For our loved ones who got the vaccine, we are praying You will stand in the way of any negative side effects.  May the hope of believers that it was a gift from God in the form of medical science and their love for You make it true in their lives.  You are greater than a vaccine.  If You can wake a "sleeping" Tabitha, Jairus' daughter, a woman's only son, Lazarus, and cure a woman who had been hemorrhaging for 12 years and a demoniac with a legion, make us rock-solid in knowledge that You are sovereign over the bloodstream of our loved ones to prevent side effects.  Give us opportunity to talk about the end times while there is still time, give us words to convey the coming mark of the beast and how we see before us the dangerous pathway carved out by capitulating to fear, and about submission to the government/global powers instead of submitting ourselves to You, O God. Teach us Your Word about submitting to You and resisting the devil who will flee from us, by Your power.  Strengthen our resolve to follow You.  Help us to stick together in these dark and uncertain times.  May we bless You as we fight the good fight, run the course, and finish the race with fullness of faith in the finished work of Your Son Jesus Christ.  Give us confidence that no one can snatch us out of Your hand.  The good news is that You are greater.  We love You, Lord.  We love You so much! Amen.