2 Corinthians 8:1 And now, brothers, we want you to know about the grace that God has given the Macedonian churches. 2 Out of the most severe trial, their overflowing joy and their extreme poverty welled up in rich generosity. 3 For I testify that they gave as much as they were able, and even beyond their ability. Entirely on their own, 4 they urgently pleaded with us for the privilege of sharing in this service to the saints. 5 And they did not do as we expected, but they gave themselves first to the Lord and then to us in keeping with God's will. 6 So we urged Titus, since he had earlier made a beginning, to bring also to completion this act of grace on your part. 7 But just as you excel in everything– in faith, in speech, in knowledge, in complete earnestness and in your love for us–see that you also excel in this grace of giving. 8 I am not commanding you, but I want to test the sincerity of your love by comparing it with the earnestness of others. 9 For you know the grace of our Lord Jesus Christ, that though he was rich, yet for your sakes he became poor, so that you through his poverty might become rich. 10 And here is my advice about what is best for you in this matter: Last year you were the first not only to give but also to have the desire to do so. 11 Now finish the work, so that your eager willingness to do it may be matched by your completion of it, according to your means. 12 For if the willingness is there, the gift is acceptable according to what one has, not according to what he does not have.
I am glad that most often I do…what I do…as a volunteer. All this Seminary Gal stuff? I don't earn a dime from it. My reward is in heaven and I like it better that way.
Do I like a paycheck? Sure. I'm human and I like the joy of taking what I earn and giving it away to good causes.

When I get money from pulpit supply or speaking at retreats, the first thing I do is tell myself that it's mine…

…to give away.
One of the best byproducts of a grateful heart is looking at money and not really thinking of it as necessary for one's happiness. People tell me that if I were poor, I wouldn't view money that way. Perhaps. Or maybe I just appreciate that money can't buy happiness.
One doesn't have to be rich to have a wrong view of money or a bad attitude about giving.  
Greed, envy, bitterness, resentment–they can flow out of a poor man's heart just as easily as out of a rich man's.
Give it up for Lent: thinking that money kept will purchase happiness
Questions for 2 Corinthians 8:1-12
What do you think of Paul bringing up the generosity of the Macedonian church to the church at Corinth?
In 2 Corinthians 8: 8, Paul says something rather shocking:

"I am not commanding you, but I want to test the sincerity of your love by comparing it with the earnestness of others."

Isn't he pitting one group against another?
How can setting forth a role model seem like comparing one to another?
Are role models good? Why or why not? How do they relate to a rekindled giving?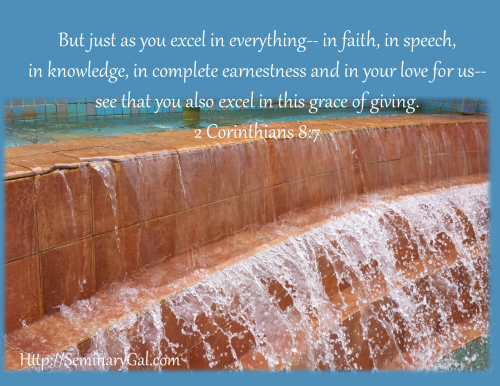 ReKindle is the 2016 Lenten devotional series from Seminary Gal.
To receive these devotionals to your email inbox throughout Lent, please fill in your email address in the space provided on my Home Page in the sidebar (right) and respond to the verification email.  If you already receive devotionals and articles, no need to do anything else.  You'll get them automatically.  Thank you!  Or log onto the SeminaryGal Facebook page and see them reprinted there.
Acknowledging that former years' devotional series remain popular, Be Still and Know that I AM God can be obtained through the archives beginning in March 2014 and With Christ in the Upper Room  is archived beginning February 18, 2015.