The path of the righteous is like the first gleam of dawn, shining ever brighter till the full light of day. (Proverbs 4:18)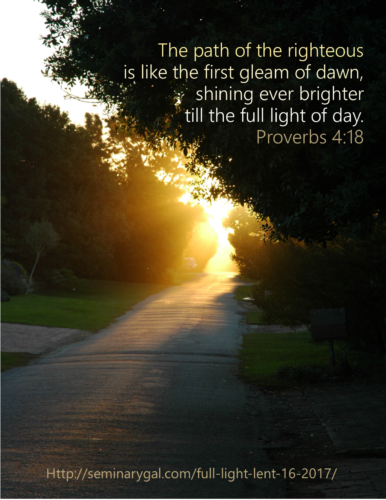 Fixed in Scripture is the idea that Wisdom is so desirable, we should embrace it at all costs. In fact, chapters 1-9 of the Book of Proverbs talk about the merits of Wisdom. What light is to our visual sight, Wisdom is to our spiritual sight. We need full light, complete Wisdom. Light is a great metaphor!
As we embrace the light of knowledge, that benefit of Wisdom, it will grow on us until we're living as wise people in full light. Shining ever brighter as it says in verse 18. Today is the first gleam compared to eternity's full light.
Our job is to walk in the way of righteousness so that as many people as possible will see the first gleam. Together, as a growing community called the Church, we glory in increasing brightness today and the full light of the coming New Jerusalem.
Fun fact of light: We've seen before that humans can see a visible spectrum of light that involves colors. But did you know the colors of light on our computers or smartphones may contribute to eye strain, changed biochemical profiles in our bodies, and ruin our sleep?
Authors Skye Gould and Kevin Loria, Tech Insider writers for Business Insider suggest that's why the iPhone developers came up with "Night Shift" which is a setting allowing a warmer range of colors. They write,
In general, looking at your phone at night is a terrible idea.
Smartphone screens emit bright blue light so you can see them even at the sunniest times of day.
But at night, your brain gets confused by that light, as it mimics the brightness of the sun. This causes the brain to stop producing melatonin, a hormone that gives your body the "time to sleep" cues. Because of this, smartphone light can disrupt your sleep cycle, making it harder to fall and stay asleep — and potentially causing serious health problems along the way.
For further thought:
Is your light dimly burning or are you displaying the light of Christ as shining ever brighter?
Matthew 5:16 In the same way, let your light shine before men, that they may see your good deeds and praise your Father in heaven.
Thank You, Jesus that Your light guides us to Wisdom. Thank You for the privilege of sharing You with other people. May we never forget the beautiful invitation to full light of Wisdom in relationship with you. An invitation of grace, that unmerited favor which (by definition) we did nothing to deserve. Thank You that while we were still sinners, You died for our sins. We praise You and we thank You, Lord Jesus. Amen.