The ten brothers had worked their way from Canaan to Egypt and were probably tired and hungry from their journey. They followed the crowds to Egypt's governor who sold grain to Egyptians and foreigners as appropriate. Joseph knew there were 7 years of famine for Egypt, and he would be a wise steward, not taking the abundance or the accumulated storage for granted. Egypt's survival would be his top priority in service to Pharaoh, and in gratitude to God for His mercy.
Continuing our series Joseph: A Life with Many Colors …
Genesis 42:6 Now Joseph was the governor of the land, the person who sold grain to all its people. So when Joseph's brothers arrived, they bowed down to him with their faces to the ground.
There was no guarantee that Joseph would sell them grain, so the brothers bowed low in customary humility. They didn't know he was their little brother Joseph. Years had passed and Joseph had matured. He was no longer dressed as a Semite, nor was he hairy with a Hebrew's beard of wisdom, but clean-shaven as an Egyptian man. They still looked like his brothers (though older), and the ten of them together was a little clue that they were family. His family.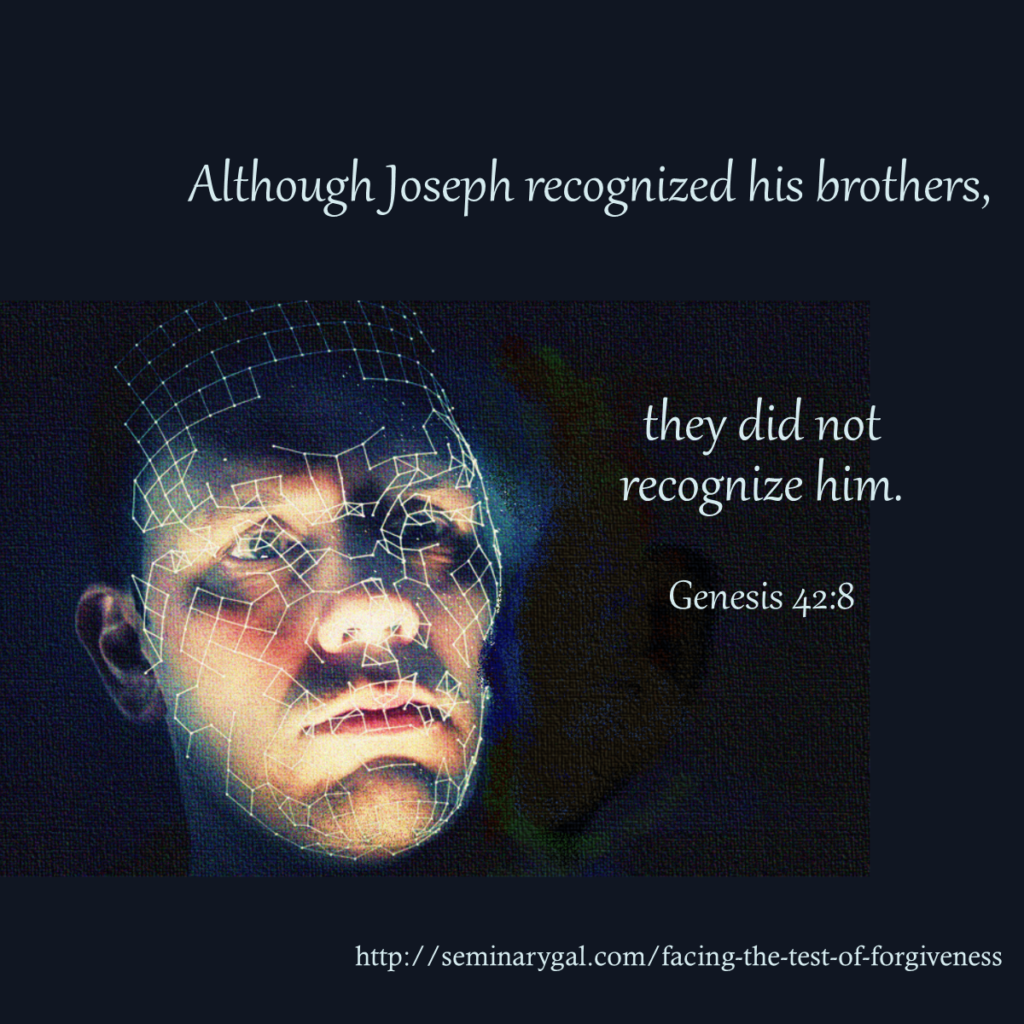 Genesis 42:7 As soon as Joseph saw his brothers, he recognized them, but he pretended to be a stranger and spoke harshly to them. "Where do you come from?" he asked. "From the land of Canaan," they replied, "to buy food." 8 Although Joseph recognized his brothers, they did not recognize him.
Think about it:
Why, for God's purpose of testing the excellence and finished work of Joseph's forgiveness, would it be helpful that Joseph recognized his brothers, but they didn't recognize him?
Joseph is sometimes considered a "type of Christ"—a foreshadowing of the Messiah—though Joseph was a mere man. In today's story, Joseph knew who his brothers were, but they did not know him. Now think about when Jesus had His earthly ministry. Did He know who we were and who He was? When in the timeline was Jesus revealed as the unique Son of God who conquered death, now offering forgiveness?
What test might be ahead for the ten brothers?
Is it enough that we say Jesus is God's Son? Or is some sort of heart change needed?
What is repentance and does God require it? Why? Is salvation more than just repentance? (See Mark 1:14-15)
In what way does our repentance affirm Jesus' identity and that we've made that connection? Think deeply about repentance. How might this apply to Joseph and his brothers?
How does this Scripture (Hebrews 6:1-6) amplify the connection? Hebrews 6:1 Therefore let us move beyond the elementary teachings about Christ and be taken forward to maturity, not laying again the foundation of repentance from acts that lead to death, and of faith in God, 2 instruction about cleansing rites, the laying on of hands, the resurrection of the dead, and eternal judgment. 3 And God permitting, we will do so. 4 It is impossible for those who have once been enlightened, who have tasted the heavenly gift, who have shared in the Holy Spirit, 5 who have tasted the goodness of the word of God and the powers of the coming age 6 and who have fallen away, to be brought back to repentance. To their loss they are crucifying the Son of God all over again and subjecting him to public disgrace.