When we recognize that we are created beings—an essential part of understanding our identity—we can engage in essential worship of God.
You know, I grieve a culture that teaches critical race theory or says I have some "white privilege" of which I must repent or kneel or wear like a scarlet letter "W", as I apologize to everyone under the sun.  That type of notion should be an anathema to every worshiper of Christ.
How can I possibly resent that I was created white by God? Do I pass judgment on His actions? Can I flaunt something I had no part in creating or act as though other ethnicities are not also part of God's workmanship? If you have black or brown skin, just remove the word "white" and replace it. The principle is still the same.
Hear me loud and clear: The Gospel isn't for whites alone. It's for every person. It's an eternal Gospel for every nation, tribe, language, and people. That's what God says anyway…just before He comes to judge. TO JUDGE.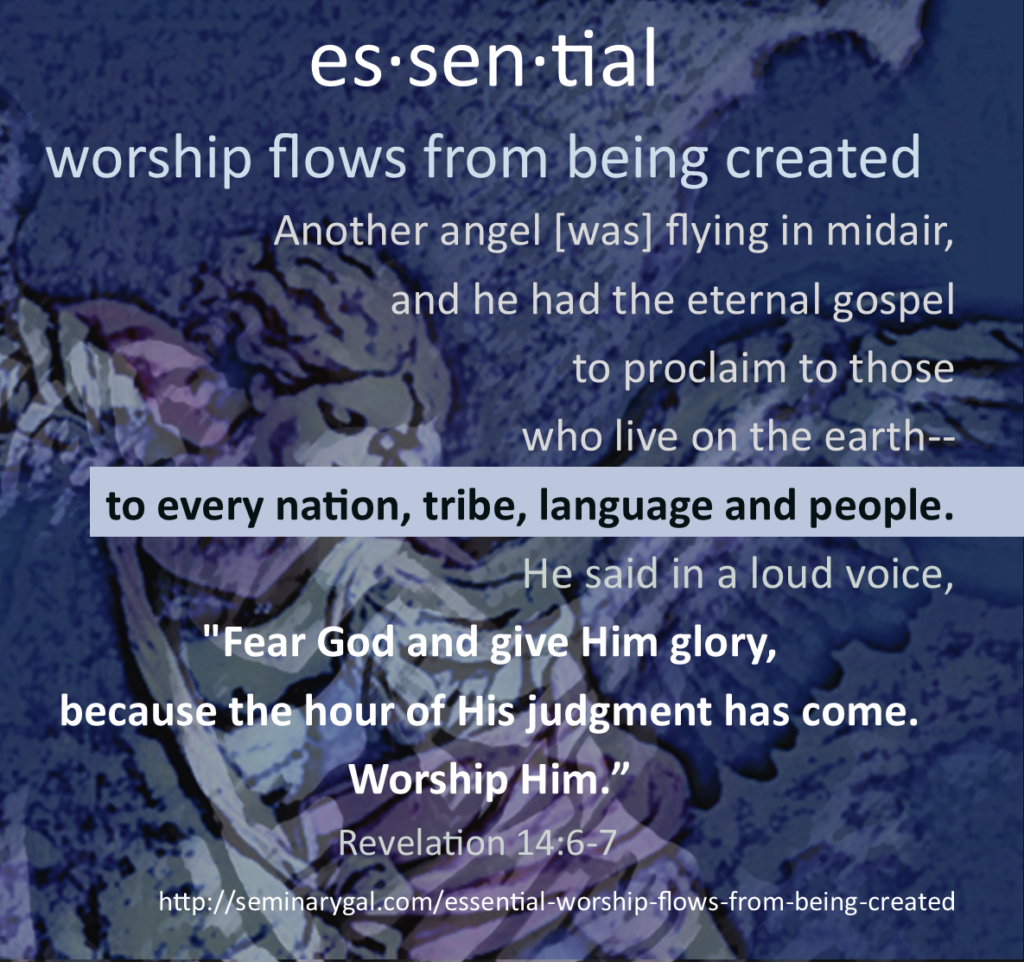 "Another angel [was] flying in midair, and he had the eternal gospel to proclaim to those who live on the earth– to every nation, tribe, language and people. He said in a loud voice, 'Fear God and give Him glory, because the hour of His judgment has come. Worship Him.'" Revelation 14:6-7
When we fear and worship our One True God, we're in equally excellent standing, ready to face His righteous judgment…in Christ. It doesn't matter the color of our skin. We each can celebrate how God made us without resenting ourselves or others and how God made them, passing judgment on them or worse, on God!
When we understand we are all created in God's Image—every racial background and ethnicity, every person rich or poor, every man, every woman, every baby, and yes, every fetus—that Image of God means we do not place our hope in our skin color, our wealth, our age, our sex, our political affiliation, our vocation, our Supreme Court, or anything else. 
Our hope is in God alone. 
So, yes, I may be white, but there is no "W" to wear as a badge of ignominy or supremacy.  I wear a scarlet letter "C"—for Christian!  Paid for by the same precious blood of a Savior who doesn't look at the things man looks at.  His same blood covers sins committed in every color human, if we repent. Therefore, any acts of obedience to Christ and to the authorities He gives will mark my life if I possibly can.  I want to be known by my love, acts of obedience, and discernment…not by my phony superficial acculturation to some godless worldly standard!
I'm praying like this:
Lord God, your Word clearly admonishes us to live in the truth and to not pervert justice by siding with a crowd.  (Exodus 23:1-7) You command us to "Have nothing to do with the fruitless deeds of darkness, but rather expose them…everything exposed by the light becomes visible– and everything that is illuminated becomes a light.  This is why it is said: 'Wake up, sleeper, rise from the dead, and Christ will shine on you."' Be very careful, then, how you live– not as unwise but as wise" (Ephesians 5:11-15).  Illuminate my heart this day.  Expose any blind spots I have that might cause me to act in unloving ways. Cleanse my heart, Lord.  Give me the courage to stand for You and to take a stand against evil.  Open the eyes of Christians worldwide to see the genuine demonic prowling in our midst. Remove the scales from our eyes and the prejudice from our hearts.  Teach us that politics isn't the be-all-and-end-all.  You are the Alpha and Omega!  Establish a guard around Your people, Lord, and please do not let us fall away and worship false idols.  Lord Jesus, expose the demonic by shining Your light up on it.  Help us to see and acknowledge Your truth. Please Father, bring about a swift end to spiritual powers of evil opposed to You and take away any earthly power they use to deceive Your people.  We need You, Lord.  We need Your wisdom, Your grace, and Your mercy.  Teach us to worship You rightly so we may stand for Christ in Your hour of judgment.  In Jesus' mighty Name I pray.  Amen!