Have you ever thought about how much death and violence could be prevented in recent days if someone had just embraced the actions of obedience to God-given authorities in every realm of their lives?
A police officer pulls someone over. Hands on the wheel. Yes, sir. Do you have a weapon? Yes, sir, I have my FOID card in my wallet, my firearm is lawfully purchased and it's in the glove box, sir. How would you like for me to handle that, sir? Get out of the car. Yes, sir. Hands where I can see them up in the air, okay? Yes sir. Are you on anything? No sir. I don't do drugs, or drive drunk, sir. I need to see your driver's license and FOID card. Thank you for complying. You have a taillight out, son. I'll get that fixed, sir. Thank you for letting me know. That's my job, son. Your safety is my priority. No ticket today, but be safe, okay? Thank you, sir.
That is every police officer's dream encounter. It's life-giving and lifesaving, and everyone goes home—alive—to his family.
I believe most people in America are basically good-hearted and value life and safety.  I believe God wants us to see something REALLY important: 
Rebellion leads to bad places. 
Sin is crouching at our door. It's in our streets. It desires to devour us as it did with Cain who murdered his brother. Rebellion against authority is not evolution, nor is it progressive, but a regressive degradation of—and devoted worship of—self. Rebellion is the exaltation of self above all others.  Many in the streets excel at rebellion, are selfish to the core, have no regard for any human life, even those whose lives they exploit as a pretext for what they do.
Obedience is a learned behavior,
an essential action for those who wish to please God.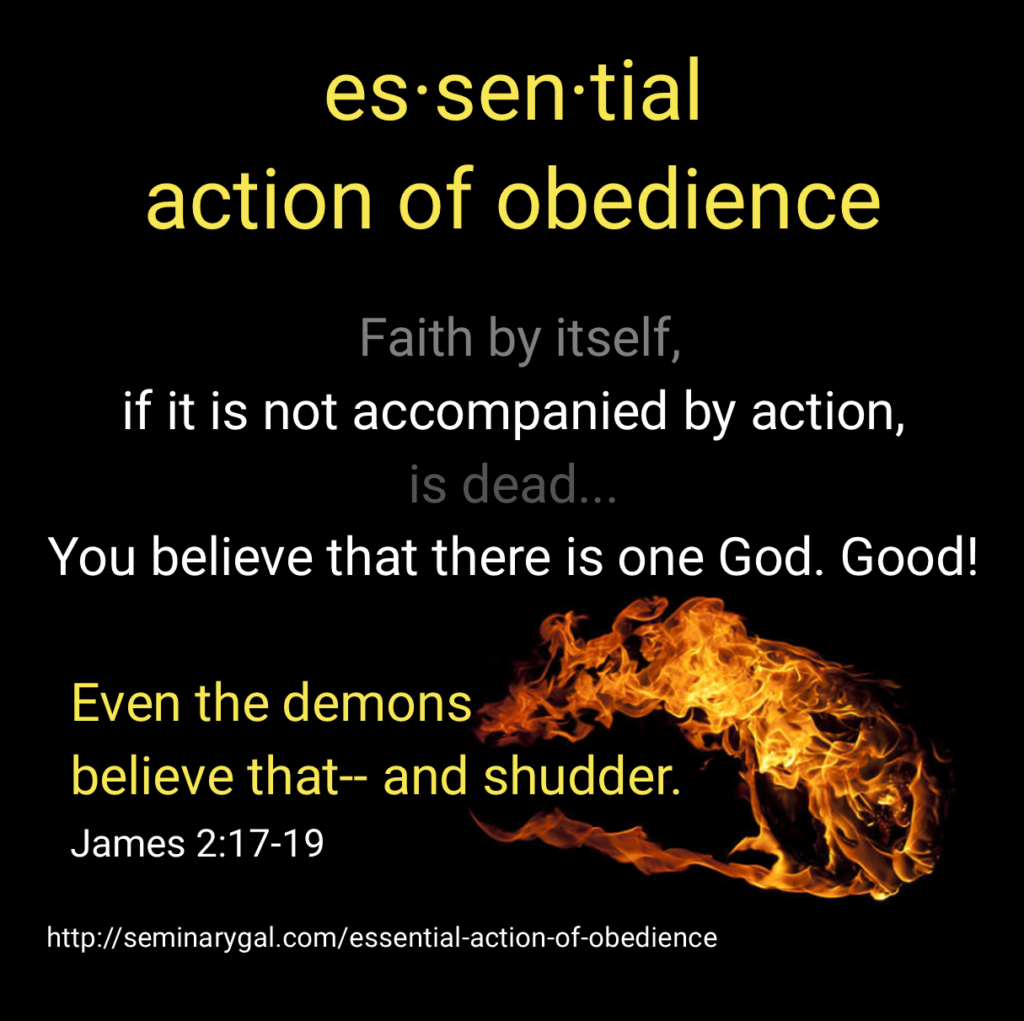 You see, it's not enough to have faith.  As Scripture says in James,

"In the same way, faith by itself, if it is not accompanied by action, is dead.
But someone will say, "You have faith; I have deeds."
Show me your faith without deeds, and I will show you my faith by my deeds.
You believe that there is one God. Good! Even the demons believe that– and shudder."
(James 2:17-19)
I pray like this:  Lord God, our Father in heaven.  You are holy.  You are sovereign over life events and a point will come when the patience chapter of Your story for mankind gives way to the chapter of Your holy wrath.  May we be found faithful, not just with our words of profession, but with our acts of commission.  May we never fail to do what is right in Your eyes as the only God.  You are worthy of worship and of our every act of obedience.  We humbly acknowledge that until Your return, You have given authorities in our lives to whom we owe respect, kindness, and yes, obedience. 

You have not given us a spirit of rebellion like Cain who murdered his brother, but a spirit of life and wisdom through Your Holy Spirit.  Keep our eyes focused on You, we pray, in these last days.  Keep our hearts pure, O Lord, in a world of sin.  Keep our minds free from the deceits of the evil one.  Keep our actions doing what is right and far from the tentacles of the evil one beckoning to rebellion.  And Lord, I ask that among my brothers and sisters in Christ, if any are in danger of falling away, lured by good feelings and popularity from that masquerading angel called the devil, O Lord, I ask that You bring them to their senses.  Jolt them from their complacency or worse, submission to the wrong god.  Wake them from their slumber—a nightmare they are pursuing for themselves because of the deception.  I know Your Word says,
"The coming of the lawless one will be in accordance with how Satan works. He will use all sorts of displays of power through signs and wonders that serve the lie, and all the ways that wickedness deceives those who are perishing. They perish because they refused to love the truth and so be saved. For this reason God sends them a powerful delusion so that they will believe the lie."
Lord, Your wisdom is beyond our understanding.  Those who are falling away, O Lord, are they lost forever?  I fear for my brothers and sisters, even my fellow travelers in seminary or in church. Do they not see Your Word being fulfilled in our time and this delusion of the world's making coming upon them like a thief?  Your Word continues, "So that all will be condemned who have not believed the truth but have delighted in wickedness."
I conclude with a benediction of the Apostle Paul, continuing this passage in 2 Thessalonians 2, "But we ought always to thank God for you, brothers and sisters loved by the Lord, because God chose you as firstfruits to be saved through the sanctifying work of the Spirit and through belief in the truth. He called you to this through our gospel, that you might share in the glory of our Lord Jesus Christ.  So then, brothers and sisters, stand firm and hold fast to the teachings we passed on to you, whether by word of mouth or by letter. May our Lord Jesus Christ himself and God our Father, who loved us and by his grace gave us eternal encouragement and good hope, encourage your hearts and strengthen you in every good deed and word. (2 Thessalonians. 2:9-17).  "Deed" and "word"…both action and faith…Amen.