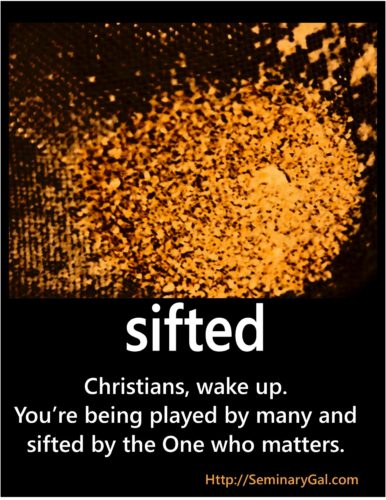 I've gotta tell you: I am so thoroughly disgusted with Christians right now. Politics have a nasty way of revealing who doesn't get Christianity and what it's really about… at all. And worse, perhaps for Christians is that it's revealing it…to God…and visible to genuine Christians even if the ones being sifted are blind themselves to very test they're clearly failing.  How I wish they had discernment! 
Discernment, O Christian, where is it?
We need to be a nation like the men of Issachar (v. 32).
We need discernment.
And to understand the times.
* * *
Christians are being played.  And they're being sifted.
But I get ahead of myself. The way to avoid being played is discernment: to understand what's beneath the surface. Discernment isn't natural, it's developed as a Tiny Virtue for Exemplary Christians. We develop it through Bible study, through prayer, and yes, by experience. I've been forced to develop some discernment over my years answering Bible questions. I've learned when I'm being played.
In my early days, I watched as Bible teachers, particularly women, do what I call "the dance" of nervous moral panic at the mere word masturbation. I always considered the question serious for the first inquiry of a person, wanting to assume he/she genuinely wanted to know. By the follow-up, I could tell whether the person was just trying to get me to do "the dance" as if I were some roach sprayed with pesticide or whether they were serious.
Christians paying attention to politics, know this: you're being played. Unless you begin to show some discernment. Christians are being sifted before God in this election so be wise how you live.  It's about a whole lot more than just a vote.
Are you being played?  Here are some questions to ask yourself–not about the candidates–but about the sources of your information. Yes, even fellow "Christians," pastors, seminar speakers, Bible teachers, authors, etc.:
Do their actions convey grace?

Ephesians 4:29 Do not let any unwholesome talk come out of your mouths, but only what is helpful for building others up according to their needs, that it may benefit those who listen.

Do they demonstrate forgiveness even to their enemies?

Matthew 5:44 "But I say to you, love your enemies, and pray for those who persecute you 45 in order that you may be sons of your Father who is in heaven; for He causes His sun to rise on the evil and the good, and sends rain on the righteous and the unrighteous."

Do they judge with the manner of judging by which they will welcome examination?

Matthew 7:2 For in the same way you judge others, you will be judged, and with the measure you use, it will be measured to you.

Do their words and actions offer life and correction? Do they seek to protect or condemn?

John 6:63 "The Spirit gives life; the flesh counts for nothing. The words I have spoken to you are spirit and they are life. 64 Yet there are some of you who do not believe." For Jesus had known from the beginning which of them did not believe and who would betray him. 65 He went on to say, "This is why I told you that no one can come to me unless the Father has enabled him." 66 From this time many of his disciples turned back and no longer followed him.

Do their politics interfere with their impartiality?

1 Peter 1:17 "And if you call on the Father, who without partiality judges according to each one's work, conduct yourselves throughout the time of your stay here in fear."   James 2:1 My brothers, as believers in our glorious Lord Jesus Christ, don't show favoritism.
Bringing this back full circle, my Christian friends:  I am worried for you.  I don't want for you to be falling away from Christ in favor of a candidate.  Or even against one.  The god of this age is blinding people and getting them to do "the dance".   Do you seriously believe the very things Satan has been promoting in our culture for decades are suddenly reprehensible to our adversary?  He's deceiving you.  Please, consider carefully what you're taking in and whether you're being taken.  In Tribulation 2016, you're being tested and it's far more important than just an election.
Ponder today: how you will fare…in God's sight…as He sifts you without favoritism for the actions you commit, the words you have spoken, and your willingness to lead others to the source of Life or condemn those who need Him.  Do you know discernment?
Matthew 11: 19 The Son of Man came eating and drinking, and they say, 'Here is a glutton and a drunkard, a friend of tax collectors and "sinners." 'But wisdom is proved right by her actions." 20 Then Jesus began to denounce the cities in which most of his miracles had been performed, because they did not repent.
Bible characters of the day: the men of Issachar