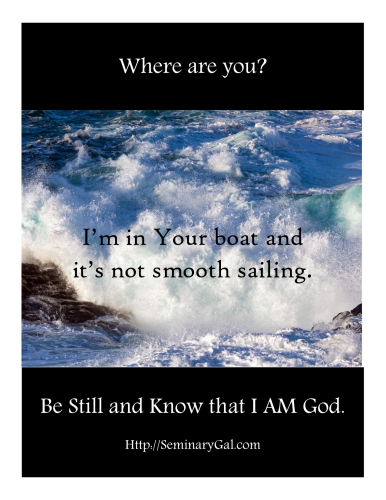 Luke 8: 22 One day Jesus said to his disciples, "Let's go over to the other side of the lake." So they got into a boat and set out. 23 As they sailed, he fell asleep. A squall came down on the lake, so that the boat was being swamped, and they were in great danger. 24 The disciples went and woke him, saying, "Master, Master, we're going to drown!" He got up and rebuked the wind and the raging waters; the storm subsided, and all was calm. 25 "Where is your faith?" he asked his disciples. In fear and amazement they asked one another, "Who is this? He commands even the winds and the water, and they obey him.
There are few places in which it ought to be easier to Be Still than when we're in the boat with Jesus.  But oftentimes, we really don't feel all that still.  We feel the motion of the boat as it is being tossed about on the rough seas of an average life.  Jesus' simple command seems so friendly, "Let's go over to the other side of the lake."  Yet, the boat ride was going to be anything but smooth sailing.
Where are you when you're passing through a rough patch of life
and it's anything but smooth sailing for you?
If you're in the boat with Jesus, you can Be Still.  Truth be told for most of us, we're more like the disciples and Jesus might inquire of us,
Where is your faith?"
Back when I was in seminary, our family was going through a really rough time.  Employment was in upheaval.  We were going to have to uproot our family and move.  Family life was shaken as we grieved our youngest daughter's death and tried to decide whether it was unloving as parents to leave her grave behind and just move…or to treat her casket like a suitcase and pack her up to where we were going so that we could still visit her grave.  Classes were difficult and I was struggling with learning Greek.  Waves were tossing us to and fro and in my panic, I did what the disciples did:  I cried out in fear that I was drowning in the rough seas we were sailing.  I thought Jesus said we were just sailing across to the other side but I realized my life was taking on water.
I could relate to the passage from Mark 4:38 "Jesus was in the stern, sleeping on a cushion. The disciples woke him and said to him, 'Teacher, don't you care if we drown?'"  One day as I was crying out to God and well, crying period, I told God I couldn't handle anything more.  I was drowning.  He gave me a vision (for the lack of a better word, think what you will) of myself standing on His hand with my mouth barely above the water and He said, "Does this look like drowning to you?"  It occurred to me that if I spent more time with my mouth shut, no water would get in.  Ouch.
It's easy to have faith when life is smooth sailing, but when the seas are rough, we can still Be Still when we're in the boat with Jesus.
Be Still.  Do you really think you're going to drown if your Savior is in the boat?
Be Still.  As long as your head is above water and your mouth isn't open all the time voicing doubts and fears, you're not drowning, are you?
Be Still and Know that I AM God.  "Who is this? He commands even the winds and the water, and they obey him."  I'll tell you who I AM.  I'm God.  Get to know Me and you won't be so afraid.
Be Still and Know that I AM God.  Job 40:2 "Will the one who contends with the Almighty correct him? Let him who accuses God answer him!"  Do you know who I AM?
Questions for reflection:
Read Job 42:1 "Then Job replied to the LORD: 2 "I know that you can do all things; no plan of yours can be thwarted. 3 You asked, 'Who is this that obscures my counsel without knowledge?' Surely I spoke of things I did not understand, things too wonderful for me to know. 4 "You said, 'Listen now, and I will speak; I will question you, and you shall answer me.' 5 My ears had heard of you but now my eyes have seen you. 6 Therefore I despise myself and repent in dust and ashes."  How do we see God best in the storms of life?
Is Jesus truly sleeping up in heaven?  Did He doze off while waiting for His enemies to be made His footstool?
How can knowing God better help us to Be Still when life is rough sailing?