Yesterday, in our Carol Me, Christmas (2014 Advent Devotional Series), I suggested that carols could be used as theological education for children.  Just don't use this one.
Away in a Manger is a favorite of adults and children alike (despite its being wrong on two counts):
Its attributed subtitle as Luther's Cradle Hymn
Its theology as a whole
That said, the little lullaby tune combined with sweet baby lyrics makes it a popular choice for children's programs and Christmas pageants.
Let's just be blunt: there is no way that Martin Luther–the same guy of 15 verses yesterday of pristine theology–would have written 2-3 verses of something so inaccurate. 
Some people have suggested that it was written for the anniversary of Luther's birth with his name thrown in as a marketing plus, but either way, it was first published as two verses in Evangelical Lutheran Sunday School collection, Little Children's Book for Schools and Families.  The Lutherans love Luther so much that perhaps these wanted to find him everywhere including in the Cradle Hymn.  Kind of like how Baptists find Satan under every rock and in the vast majority of US political offices.  (Aw, go ahead, insert a wink and a smile here.  Christians can laugh at ourselves without going to hell.)
Why do I say that the theology is inaccurate?
The cattle are lowing, the Baby awakes,
 But little Lord Jesus, no crying He makes;
Frankly, the little Lord Jesus did not wake up and say to his mother, the virgin Mary, in a calm soothing God-voice
Verily I say unto thee, I have food to eat that you don't know about."
Because Lord knows, the Son of God never had a dirty diaper (insert sarcasm here).  This is patently ridiculous.  Crying is not a sin!  Crying is how babies talk and Jesus was as human a baby as any other baby born in the completely natural way.  His conception in Mary's womb by the Spirit of God was the only miracle here.
Luke 1:35 The angel answered, "The Holy Spirit will come upon you, and the power of the Most High will overshadow you. So the holy one to be born will be called the Son of God. 36 Even Elizabeth your relative is going to have a child in her old age, and she who was said to be barren is in her sixth month. 37 For nothing is impossible with God."
Jesus was not a miracle baby who never cried, always slept through the night, and never had diaper issues.  He probably experienced teething pain, coughs, colds and flu during the span of His life.  He didn't spoil His mother Mary by giving her an impossible frame of reference for her other children who would come after Him to fail to achieve.  Jesus was not superhuman.  He was human.  He only added complete humanity to His already complete divinity.
It's not just a minor theological point.  It's central.
But Away in a Manger is a cute song.  It's cute when kids sing it and they love this one.  If you're on the English side of the pond, the tune is one by William J. Kirkpatrick Cradle Song (1895) which was an adaptation of another known as Sweet Afton, and if you're on the American side of the pond, the one most commonly used is James R. Murray's Mueller (1887).  Some hymnals are bi-polar and include both variations.
As you read through the lyrics below, enjoy this Kirkpatrick version sung by children dressed in festive red and green with red Santa hats and Santa playing piano, and ponder our Thought Focus for Today.
Thought Focus for Today:  Why is it theologically important that Jesus was fully human and yet, not some superhuman being?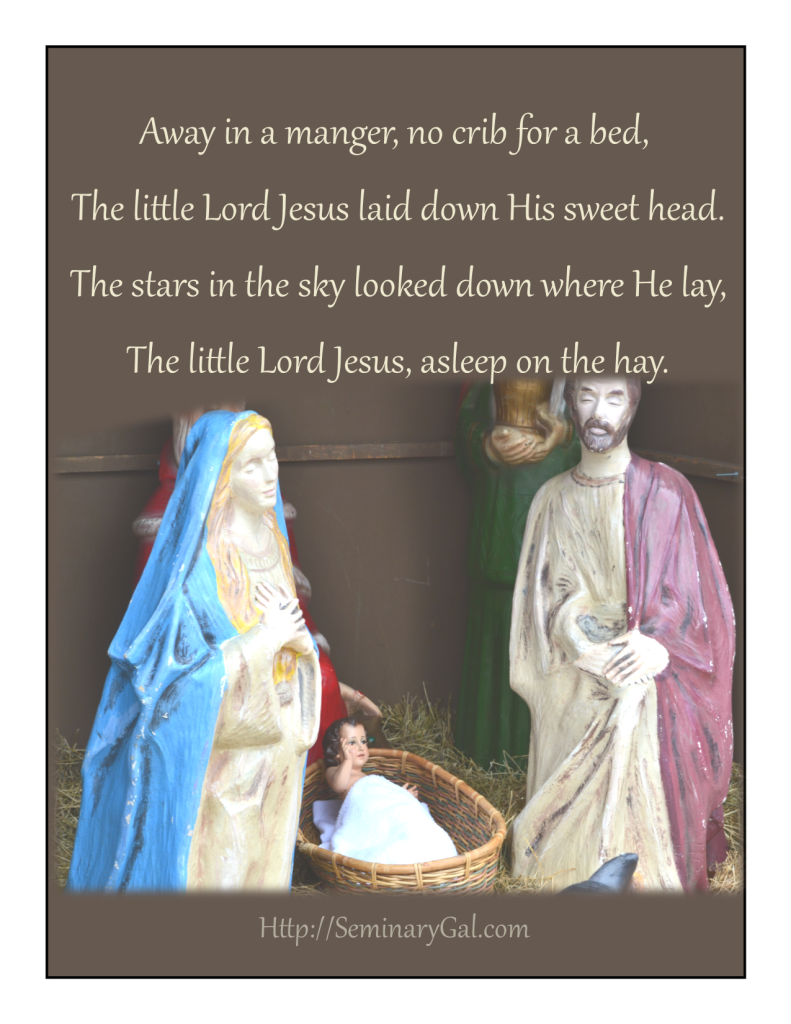 Away in a manger, no crib for a bed,
The little Lord Jesus laid down His sweet head.
The stars in the sky looked down where He lay,
The little Lord Jesus, asleep on the hay.
The cattle are lowing, the Baby awakes,
But little Lord Jesus, no crying He makes;
I love Thee, Lord Jesus, look down from the sky
And stay by my cradle till morning is nigh.
Be near me, Lord Jesus, I ask Thee to stay
Close by me forever, and love me, I pray;
Bless all the dear children in Thy tender care,
And fit us for Heaven to live with Thee there.
=====
Carol Me, Christmas (2014 Advent Devotional Series) began November 30th.  By way of reminder, if you haven't signed up yet, you can receive these devotional studies in your email throughout Advent 2014 by entering your email address on the SeminaryGal.com home page in the space provided in the sidebar.  Or "Like" the SeminaryGal Facebook page to access them there.  If you like these devotionals, I'd really appreciate your letting others know so I can continue to spread the Good News far and wide.  Blessings to you, in Christ always, Barbara <><