Meghan Trainor has a song that says "It's all 'bout the bass, 'bout the bass, no treble" which really isn't about music at all…but for Paul, it wasn't all about his body or what was music to his ears. It was all about encouragement. Today's passage, Acts 20:1-12 is all about encouragement.
Some of you might think that I decide what I'm going to preach about by reading the newspaper and preaching it. I'm not all about the "base" things of life, but I do notice that the world is full of "treble" and people out there are in a world of hurt.
If the Gospel can't speak to today, seriously…what good is it?
If the Gospel was only helpful, useful, and applicable to when Jesus walked the earth and the expiration date was, say, September 6th, 100 AD, why should we even bother studying it, reading it, or trying to make sense of our lives by applying it?
The Gospel is ageless and timeless and applies no matter what age in which we live. Because it's all about what God has done and the encouragement we can have in Christ. The world appears to have lost hope and is sorely in need of that kind of encouragement.
Paul was an expert at that.   At encouraging others. He was not only a teacher and a preacher, but he had exhortation—encouragement—down to a science.
Think about it: People like being around encouragers.
What about you? If you had 2 hours to spend and had a choice between sitting with someone who was known as an encourager or someone who paraded their problems and whined a lot, who would you rather spend time with? What would be the end result of that 2 hours? How would you feel at the end? How would the other person feel?
What kind of person are you? Are you one who encourages or is your outlook one big downer for people around you? Is it all about that "base"…and nobody knows the trouble I've seen?
Well, Paul was an encourager and he made friends in the Gospel every bit as easily as he made enemies wherever he went on account of that same Gospel message. It was his encouraging–his exhortation–that produced both friends and enemies. The Gospel indeed cuts both ways.
When we last left off with Paul, he'd been in Ephesus for nearly 3 years of peaceful ministry. He grew to love the Ephesian people and they grew to love him. It was Paul's effectiveness at both preaching and encouraging that led to the notorious riot and now, a change of course. Paul needed to move on.
Which leads us to today:
Acts 20:1 When the uproar had ended, Paul sent for the disciples and, after encouraging them, said good-by and set out for Macedonia.
Paul met with the disciples and encouraged them to stay the course, fight the good fight, and to run the race with perseverance. The riot was yesterday's news and need not be a discouragement. Fight the good fight! To be able to say at the end of one's days what Paul said to Timothy in 2 Timothy 4:7 I have fought the good fight, I have finished the race, I have kept the faith.
Not everyone views life that way. I mentioned that some of you may think I preach the newspaper headlines. There was a bit of a contrast this past week and I'm still chewing on that thought and trying to decide what I think of it.
One item was the KY court clerk who went to jail rather than to violate her deeply held religious beliefs about marriage. She'd been employed there, had taken her oath while a deputy clerk 27 years ago. She was elected last year and installed in January, before the Supreme Court ruling on gay marriage back in June. She's presently in jail (**see note at the end) while the issue of religious freedoms and gay marriage press to new frontiers. She believes she's doing what Martin Luther King, Jr. did in writing from the prison in Birmingham. She took a stand for the Gospel and is paying the price in jail, a place that the judge in the case says she'll stay until she changes her mind and fulfills her oath…one taken when the law was one she could pledge to and was elected to uphold. But now the law has changed. Not by a vote. Not even by her state. She's saying she will sacrifice her freedom for God's view of marriage, not that she's personally lived it. But her divorces were before she was a Christian and came to know grace. The encouragement of the Gospel. She won't sacrifice her faith to gain her freedom. I wonder if I'd step down from my post and look for other work or whether I'd engage in civil disobedience like she is. I can see it both ways. Both would be sacrifices and I do applaud her standing up for God. I would like to believe that I'd do the same. Principles based in Scripture are worth fighting for. Jesus is worth fighting for. Witness is certainly greater by civil disobedience than by stepping down. And I do believe her struggles highlight freedom of religious expression in all areas of one's life and the Courts will be revisiting this issue for a long time.
But I said there was a contrast in the news. The other news story is about all the thousands of migrants and refugees flooding Europe out of the Middle East, particularly Syria. They are coming in every which way. Across the sea, over land, from the north, south, east, and west. Everyone's hearts can be moved by the photo of the toddler who drowned along with his mother on the coast of Turkey trying to flee war-torn areas of the world. They found this little boy's body on the beach at Bodrum, roughly 100 miles south of Ephesus. I wondered if Paul had walked there in his journeys. Scripture places Paul very near there, although centuries earlier.
The boy was buried back in Syria where he was from. His body and his grieving father remind us that fleeing also carries risk and the willingness to embrace that risk is a reminder of a degree of hopelessness that cries out for encouragement.
I can understand women and children fleeing war-torn regions. The world can open its arms to women and children as refugees…coming to a safe haven until their own country returns to a stable peace-loving situation. It's been a long time since Syria has known that kind of peace. Syria has been in turmoil since it became an independent state and it's doubtful that any of the people fleeing know what peace and hope feel like in their homeland. They need encouragement of the Gospel kind.
I cannot judge what I don't know simply because I don't understand or can't relate from here in the safety of the United States.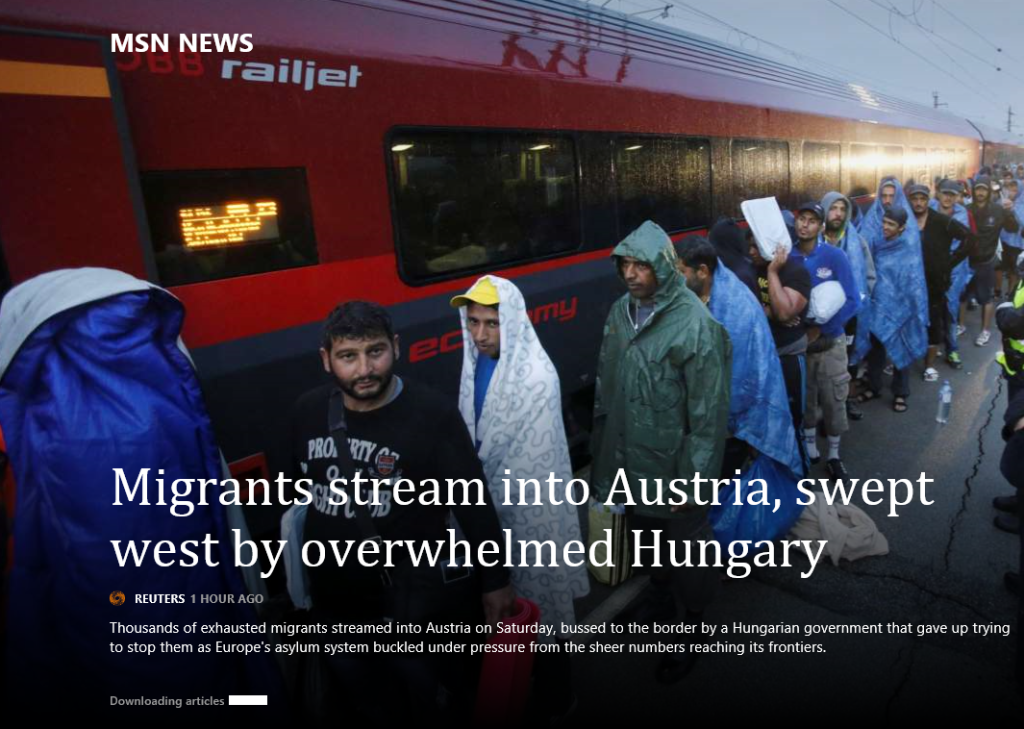 But the picture that continues to haunt me is the one on the front of the bulletin this week (at right). There isn't a woman or child to be seen. It isn't dramatic like the picture of the toddler. These are all young men, what one might call fighting age, some of whom are hiding their faces from the camera. Why? Perhaps they had no one back home to encourage them to fight the good fight. To do what they could to make their own land a free one in which their principles would be held in honor. I find it haunting because it's a picture of hopelessness and men who need encouragement to do what is right.  (**see note at the end)
But what form does that encouragement take? I don't know what to make of that. I see the man facing the camera with the shirt that says Property of the __ight Club. Fight club? The will to fight—to press on in the cause of freedom—seems to have been a casualty of the death of hope. Flight Club? Night Club? I don't know what his shirt says. But I can say that the Gospel could inspire a man to stand and fight for Jesus against an evil world. The Gospel can also inspire a man to seek a peaceful way out. That's what the Iraqi Christians are doing. They are fleeing their homeland to be peacemakers so far as it depends on them. But it's a sacrifice. Everyone could use a little encouragement.
I can say that the Gospel could prompt someone to flee—not to reside in another country with the hope of a better life there—but to do what Paul did. Plant churches while passing through–churches that could encourage people in the midst of difficult circumstances. Paul fled for his life, not to pick up an easier life for himself down the road, but to let people know it's all about encouragement in Christ.  He went back through Macedonia to encourage the churches he'd already planted.
2 He traveled through that area, speaking many words of encouragement to the people, and finally arrived in Greece, 3 where he stayed three months. Because the Jews made a plot against him just as he was about to sail for Syria, he decided to go back through Macedonia. 4 He was accompanied by Sopater son of Pyrrhus from Berea, Aristarchus and Secundus from Thessalonica, Gaius from Derbe, Timothy also, and Tychicus and Trophimus from the province of Asia. 5 These men went on ahead and waited for us at Troas. 6 But we sailed from Philippi after the Feast of Unleavened Bread, and five days later joined the others at Troas, where we stayed seven days.
Maybe the Jews who were going to Passover in Jerusalem were going to be on that same boat to Syria and they were the ones who didn't like Paul. But Paul took this all in stride. If he can't go by boat, he'll walk it. Fleeing, in a sense, back through Macedonia and he'd spend Passover where he was on his journey, near Philippi. He'd have to wait until Pentecost to make it to Jerusalem. There's sacrifice in fleeing and there's sacrifice in fighting and wisdom knows when which one is called for. In either case, one needs encouragement.
Paul was encouraging people throughout that time using many words and by his example. Everyone could use encouragement and for Paul, it was all about encouragement in Christ.
7 On the first day of the week we came together to break bread. Paul spoke to the people and, because he intended to leave the next day, kept on talking until midnight.
This is a fascinating story. Luke is back with the group now because the passage has resumed the word "we." We sailed from Philippi and we came together. Luke's account of this first-hand event is filled with detail.
8 There were many lamps in the upstairs room where we were meeting.
The oil lamps to light the room after dark would have left a lingering heaviness in the air from the smoke and oil. They were upstairs.
9 Seated in a window was a young man named Eutychus, who was sinking into a deep sleep as Paul talked on and on.
It wasn't like Paul was a boring preacher and therefore Eutychus nodded off. Eutychus would have been in the window to have fresh air in a room without much circulation. A young man would likely have had a job and come after work.
Our passage continues: When he was sound asleep, he fell to the ground from the third story and was picked up dead.
Luke, as you'll recall was a physician. He would probably have known that a fall from a third story window would have left a person with critical injuries if they even lived to tell about it. Eutychus was picked up dead. Luke would have known whether he was dead or alive and just unconscious.
Do you remember the story a while back of Peter raising Tabitha from the dead? And Jesus raising Jairus' daughter from the dead? Well, here Paul will do the last of 8 raising of the dead instances recorded in the Bible. Eutychus will be the last we'll see until Jesus returns.
It isn't like the country funeral where the casket was on a wheeled cart as people were following it to the grave site. The cemetery was atop a big hill and the mourners all followed it up to the top. Somewhere along the way, the rope gave out and the cart and the coffin flew down the hill. Crossed the crossroads as horses and pedestrians leaped out of the way. It plowed past city hall, across the town square, and smashed the glass at the pharmacy all the way to the desk where the dead man popped up and in a congested voice asked the pharmacist whether he had anything to stop this "coffin."
For Paul, this was different. He was going to actually raise the dead…like Elijah.
10 Paul went down, threw himself on the young man and put his arms around him. "Don't be alarmed," he said. "He's alive!" 11 Then he went upstairs again and broke bread and ate. After talking until daylight, he left. 12 The people took the young man home alive and were greatly comforted.
Encouragement comes in many forms. Words spoken, a life lived, standing for something godly in the face of evil. Paul stood for the Gospel and its power was evident in Paul's life. That probably encouraged Paul, too. I work hard to keep myself encouraged. I have a bulletin board at home with all kinds of encouraging words on it.
A thank you note from a woman telling me how God had encouraged her through my words. The card says

Matthew 17:20 He replied, " I tell you the truth, if you have faith as small as a mustard seed, you can say to this mountain, 'Move from here to there' and it will move. Nothing will be impossible for you."

She wrote thanking me for sending something to her. She wrote "God is so amazing! He knew I needed this."
A little pop-open Advent card from the Salvation Army thanking me for my support..

Isaiah 40:29 He gives strength to the weary and increases the power of the weak.

(With the note below saying, When I am tempted to give up, God is there to encourage me.
A collection of leadership quotes by Theodore Roosevelt including "A leader will always prefer to be faithful than famous." And "Heroes need heroes." The Apostle Paul is one of my heroes.
And a 2010 calendar from Dr. D. James Kennedy forever posted as the month of March on my bulletin board.

"Proverbs 29:2 When the righteous increase, the people rejoice"

and a reminder of the biblical foundations of America and a photo of the US Capitol Building.
An odd collection to be sure. I have a whole bag of things in the closet I look through to keep myself encouraged. Because when it's all about encouragement, we know it happens in many different ways but the result is always the same: people are comforted, inspired, and given courage to continue on…whether to fight…or have the wisdom to flee…and know when each is called for.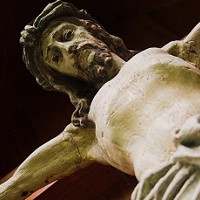 The Gospel is special in the way it encourages.
It points to freedom in Christ. To love beyond all measure.
To hope.
And to peace.
The world needs the Gospel to turn a picture of hopelessness and refugees into a picture of hope and family.
That's what Paul spread wherever he went. May we do likewise.
What encouragement do you need today?
Who do you know whom you can encourage? Maybe when we go out into the neighborhood next Sunday, we can be a source of encouragement to those facing all kinds of life situations here in Racine. Most all of us can use external encouragement. Knowing people are praying for us. Knowing someone cares. Knowing the Gospel is as close as the person who is willing to share it.
That's what Paul models for us today in a variety of ways. You see, it's all about encouragement.
===
**note at the end: 
As I post this, the court clerk, Kim Davis, has been freed from jail.  The government is still deciding what to do in her situation.  And regarding the refugees, it is being reported that many of the young men–without families to support–are looking for a better life elsewhere than fighting to bring about that situation in their homeland.  Some are using the refugee crisis as an opportunity to expand the reach of radical Islam and are hiding among the refugees which is why some of the richest Gulf States are refusing to shelter any refugees.  The saga continues…
Yet the Gospel still encourages and God still reigns.

I press on toward the goal for the prize of the upward call of God in Christ Jesus. (Philippians 3:14 )