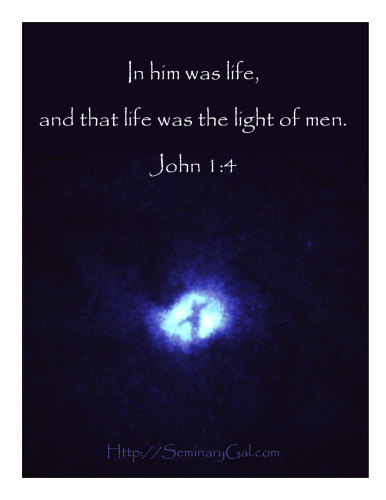 Probably a little-known fact about me is that I'm a sucker for space photography.  The images never fail to inspire awe in me.  The Hubble Gallery—featuring the photo used in today's graphic—lists it in their exotic category: Picture Album: "X" Structure at Core of Whirlpool Galaxy (M51)
*
*
*
*
I thought it was perfect because it may look like an "X" to NASA, but it sure looks like a Cross to me.
Now I know that Jesus is not a galaxy or exploding supernova, but He's so much more than who we have recreated Him in our minds to be.  Hence the exercise early on in this devotional series
… to open our minds to floating about in Nothing Material
… to witness there may be a dimension we're overlooking in the beginning with God and
…to begin to imagine
the magnitude of LOVE being so expansive,
the power of LOVE being so inexhaustible,
the depth of LOVE within the Godhead so unfathomable,
that we simply couldn't see it with our naked eye and live.  If we were to see this kind of Über LOVE in its full force, we couldn't handle it.  I don't know if our hearts would stop or if we'd be so afraid that our nerves would fry or if we'd become so full so fast in our tiny human bodies that we'd explode into a bazillion bits and fall like glitter in the glory left behind.
So, I guess I imagine it this way:  It's like God opened the aperture of the invisible for a flash of a moment so that LOVE's life and light could burst on the scene in a measured dose so as to reveal what we could absorb of Himself and know this powerful LOVE in a real and personal way.
Questions for meditation:
Read Luke 1:35 "And the angel answered and said to her, "The Holy Spirit will come upon you, and the power of the Most High will overshadow you; and for that reason the holy offspring shall be called the Son of God."  How does Jesus' showing up as a baby put God's LOVE into a form we can understand?
How does the Incarnation make God's holiness something we could grow to see as revelation rather than as a startling vision?
All this was in the plan of God before anything was ever made.  How do you feel about the Giver of all life (the Word) becoming a Life Given for us? "For God so loved the world that he gave his one and only Son, that whoever believes in him shall not perish but have eternal life." (John 3:16)