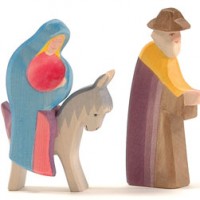 Luke 2:1 In those days Caesar Augustus issued a decree that a census should be taken of the entire Roman world. 2 (This was the first census that took place while Quirinius was governor of Syria.) 3 And everyone went to his own town to register. 4 So Joseph also went up from the town of Nazareth in Galilee to Judea, to Bethlehem the town of David, because he belonged to the house and line of David. 5 He went there to register with Mary, who was pledged to be married to him and was expecting a child. (NIV)
From the moment that we're born, we enter mortality—               life with an end. 
We don't enter into immortality–eternal life–when we're born.   We enter it when we're born again.
The sad story of humanity has been that since the fall of mankind, mortality is the routine we get.  We've been going to hell in a hand basket, personally, as families, as governments, as a culture,–indeed in every way possible our routines have followed the same old rut of mortality.
But then God interrupts all of this.  He interrupts with a Savior.
Today's passage—indeed the whole Christmas story—is God's interruption in the midst of man's routines.  Our plans involve getting up every morning and living life in the same old way until our lives are over.  But for Mary and Joseph, God's design interrupted their whole future and gave it entirely new meaning.
While God interrupts and inconveniences us in many ways, He doesn't view these interruptions as veering from the plan.  They ARE the plan and in light of eternity, we can see that it's all by God's perfect design.  Just look at these interruptions:
Mary would supernaturally conceive the Christ child, Jesus –even though it would strain her relationship with almost everyone she knew (including Joseph who was originally thinking of divorcing Mary quietly). 

But after an angel appeared to Joseph in a dream, he would take Mary home as his wife even though it would ruin his reputation forever as a righteous man. 

In the last days of Mary's pregnancy, the government would suddenly get the bright idea to inconvenience everyone by making them go to register in a census in Bethlehem, about 100+ miles from home.

Walking at the speed of a full-term pregnancy, they would arrive presumably later than many others and they would find no room at the inn.  They'd stay in a stable.

So on Christmas night, Jesus would be born in a most inconvenient place: a stable.  His first bed would be a feeding trough.
But here we see evidence that when God interrupts, He does it by design.  In this way, Jesus would be born exactly as the Scriptures foretold and the shepherds would know where to find him, distinguished from all the other babies in Bethlehem.
Luke 2:8 And there were shepherds living out in the fields nearby, keeping watch over their flocks at night. 9 An angel of the Lord appeared to them, and the glory of the Lord shone around them, and they were terrified. 10 But the angel said to them, "Do not be afraid. I bring you good news of great joy that will be for all the people. 11 Today in the town of David a Savior has been born to you; he is Christ the Lord. 12 This will be a sign to you: You will find a baby wrapped in cloths and lying in a manger." 13 Suddenly a great company of the heavenly host appeared with the angel, praising God and saying, 14 "Glory to God in the highest, and on earth peace to men on whom his favor rests." 15 When the angels had left them and gone into heaven, the shepherds said to one another, "Let's go to Bethlehem and see this thing that has happened, which the Lord has told us about."