Sometimes I think pretty unchristian thoughts.  Last night on TV, there was an atheist on Bill O'Reilly's "The Factor" proclaiming that the winter solstice is what we ought to be celebrating as the reason for the season: the birth of the sun (S…U…N) , not of the Son (S….O….N).   And after spelling the homophones for effect, he grinned with this self-serving little smirk.
Do you want to know my immediate thought? 
It was: "What a moron."
He doesn't get it that the Word was made flesh and four little words changed everything when Jesus Christ came to dwell among us.  But that shallow-thinking atheist doesn't appreciate that the Eternal, yes Eternal, Word created everything, including his beloved sun (S…U…N).   It's an inconvenient truth that the sun had to arise somehow and its arising ex nihilo (from nothing material) cannot be explained apart from a Creator who existed as completely spiritual/nothing material in eternity past.
The truth can be rather inconvenient and in our day and age, the truth of the Prologue of John is all but disappearing from many sectors of human life.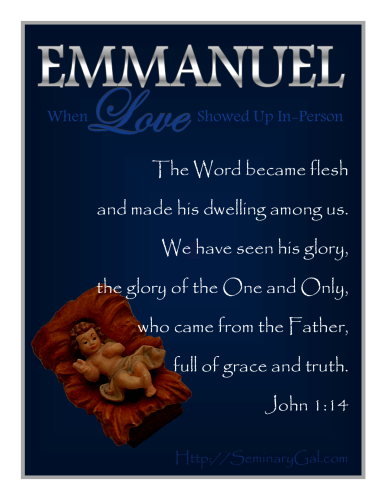 When Jesus came (as we read in our verse for this week), we see the full truth:
The Word became flesh and made his dwelling among us. We have seen his glory, the glory of the One and Only, who came from the Father, full of grace and truth." (John 1:14)
Not a truth.  Not a mixture of truth and myth.  Not a fairy tale created around wishful thinking.  Not a relative truth, true for me but not for you.  He was full of grace, yes, and full of truth.
He is The Truth and He is God, inconvenient as that may be for in-denial atheists who want to persist in imagining a fairy tale world with no God.
Questions for pondering:
What does it mean to you that Jesus was full of grace and truth, characteristics He had before time began?
How should our lives change because of His grace?  How should our lives change because He is The Truth?
What does it mean when we want to ignore parts of God's Word to us?