Today is Ash Wednesday, traditionally a time when Mardi Gras festivities are over and minds of people turn to more serious thoughts.  The season of Lent officially begins.  For the next forty days (not including Sundays which are excluded from the observance for the Sabbath), we will look inward and see the many reasons we should Prepare the Way for the LORD.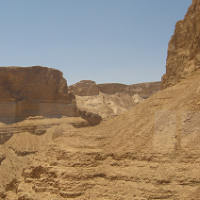 The theme for our series is Prepare the Way—highlighted in today's Scripture verse:
Isaiah 40:3 A voice of one calling: "In the desert prepare the way for the LORD; make straight in the wilderness a highway for our God. 4 Every valley shall be raised up, every mountain and hill made low; the rough ground shall become level, the rugged places a plain. 5 And the glory of the LORD will be revealed, and all mankind together will see it. For the mouth of the LORD has spoken."
What is it about the wilderness, the desert, making it a place to begin preparing the way for the LORD?  John the Baptist (who applies these verses above to himself) was in the Judean desert preaching repentance.  In the desert, there is ample time for self-reflection.  There are no fields of grain or streams of water.  One hungers and thirsts and can be overwhelmed by the heat.  In so many of our lives, we're entertaining ourselves and enjoying a perpetual Mardi Gras that we don't know what those in impoverished areas of the world know:  the desert points to our dependence on God.
For the Israelites, the desert held special meaning.  For it was in the desert that Moses saw the burning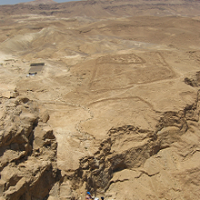 bush and received God's call to deliver Israel from Egypt.  It was in the desert that Moses climbed Mt. Sinai and received the Law to guide the chosen people.  It was in the desert that the unfaithful ones died (those who refused to trust God's faithfulness to bring them safely into the Promised Land as recorded in Numbers 14:29-30).  The desert was a place of purification and testing.
For us, the desert is a place to ask ourselves whether we depend on God—whether we live our lives as though God exists or whether we treat Him like an inflatable passenger propped up when convenient so we can take the HOV lanes of life.  The LORD led the Israelites through the desert for forty years to humble them and to test what was in their hearts. 
"During the forty years that I led you through the desert, your clothes did not wear out,  nor did the sandals on your feet… I did this so that you might know that I am the LORD your God."  Deuteronomy 29:5-6
Are you ready to encounter the desert and to know the faithfulness of our God?