Some of you may have noticed I've been less routine in my writings than I had been during Advent.  After times of extensive writing, I find myself exhausted and in need of filling.  So in the midst of a few projects ongoing, I have been spending time in God's Word, quietly letting the Living Water refresh me.
When is the last time you were thirsting for God? 
Imagine how you are on a hot day when the sun is out and the wind is blowing and the dust is flying.  You get thirsty.  You know you must drink some water before you get dehydrated.
I think there are probably a lot of dehydrated Christians out there.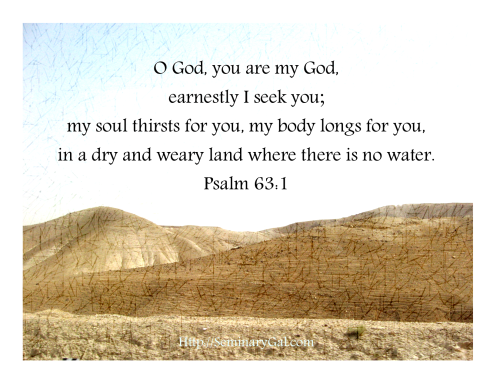 Plowing ahead with the daily grind.
Thirsty but not wanting to take the time
Away from the many tasks at hand
To let God's Spirit soothe our souls.
Thirsting for God in a troubled land
Distracted by many trials pressing
Keeping us from the Living flow
That our spirits would find refreshing
If only we took the time to know
The healing power of the Lord
As we take a Sabbath rest and find
In the Word our souls restored.