In our series on Overcoming, we've determined so far that we want Kingdom Vision.  We need that same perspective of situations that Jesus had.  It's more than simply seeing circumstances, it's seeing them filtered through a Kingdom lens–a Visionary Filter of Faith–that both clarifies and widens to the bigger picture. 
We need a Visionary Filter of Faith if we're going to be a true Overcomer.
Did you ever get one of those coded messages in cereal boxes or a coded game as a kid?  You'd have to use that special red colored film decoder to see the message hidden on the card?  While all the other symbols and markings occluded (there's a word I haven't used in forever!) the message, it was revealed by the right filter.
Kingdom perspective is like that filter for spiritual truth and spiritual truth is always the door to the bigger picture, to seeing what is not seen.  Let's call that Kingdom perspective and Visionary Filter
… FAITH.
Hebrews 11:1 Now faith is being sure of what we hope for and certain of what we do not see. 2 This is what the ancients were commended for. 3 By faith we understand that the universe was formed at God's command, so that what is seen was not made out of what was visible. … 6 And without faith it is impossible to please God, because anyone who comes to him must believe that he exists and that he rewards those who earnestly seek him. … 13 All these people were still living by faith when they died. They did not receive the things promised; they only saw them and welcomed them from a distance. And they admitted that they were aliens and strangers on earth. 14 People who say such things show that they are looking for a country of their own. 15 If they had been thinking of the country they had left, they would have had opportunity to return. 16 Instead, they were longing for a better country– a heavenly one. Therefore God is not ashamed to be called their God, for he has prepared a city for them.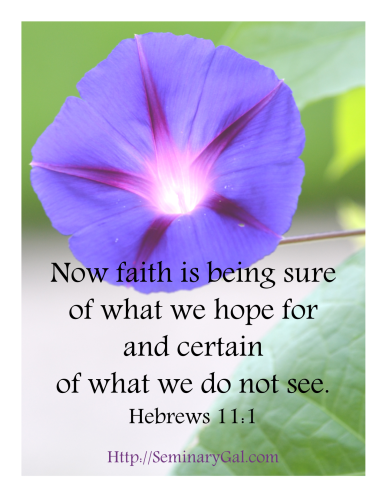 When Jesus used the Visionary Filter, it was because He'd come from the Father.  Jesus knew the spiritual realm as being every bit as real as the physical world.
He had clear, detailed Vision of the bigger picture.
For us, the Visionary Filter of Faith shows us what is real, true, and eternal—what is truth hiding among the world's distractions and circumstances.
Are you living today with the Visionary Filter of Faith?
What do you hope for?  What do you see?  What country are you longing for?
Read through the passage again and note how the ancients–these Overcomers–saw at a distance what was only possible with a Visionary Filter of Faith.