Today's passage of Scripture, describing the coming of the Holy Spirit, is fitting for Rally Sunday and our fall Kick-off.  His coming kicked off the entire Church for all time.  But it's also one of my very favorite passages in the Bible.  Of course, I didn't even know it existed 20 years ago when my life seemed to be going through one brush fire after another.  That all changed on November 21, 1994…coming up on a 20 year anniversary for me…when I had the Brush Fire to beat all brush fires:
The Holy Spirit paid me a visit, only I didn't know who He was at the time.
I'd gone to church on and off as a kid.  Rarely, if ever as an adult.  I had a vague understanding of Father and Son.  I sang the Doxology "Praise Father, Son and Holy Ghost," and as I've mentioned here before, my next thoughts were, "I don't believe in ghosts…"  Until November 21st, that is.
I had a role model ever since High School, actually 2: Leonardo Da Vinci and Michelangelo.  They were my role models because, as Renaissance men, they seemed nearly perfect, doing all things well.  I had tried to be like them; I tried to be perfect because perfectionism wouldn't leave me feeling guilty, only loved.
I didn't know enough to know that they weren't perfect.  And my trying to be like them wasn't going to make me any more loved or feel any less guilty.
In my attempts at perfection, I was the cherished mother volunteer at my kids' elementary school and let's just summarize this whole thing as God put me between a rock and a hard place in order for Him to deal with Rebel Barbara and her nasty pride.
I ended up in a District 70 elementary school board of education meeting to speak a word on behalf of parents with God having paved every step of the way.  I stood up, looked out over the 285 unionized teachers who previously would have called me their best friend in the parent community and I had a word to speak into their contract dispute which had gone on for months and had begun showing up in the classrooms and in the hallways putting many children in the crosshairs between their teachers and their parents.  Christian parents and Christian teachers had been praying for a solution to this problem.  God had a solution, but—unbeknownst to me—it involved me and my speaking some truth God wanted said so that the problem would get resolved.   I went to that meeting prepared as I would for any talk, knowing I was unique in our whole district because of the rock and hard place.  I knew somehow that God was in it, but denying all that because I wasn't a Christian.  A patriotic American, suburban housewife, and proud mother of two, emphasizing the word "proud."  I stood up to speak and chickened out.  I didn't want to be unloved by my kids' teachers so I glossed over everything and decided just to sit down instead of speaking up.
God didn't like that idea so I later described this event to people as feeling the heavy hand of God on my shoulders and His unmistakable voice telling me I'd let Him down.  He recounted all the very clear preparation He'd done for YEARS in my life to prepare me for such a moment and then He asked me if I fear man or Him.  I might have said "man" 15 minutes earlier, but at that moment, I was shaking inside and admitted that I knew I'd been disobedient to the God of the universe.  Not a place anyone wants to be in.  I told Him I was sorry and that I was also really scared, but that I didn't want Him to be angry with me.  So, I surrender, I said.  BTW, no one else knew what kind of spiritual battle was going on in the front row.  I said to God, "OK.  If You want it done, will You please take over?  Use me?  I'm willing. I'm scared and I just don't have the courage or strength to do it myself."  So He did.  He took over and did He!
I felt what I described at the time as being like a power surge coming down the top of the back of my head, down my spine and filling my lungs fuller than with air itself.  Someone asked a question, my hand went up involuntarily, I was called forward, spoke what I needed to say with words that were not my own and I do not remember to this day what I said.  I do remember being booed.  That was a pretty profound experience being booed by many people who used to call you "friend."  And then I went to sit down wondering what on earth had happened to me.  What on earth I had done!  Just to close the loop on the story, the contract dispute was resolved that very evening after the board meeting, but I was forever changed.
Then today's Scripture Acts 2:1-4 came on the scene.  It was actually 2 months after that fateful day of my conversion…my surrendering, my becoming a Christian.  I was in a Community Bible Study class and we were doing Isaiah.  I came in during the second half of the study that had begun in August and in our small group, a woman named Linda mentioned—as an offhand comment really—about the Holy Spirit coming at Pentecost.  I asked her, "Where is that??"  She told me and I went home and devoured the entire book of Acts.
I finally had a name for what had happened to me.  I experienced a physical sensation of the indwelling of the Holy Spirit.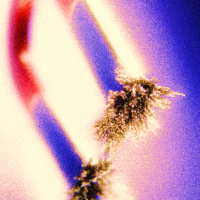 Now, if you've never had that experience, that's fine.  Just like the puzzle pieces from last week, we aren't all the same…and aren't supposed to be.  The Holy Spirit doesn't always make a show out of it.  But even in a quiet way, His indwelling is just as powerful, His indwelling kicks off your ministry life of active service to Him in the Church, and is the very same guarantee of being in the family of God.  When Jesus returns, the presence of the indwelling Holy Spirit is how Jesus will know who belongs to God and who does not.  Kind of like iron filings and a magnet.  Boom.  We'll all meet up because God recognizes His Spirit (1 Corinthians 2:11), no matter whose heart He's living in and no matter how showy or silently He came to dwell there.
Why was mine such an oddball experience then?  I can't say for sure, but perhaps it is because this was what I'd need to keep from falling away in the years following when my daughter died.  When I had cancer.  When we'd lose jobs and have to move over and over again.  When I'd be insulted and ridiculed even in the newspapers …and have to deal with rejection by the world, by Christians, by churches, and yes, by pastors.  When given tough words of truth to speak to world that really didn't want to hear it.  When feeling like being a Christian only invited a world of trouble and sadness and becoming a spiritual target that I never wanted to be.  All I wanted was to be loved and thought well of.  This trouble was not what I signed up for.  Without something solid and undeniable, falling away would be really easy.  I can deny all kinds of things that I think—I've got a very vivid imagination—but I cannot deny things that I've lived, felt, or experienced.
Here's our passage:  Acts 2:1 When the day of Pentecost [Feast of Weeks—a harvest feast] came, they were all together in one place. 2 Suddenly a sound like the blowing of a violent wind came from heaven and filled the whole house where they were sitting. 3 They saw what seemed to be tongues of fire that separated and came to rest on each of them. 4 All of them were filled with the Holy Spirit and began to speak in other tongues as the Spirit enabled them.
Do you hear all the togetherness?  All, one, whole, all each, all!  This will be really important.  Why?
The disciples in today's passage had a tough road ahead of them too.  Far tougher than anything I've ever known!  Church tradition tells us that nearly all of the disciples went on to face persecution and crucifixion and death by other means.  Consider these as suggested inChurch tradition:
Simon Peter—crucified (upside down since he didn't feel worthy of being crucified in the same way as Jesus).
Andrew—crucified on an x-shaped cross in Greece.
James (the Elder) son of Zebedee—was the first of the twelve to become a martyr.  Beheaded by Herod in AD 44 (Acts 12:1-2).
John (son of Zebedee)—the beloved disciple was exiled to the island of Patmos.  He died of old age, having written 3 letters, a Gospel account, and the Book of Revelation.  He was referred to by Jesus in

John 21:22 Jesus answered, "If I want him [John] to remain alive until I return, what is that to you [Peter]? You [Peter] must follow me."

Matthew the tax collector—was speared to death, his martyrdom occurring in either Ethiopia or Persia.
Nathanael (Bartholomew)–tradition says that he preached in India where he died a martyr.  His death is traditionally held as his being flayed alive with knives and then beheaded.
Philip—preached in Phrygia and died a martyr (hanging) at Hierapolis.
Thomas—known more for doubting than the faith he clearly showed on various occasions.  He was a missionary to Parthia, Persia, and India, and suffered martyrdom—speared to death–near Madras, India.
Simon the Zealot—preached in Egypt, before joining Jude and preaching in Persia, where both were martyred. Tradition holds that Simon may have been crucified or hacked to death.
James (the Younger) son of Alpheus and Jude's brother–preached in Palestine and Egypt. Tradition suggests he died as a martyr, crucified in Egypt with his body sawed in pieces.
Jude (Thaddaeus)—tradition suggests he preached the Gospel in Edessa (near the Euphrates River), healing many. Ultimately, it is thought he was killed with arrows at Ararat.
Matthias (chosen to replace Judas in Acts 1:26)–was possibly missionary to the Ethiopians and/or preached in eastern Turkey before dying as a martyr.
Could it be that they ALL needed a powerful, unforgettable experience?  An experience that they witnessed together of all of them being filled with the Holy Spirit.
What could keep a rag tag group of bickering disciples together, ones from diverse backgrounds as tax collectors, Zealots, and fishermen?  The Holy Spirit.  Tongues of fire separated and rested on each of them!
In the Gospels, these same disciples can't get enough of arguing over who is the greatest.  Who points out that they are all equally filled?  The Holy Spirit.
Today I want to focus on how the Holy Spirit indwells believers.  Next week, I'll do my best to tackle the very strange and controversial subject of speaking in tongues.  Every Christian needs to know what it's all about and be free to examine what the Scripture says about it, but for now, let's just look at this indwelling thing.
In our OT Scripture reading this morning, the presence of God had been in the pillar of cloud and the pillar of fire.  The leaders were gathered together…not everyone.  Leaders gathered at the Tent…but some were back in the camp.  The presence of God descended from the cloud:
Numbers 11:23 The LORD answered Moses, "Is the LORD's arm too short? You will now see whether or not what I say will come true for you." 24 So Moses went out and told the people what the LORD had said. He brought together seventy of their elders and had them stand around the Tent. 25 Then the LORD came down in the cloud and spoke with him, and he took of the Spirit that was on him [Moses] and put the Spirit on the seventy elders. When the Spirit rested on them, they prophesied, but they did not do so again. 26 However, two men, whose names were Eldad and Medad, had remained in the camp. They were listed among the elders, but did not go out to the Tent. Yet the Spirit also rested on them, and they prophesied in the camp. 27 A young man ran and told Moses, "Eldad and Medad are prophesying in the camp." 28 Joshua son of Nun, who had been Moses' aide since youth, spoke up and said, "Moses, my lord, stop them!" 29 But Moses replied, "Are you jealous for my sake? I wish that all the LORD's people were prophets and that the LORD would put his Spirit on them!"
God knew who His chosen leaders were—whether in the camp or at the Tent.  The Spirit rested ON them.  Only when the Spirit rested on them did they prophesy, but in verse 25 of that passage "they did not do so again."  Spirit comes on and off and rests and leaves.  God's presence is in a cloud.
Why did the Spirit of God come ON people in the Old Testament, but not IN people like the Spirit does in the New Testament?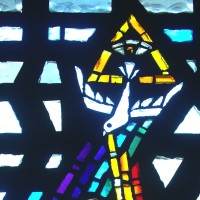 Jesus says this in John:  John 14:15 "If you love me, you will obey what I command. 16 And I will ask the Father, and he will give you another Counselor to be with you forever– 17 the Spirit of truth. The world cannot accept him, because it neither sees him nor knows him. But you know him, for he lives with you and will be in you. 18 I will not leave you as orphans; I will come to you. 19 Before long, the world will not see me anymore, but you will see me. Because I live, you also will live. 20 On that day you will realize that I am in my Father, and you are in me, and I am in you. "
Well, prior to the Crucifixion, Resurrection, and Ascension, we were not clean.
We sacrificed lambs and goats and doves and rams and all kinds of their body parts and splashed blood all over the place but it never took away our sin.   The author of the book of Hebrews says it this way:  Hebrews 10:3 But those sacrifices are an annual reminder of sins, 4 because it is impossible for the blood of bulls and goats to take away sins. 5 Therefore, when Christ came into the world, he said: "Sacrifice and offering you did not desire, but a body you prepared for me; 6 with burnt offerings and sin offerings you were not pleased. 7 Then I said, 'Here I am– it is written about me in the scroll– I have come to do your will, O God.'" …10 And by that will, we have been made holy through the sacrifice of the body of Jesus Christ once for all."
What did all that blood do in the OT?   It just showed God we were trying to take sin seriously, but it never seriously took our sins away.
Not even placing them on the head of the scapegoat who trotted off to the wilderness with all our sins on it wondering, "What gives?"  Or maybe feeling lucky that he wasn't the other goat whose blood was everywhere.  Kind of like that scene from Moneyball where Brad Pitt's character Oakland A's general manager Billy Beane is talking about firing players and asks Peter Brand his assistant, "Would you rather get one shot in the head or five in the chest and bleed to death?" and Peter asks, "Are those my only options?"  The scapegoat and the one sacrificed must have felt the same way.
Well, in the OT, there weren't any other alternatives for the Holy Spirit.  He either rested or He didn't.  There was no indwelling of a Holy Spirit because our hearts were anything but holy or forgiven.  It took Jesus' sacrifice to make our hearts a suitable temple in which the Holy Spirit dwells.  1 Corinthians 6:19 Do you not know that your body is a temple of the Holy Spirit, who is in you, whom you have received from God? You are not your own;
So in the OT, God's presence was in a pillar of cloud, a pillar of fire, a theophany as a burning bush and His power came upon people like Saul and Moses and the elders.  None of them experienced God's indwelling.
Which brings us back to our passage:  Each disciple was filled…
Even today each disciple of Jesus who has been made clean by the sacrifice of Jesus on the Cross and by God's grace through our faith in Jesus…will be filled with the Holy Spirit.  Each—individually!  All—together!  That's what the Holy Spirit does.  He kicked off the whole Church forever with His coming!
That's how these disciples could be dispersed to different areas of the world to preach the same Gospel and to do this kind of witness to their deaths.  God's Holy Spirit was IN them and I cannot emphasize enough what a huge deal this is!
It's huge for the disciples as individuals, proving their inheritance!  Salvation!
It's huge for the disciples as a group, unifying their mission!  Witness!
It binds them together no matter where they are.  It binds us together in generations back to that day and forward to the day Jesus returns!  That same Holy Spirit binds us all together—all God's people of all time!
The Holy Spirit dwelling IN us means that God's presence goes with us wherever we go and ought to inspire us to holy living all the time, not just on Sunday mornings for a couple of hours.  It ought to bind us together no matter whether we're tax collectors like Matthew or their enemies, the Zealots.  It ought to bind us together whether we're male or female.  It ought to bind us together whether we are Republicans or Democrats.  It ought to bind us together whether we are Christians with dark skin or light skin.
With the Holy Spirit IN us as believers, we're all one in the family of God, equally saved, equally loved, equally forgiven!  How can we dislike any our family members in the Body of Christ when they have the Holy Spirit too?  How can we fail to stand shoulder to shoulder, refuse to work together for the sake of the Gospel when His Indwelling Spirit goes with us and binds us one to another?
We want Plymouth Church to grow.  You want to know how that will happen?  It will happen when each of us filled with the Holy Spirit decides to take sin seriously, take unity seriously, take the Gospel seriously, and take our role in the Body of Christ—what we talked about last week—and thank you to the people who took that survey and sent your results in to the Plymouth email address on the bulletin!  What a blessing to each other!  What an encouragement!  That's the kind of teamwork I'm talking about…that happens when the Holy Spirit dwells in each of us and empowers all of us.  He'll kick off a whole new season for us if we're willing!  He's indwelling in each of us and is ready to roll.
In a world in turmoil, there are dark days ahead for Christians, but with the Holy Spirit empowering, indwelling, and reminding us of Jesus, we can endure through prayer…shoulder to shoulder, side by side with our brothers and sisters in Christ at home and overseas.  And with His power, by His grace, and on account of His Holy Spirit's coming, we will prevail.  His victory is already won and the Holy Spirit's coming is our guarantee!    Let's pray.