John 14:16 And I will ask the Father, and he will give you another Counselor to be with you forever– 17 the Spirit of truth. The world cannot accept him, because it neither sees him nor knows him. But you know him, for he lives with you and will be in you.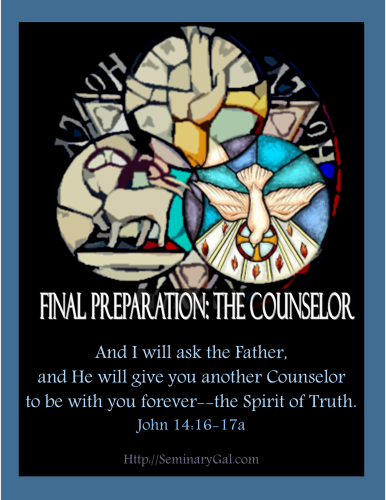 It would probably have been hard to be a disciple of Jesus.  He obviously had an intellect that allowed Him to comprehend and articulate things with perfect accuracy and detail…things that we cannot comprehend at all. Of course, He is God so that's an advantage.
If I were a disciple, I think I'd become overwhelmed easily…like a baby who wants to walk whose physical capability just wasn't there yet.
It'd be very frustrating to have all the desire to follow, a command to do so, and not be able to understand enough to do it without help.
With Christ in the Upper Room, today's is the first mention of the Counselor (also known as the Advocate, the Holy Spirit, the Parakletos) in John's Gospel.  The Holy Spirit connects the disciples' time with Jesus to the time following His Ascension when the Holy Spirit would come at Pentecost to be God's presence with us.  They just don't know it yet.
Lots of tough concepts for a bunch of guys who are at the Last Supper.  They don't even fully get it that Jesus is going to be arrested, crucified, and buried, the few short hours ticking away.
So why does Jesus tell them about this Counselor now?
Comfort.  That they are going to have God with them in a whole new way.

Comfort.  That this gift won't ever be taken away.

Comfort.  That where God commands obedience, He aims to provide every resource we'll need to accomplish it.

Comfort knowing that the word And beginning our passage today connects the "If you love Me" from yesterday with the power to obey: the Holy Spirit.
* * *
Give it Up for Lent: Seeing the Holy Spirit as less of God than Jesus
Put it On for Lent: Comfort of the Counselor
For further thought, pray through all the things we do know about this Counselor in the Word of God, alluded to by Jesus today:
* * *
You can receive these devotional studies in your email (Monday through Saturday during Lent) by entering your email address on the SeminaryGal.com home page in the space provided in the sidebar.  Let's meet With Christ in the Upper Room.