Later, knowing that all was now completed, and so that the Scripture would be fulfilled, Jesus said, "I am thirsty"  (John 19:28).
In the fifth in a series of Jesus' Last Words, we see a beautiful picture of Jesus' humanity.  As Jesus was dying a very human death upon the Cross, we might be caused to question whether He was specially empowered to die by His divine nature.  In other words, was it a superhuman who was dying or a human?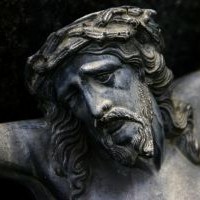 One of the common human sensations is thirst.  When Jesus quotes Psalm 69:21 as being fulfilled, there is a sense that He was reassuring us of His humanity.  He was identifying with our humanity through a very human need: thirst.
Yet, there is also a sense in which His divinity is also on display.  Jesus knew that all was now completed.  All what?  All the work of revealing God to us.
Then this passage tells us that He said, "I am thirsty" so that Scripture would be fulfilled.  Why was that important?  It was important for the work of God and also for our future assurance of Jesus' being the foretold Messiah.
 Psalm 69:21 They put gall in my food and gave me vinegar for my thirst.                John 19:29 A jar of wine vinegar was there, so they soaked a sponge in it, put the sponge on a stalk of the hyssop plant, and lifted it to Jesus' lips.
Do you see both His humanity and divinity on full display?  His thirst tells us of His humanity.  His knowledge of the work of God displays His divinity.  But His surrender to the work of God demonstrated the completely yielded will of the perfect and fully human Jesus to the fully perfect and divine Godhead.
Who was on the Cross?  Jesus—fully human, fully God.
Who died?  The perfect and sinless Jesus of Nazareth—Son of God, Son of Man.