There's a question I think about when I ponder life's mysteries:  If Jesus hadn't been baptized as one of us, would His death have been for us?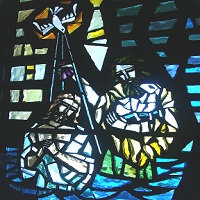 We can be in such a hurry to get to the empty tomb of Easter that we barely stop long enough at the Cross to know the importance of His death or consider the prior pivotal importance of His baptism.
Fortunately, the question is a hypothetical, but it points to a very real truth: Without the baptism of Jesus, His death would have been gratuitous–a lavish waste of His divine life.
Today's passage (1 John 5:1-12) speaks of this.  If we want to walk on the Way of Holiness—to experience the victory of the redeemed—we must agree with John (verse 5) "Who is it that overcomes the world? Only he who believes that Jesus is the Son of God."
Then John elaborates on who this Jesus is:
"This is the one who came by water and blood– Jesus Christ. He did not come by water only, but by water and blood. And it is the Spirit who testifies, because the Spirit is the truth. For there are three that testify: the Spirit, the water and the blood; and the three are in agreement" (verses 6-8).
Had Jesus come to earth incognito, lived and taught and died—with no baptism, no one knowing He was the Son of God—there would be no identification with us in our sinful lives…and no identification with us in His death…and no identification for us in His resurrection. 
But Jesus loved the Father, obeyed His will, and revealed Him to us.  Yes, Jesus identified with us through the power of the Spirit during His incarnation.  He identified with us in a baptism for sins—ones He never committed—and simultaneously unleashed the Spirit's conviction upon our sinful state and had the Spirit's affirmation of Jesus' divine nature.  Therefore, He was revealed as "God with us" in His teachings.  And He identified with us on the Cross by paying for our sins. 
When the Holy Spirit came as Jesus promised, the Spirit testifies, the water of baptism testifies, and the shed blood of Christ testifies that victory is ahead for those who believe this testimony: Jesus is the Son of God.