When all else fails, read the instruction manual. Many people have this as their motto for living. Try. Fail. Try. Fail. Hmmm. Maybe I should see what the manufacturer recommends.  But our efforts only carry us as far as our understanding is accurate.
 In today's passage, Galatians 3:1-14, Paul is suggesting this very thing. He asks the people in the Church at Galatia,
Did you receive the Spirit by observing the law, or by believing what you heard?"
For a long time, I've thought the Holy Spirit is the best kept secret of evangelical Christianity. However, for fear of sounding like we've abandoned all reason under criticism of the watching world, many Christians lock the Holy Spirit away (as some embarrassing relative no one wants to talk about).
But for Christians, the Holy Spirit is our greatest testimony that we're in the family of faith. By our own efforts we can look at the Bible, read it, and work hard at following it. We can "observe the Law," what my Jewish friends would call observant and my Mormon friends would call faithful. But the Holy Spirit isn't there. Good behavior is there. And good behavior on the outside won't solve the sin problem that we carry as part of our nature.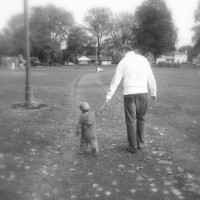 How does Paul say we get the Holy Spirit? By faith in God through the work of the Jesus Christ (as portrayed in the Christian Bible).
And it's by faith that we will walk on the Way of Holiness—hand in hand with God's Holy Spirit who will guide us.
Admittedly plenty of Christians keep the Holy Spirit at home in the closet and do what they feel like doing—maybe following the Law, maybe nowhere near it. Like people who have an instruction manual but keep it in a drawer, they don't avail themselves of the resource they need to solve the problem.
Christians have the Holy Spirit and can trust God to stand in the gap for us where our human efforts fail. It's kind of like having the instruction manual hardwired into our lives and having a "Fix it for me" feature when we've reached the limits of our understanding. Paul writes,
All who rely on observing the law are under a curse, for it is written: "Cursed is everyone who does not continue to do everything written in the Book of the Law." Clearly no one is justified before God by the law, because, "The righteous will live by faith…[Jesus] redeemed us in order that the blessing given to Abraham might come to the Gentiles through Christ Jesus, so that by faith we might receive the promise of the Spirit" (verses 10-11, 14).
Have you received the promise of the Holy Spirit by faith in Jesus Christ?