We all try to protect what we love or what is valuable to us. It explains the rise of "spider wraps" and other anti-theft protections on expensive products, home security camera systems, and smart homes that alert us when there's been a breach. It also explains everything from child-safety car seats to tamper-evident technology for electronics, containers for foods, medicines, and baby formula. Safety and protection are important to us.
Such is the case today with Jacob and the way he was reunited with his brother Esau after many years. Jacob clearly remembered how he deceived his brother into receiving Isaac's blessing as a birthright and to see him after all these years would be awkward at best. So, he sends a message to Esau clearly implying "Don't worry." He hasn't been sneaking or hiding, he's not coming to take anything that belongs to Esau, and he wants to let the past be forgiven.
Why that? Well, he imagined—without too much difficulty—that Esau may hold a grudge, long ago turning into bitterness, and then there's the confusing message brought back that caused Jacob to be alarmed. Genesis 32:6 When the messengers returned to Jacob, they said, "We went to your brother Esau, and now he is coming to meet you, and four hundred men are with him."
Four. Hundred. Men. An army! Jacob feared the worst and put a plan in action. Genesis 32:7 In great fear and distress Jacob divided the people who were with him into two groups, and the flocks and herds and camels as well. 8 He thought, "If Esau comes and attacks one group, the group that is left may escape."
He knew who he wanted to ensure would escape: Rachel and their son Joseph. Above all, Joseph was the protected child.
Jacob begins to schmooze Esau to win his favor…all kinds of animals as a gift! Yet Esau and his army still came!
Genesis 33:1 Jacob looked up and there was Esau, coming with his four hundred men; so he divided the children among Leah, Rachel and the two maidservants. 2 He put the maidservants and their children in front, Leah and her children next, and Rachel and Joseph in the rear.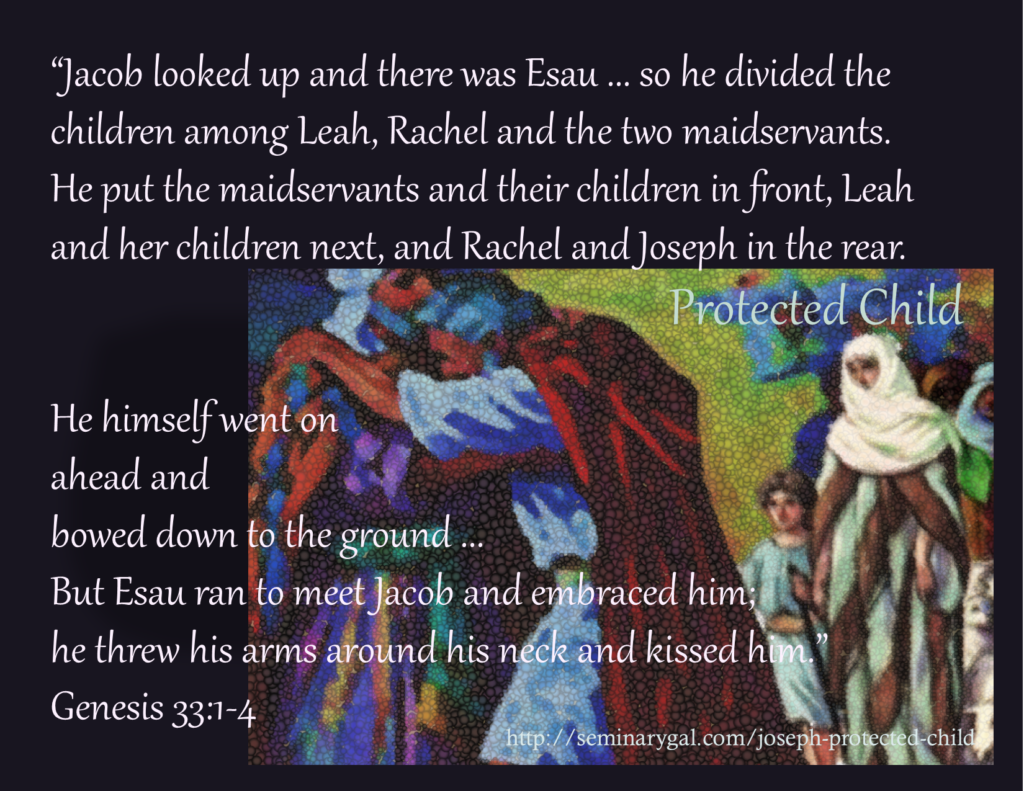 .
And that tells you everything you need to know about Jacob's special relationship with Rachel and their son Joseph. His children with maidservants, valued, yes, but expendable. His children with Leah including the one who'd be in the lineage of Christ (Judah)…valued, but not so much as the child with Rachel.
Jacob stands between himself and all his offspring. And after a quick quasi-prayer (which is about all we ever get with Jacob), Genesis 33:3 He himself went on ahead and bowed down to the ground seven times as he approached his brother. 4 But Esau ran to meet Jacob and embraced him; he threw his arms around his neck and kissed him. And they wept. 5 Then Esau looked up and saw the women and children. "Who are these with you?" he asked. Jacob answered, "They are the children God has graciously given your servant." 6 Then the maidservants and their children approached and bowed down. 7 Next, Leah and her children came and bowed down. Last of all came Joseph and Rachel, and they too bowed down.
A lot to think about today:
In Jacob's prayer life, he resorts to prayer as a final alternative (Gen 32:9-12). In what ways do we often try everything humanly possible for our own protection, exhausting everything else before trusting God as a last resort?

Jacob's prayer is more like reminding God to honor His promises instead of beseeching God to be merciful. What does that do to grace, God's unmerited favor?

Finally, Jacob admits his own unworthiness and inability to rely upon himself. Have you ever been driven to that point?

Even after acknowledging his unworthiness, Jacob still plans and plots to show favoritism, even among his own children. What message does that communicate to his other wives and children, and what sins does this favoritism foster?

In what way did Jacob overall have a less gracious response than his brother Esau?

Joseph was a protected child. So was Jesus (Matthew 2). Why was the protection of Jesus necessary and God-honoring in a way that the protection of Joseph was not?