Genesis 41:32 The reason the dream was given to Pharaoh in two forms is that the matter has been firmly decided by God, and God will do it soon.
Joseph follows up the interpretation with assurance this is a settled matter, one which is time critical. He then outlines a plan.
Genesis 41:33 "And now let Pharaoh look for a discerning and wise man and put him in charge of the land of Egypt. 34 Let Pharaoh appoint commissioners over the land to take a fifth of the harvest of Egypt during the seven years of abundance. 35 They should collect all the food of these good years that are coming and store up the grain under the authority of Pharaoh, to be kept in the cities for food. 36 This food should be held in reserve for the country, to be used during the seven years of famine that will come upon Egypt, so that the country may not be ruined by the famine." 37 The plan seemed good to Pharaoh and to all his officials.
As much as Joseph wants to be out of prison for good and may have wanted to go back to Canaan to the Valley of Hebron and his father Jacob's tent in the shade, he followed up the interpretation of Pharaoh's dreams and assurance of their fixed future with a prompt proposal and a strategic plan to be implemented immediately.   Timely intervention is evidence of God's benevolence.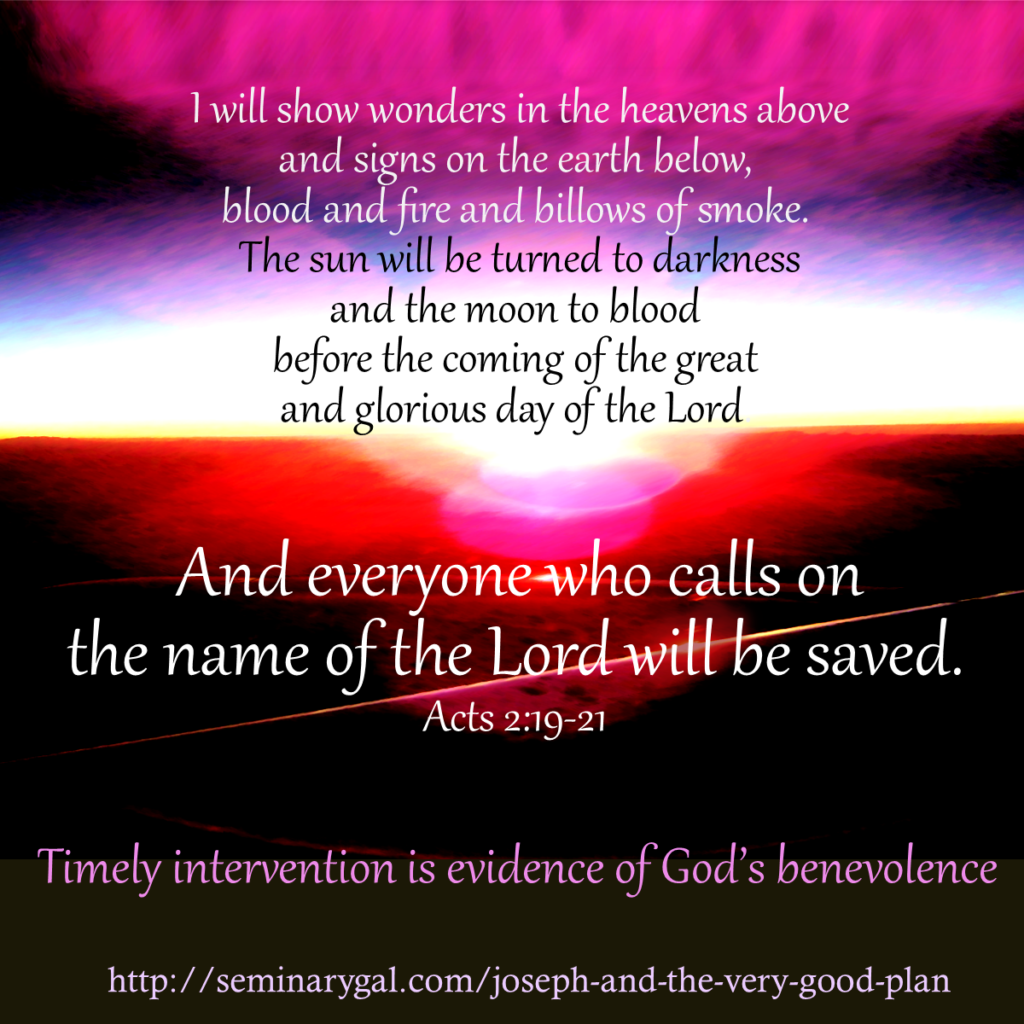 Think about it:
While it is tempting to think Joseph might have steered the situation to his own benefit, how did Joseph know the interpretation of the dreams?
Who gave Joseph the plan for dealing with what was presented?
How did the urgency of the situation and the prior blessing of abundance offset the negative assurance of a famine?
How did the prompt strategic plan honor Pharaoh in the present and make him look good? How would such planning make Pharaoh look wise in the future?
How did the years of grace prepare Egypt for the years of suffering so they would not be ruined?
Does God care about pagan people? As the story unfolds, Joseph's family will come to Egypt. How does God's care for Egypt become care for Jacob and all of Joseph's family?
How does it set the stage for fulfilling Genesis 15:13-16?