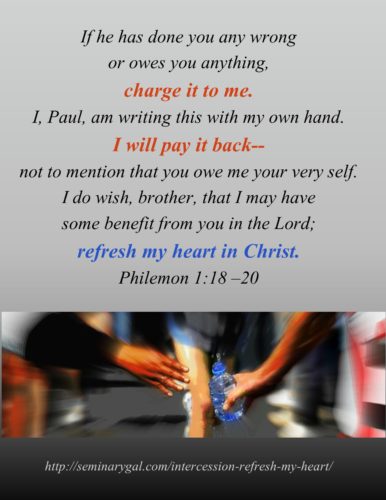 We're coming to the conclusion soon of the Tiny Virtues series and today we'll look at the virtue of intercession. There's a difference between intercession and advocacy as it is currently presented in our culture. It's not community activism or promotion of a social cause.
Rather, there is an element of tact and diplomacy evident in genuine biblical intercession and advocacy.
Intercession is when a powerful one upholds a powerless individual in the cause of righteousness.
But God demonstrates His own love toward us, in that while we were yet sinners, Christ died for us.

Romans 5:8
Two biblical examples also stand out to me: (1) the way Paul went to bat for Onesimus, the runaway slave in Philemon and (2) the way Joseph of Arimathea asked permission for the deceased body of Jesus. Both are examples of leadership, diplomacy, self-sacrifice, genuine righteousness, and tact. All these ideas are clustered together in the virtue of intercession.
It's often said that character is seen best in how we treat those who can do nothing for us. It's easy to treat people well when there's a quid pro quo, a payback. But when someone can do absolutely nothing for you, but needs your help, what do you do?
The Exemplary Christian goes to bat for him or her…just like Paul did. Just like Joseph did.
This story of Joseph of Arimathea is told in all 4 Gospels….for a reason. Luke 23:50 Now there was a man named Joseph, a member of the Council, a good and upright man, 51 who had not consented to their decision and action. He came from the Judean town of Arimathea and he was waiting for the kingdom of God. 52 Going to Pilate, he asked for Jesus' body. 53 Then he took it down, wrapped it in linen cloth and placed it in a tomb cut in the rock, one in which no one had yet been laid.
His is not a story of piling on with the rest of the Council. His is a story of diplomacy and intercession.
Ponder today: the last time you went to bat for someone who could not help himself. How can you tell when those around you are hurting? Do you judge them?  Do you expect a payback?  Whose heart can you refresh by intercession?
Bible characters of the day: Paul and Joseph of Arimathea