One of the principles of Kingdom vision we talked about yesterday involves expectations.  Jesus expected suffering.  But He wasn't a fatalist.  How did He avoid fatalism while still being realistic?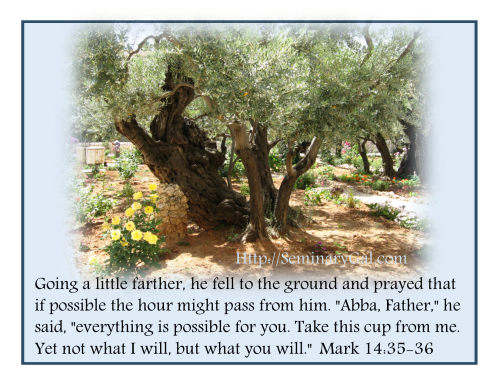 The Miriam-Webster Dictionary defines fatalism as "a doctrine that events are fixed in advance so that human beings are powerless to change them; also : a belief in or attitude determined by this doctrine."
What about Jesus' Kingdom vision made Him different?  He was completely realistic in His expectations about the pervasiveness of suffering (John 16:33–In this world you will have trouble) without becoming fatalistic about it all (Take heart, I have overcome the world).
I submit to you that we can follow in His footsteps of suffering without becoming the world's greatest pessimists by having the same Kingdom vision and expectations that Jesus had.  Today, let's examine Mark 14:35-36 to see three distinctions that help us see life the way Jesus saw it.
Going a little farther, he fell to the ground and prayed that if possible the hour might pass from him.  "Abba, Father," he said, "everything is possible for you. Take this cup from me. Yet not what I will, but what you will." (Mark 14:35-36)
Let's look at those three distinctions between realism and fatalism. 
First distinction:  Realism sees circumstances within a world of real possibilities.  Fatalism sees circumstances surrounded by impossibilities.
Jesus asks that the hour might pass knowing that everything is possible with God.  Had Jesus resorted to fate, He'd never have asked or believed it to be possible.  Jesus knew God to be the God of all possibilities. (Matthew 19:26 Jesus looked at them and said, "With man this is impossible, but with God all things are possible.")
In the Garden of Gethsemane, Jesus stated what He wanted in the world of possibilities: If there was any other way, to have the cup taken from Him.   But in the end, Jesus loves the Father and submits His own will to the Father's.
Fatalism says whatever will be will be, it's carved in stone, and there is no way out.  You're trapped.
Jesus didn't view Himself as trapped.
Second distinction:  Realism offers an opportunity to respond with a choice.  Fatalism offers only resentment and victimhood in circumstances that will never change . 
Jesus realistically sees the situation.  The hour was coming of His suffering and death.  Realism looks to the possibilities, invites a response, and that response is a choice to react, often in very practical ways.  In our core passage today, how did Jesus react?  Jesus prayed.
Jesus responded with love and serving others in John 13:1-17.  He responded with forgiveness in Luke 23:34.  His responses always reflected His choice of obedience, trust, and love.
Fatalism on the other hand fosters resentment at circumstances beyond one's control.  It highlights that one is a victim, all the circumstances are stacked against you, and you are completely without hope.
Third distinction:  Realism says power exists that can change things.  Fatalism says there is no power available to change anything.
John 10:17 The reason my Father loves me is that I lay down my life– only to take it up again. 18 No one takes it from me, but I lay it down of my own accord. I have authority to lay it down and authority to take it up again. This command I received from my Father."
Jesus had decisive power and entrusted Himself to the Father who has all the power needed to overcome any circumstance.   Just think about how differently we'd view the Crucifixion if God the Father forced Jesus onto the Cross against Jesus' own will.  It would have been little different than child sacrifice and Jesus would have been a victim instead of a victor!
With Kingdom vision, we can expect suffering—realistically and not fatalistically—as Scripture tells us we ought. 
Dear friends, do not be surprised at the painful trial you are suffering, as though something strange were happening to you.  But rejoice that you participate in the sufferings of Christ, so that you may be overjoyed when his glory is revealed. (1 Peter 4:12-13)
We can know that realistic, possible, and powerful response to suffering that Jesus gives:
 In this world you will have trouble. But take heart! I have overcome the world." (John 16:33)