Just imagine for a moment if we could earn our way out of our sin predicament and separation from God. I can picture a few different scenarios:
We'd be beating each other up for opportunities to earn our way out of Hell.

We'd procrastinate, waiting until the last minute like cramming for finals.

We'd misjudge how much earning we'd need like people do with retirement income in commercials.

We'd amass huge salvation-earning-stockpiles and portfolios and show off to our friends and neighbors.

We'd get into an "I'm more saved than you are" attitude.

We'd post about it on social media and inflate our good works to make jealous those among our bazillion closest friends we've never met and prompt their immediate unfriending.

We'd cut God out of the equation completely. Ouch.
That's why God—in His infinite wisdom—doesn't let us do that. He gives us grace. We come to Him by faith and if our faith is genuine, God opens His stockpile of grace and simply gives salvation to us as a free gift in a miraculous exchange, courtesy of Jesus.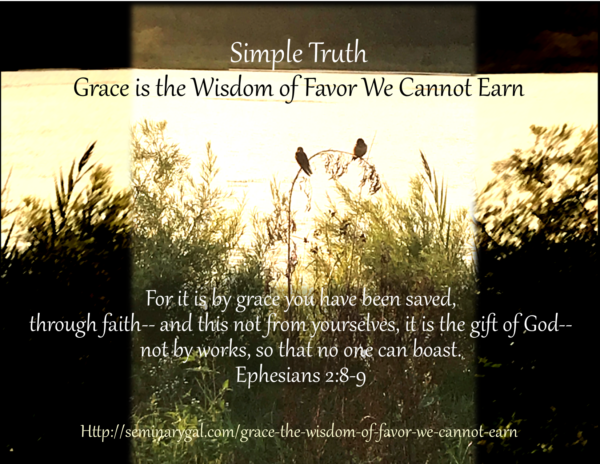 .
Ephesians 2:3 All of us also lived among them at one time, gratifying the cravings of our sinful nature and following its desires and thoughts. Like the rest, we were by nature objects of wrath. 4 But because of his great love for us, God, who is rich in mercy, 5 made us alive with Christ even when we were dead in transgressions– it is by grace you have been saved… 8 For it is by grace you have been saved, through faith– and this not from yourselves, it is the gift of God– 9 not by works, so that no one can boast.
It's a reflection of God's love for you and for me…
and more accurately, for His Image in you and in me.
You see, if it was God's love for your personality, my flesh, your actions, my thoughts, etc., we'd be earning it. There is only one thing I have in common with you in equal amounts: God's Image. If you want to split hairs, you could say, we're both human in equal amounts and we both have a sin disposition, but for two things: God doesn't love our sinfulness—that sin nature—and it's God's Image that separates human animal, you and me, from the rest of the Animal Kingdom.
So, it begs the questions:
Are you still trying to earn your way to heaven?

Or do you see that Grace is the Wisdom of Favor We Cannot Earn?"