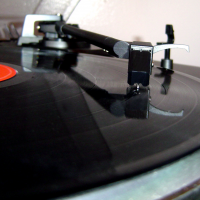 I think I should have given up Oldies music for Lent or maybe home improvements.  I've been listening to Oldies while painting walls and recalling days past. As I heard the song by David Gates (of Bread fame) entitled "Everything I Own," I was thinking how appropriate it would be for today's devotional.  When it was released in 1972 it was thought by many average listeners to be a romantic love song when in fact it was written as a tribute to his father.
David Gates' father was a music teacher and influenced his son toward a love of music.  During his junior year of college, David told his father that he wanted to move to California–just for the summer–to pursue a songwriting and performing career.  His mother and father were deeply disappointed that David would not be finishing his education but his father selflessly said,
Take two years and give it a shot. If it doesn't work out, you can still finish college."
Toward the end of that two years his father passed away, never having seen the full success that his son would achieve.  So much was left unsaid between father and son when he died.  That is the back story behind these lyrics to "Everything I Own":
"Is there someone you know
You're loving them so
But taking them all for granted?
You may lose them one day.
Someone takes them away
And they'll never hear the words you have to say.
I would give anything I own.
Give up my life and my heart, my home.
I would give everything I own just to have you back again. "
Consider this: David Gates could not be with his father if he actually gave up his life, even if it is a beautiful sentiment.  Moreover, David and his father were not relationally estranged, just separated by time and distance.  The song communicates the strong bond of the father-child relationship and the love infusing it.
Our bond with God the Father is strong and infused with love, too.  But Scripture is clear that we are estranged from our Father in heaven…because of sin.
You see, at just the right time, when we were still powerless, Christ died for the ungodly.  Very rarely will anyone die for a righteous man, though for a good man someone might possibly dare to die.  But God demonstrates his own love for us in this: While we were still sinners, Christ died for us. (Romans 5:6-8, NIV)
Jesus, God's One and Only Son, gave up His life so that we could be reunited with our Father in heaven.  He gave up everything just to have us back again.
* * *
Give it up for Lent: Estrangement from God the Father
* * *
For further study: read all of Romans 5:6-11, John 3:11-18
Why could Jesus die and yet be with the Father but David Gates couldn't die and bring his father back?

Read Genesis 3:17-24.  What caused our estrangement from our Father in heaven?  What does our estrangement look like?  Whose fault is it?

How has Jesus' death provided the only remedy our estrangement?