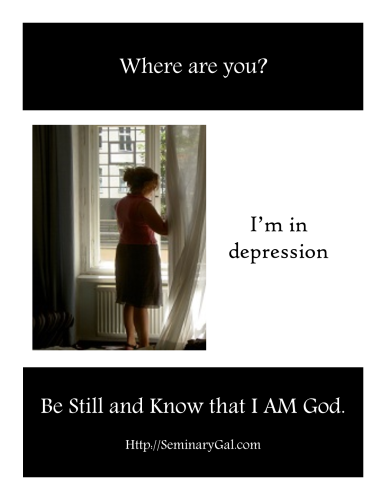 Yesterday in our 2014 Lenten Devotional series entitled Be Still and Know that I AM God, we saw that Leah, Rachel's sister, wanted a gold medal in the Most Competitive Fertile Woman in the World games.  Rachel wasn't going to let her have it without a fight.
Where are you, Rachel?
I'm in depression, God. 
I'm jealous of my sister's ability to have babies.  I'm competitive and coming up short.  I'm striving every way I can and still have no child to call my own.  I am barren and I'm brokenhearted about it.  I'm even blaming my husband.
Genesis 30: 1 When Rachel saw that she was not bearing Jacob any children, she became jealous of her sister. So she said to Jacob, "Give me children, or I'll die!"  2 Jacob became angry with her and said, "Am I in the place of God, who has kept you from having children?"
When we are competitive for the wrong reasons, we don't rejoice with others and their successes.  We envy them and resent their joy.  We see only winners and losers.  No one wants to be the loser.  Being a loser is depressing.
Depression is a great killer of stillness.  It churns the mind. 
It's a powerful force that refuses to be still. 
It can be centrifugal, forcing us into the outer world to deal with it in relation to others.  In a positive sense, it can become compassion for others who are suffering.  But more often, perhaps, negatively as striving, scheming, or spreading our woes to others.
Weighing others down with our problems that we'd rather coddle than cure.
Anger that we take out on those we love and those we don't.
Bitterness that turns relationships into dumping grounds and creates a graveyard of loneliness in a garden of friendship that used to sustain life and joy.
Depression can also be centripetal, spinning and spinning, forcing all our emotions inward into one consolidated lump buried deep in our core.  Depression sits there and weighs on us.  It ferments and grows, refusing to be comforted.  It becomes the friend we never wanted and the house guest that refuses to leave.
Where are you?  Are you like Rachel, trying and trying and spinning and spinning and getting nowhere?
Be Still. Are you spinning inward?  I need your decision to stop before I can change your direction.  I'm not a puppeteer and I love you too much to override your will. You must decide to stop and look to Me.
Be Still.  Are you spinning outward, but in a negative way?  Some things need more than human effort.  That's why you particularly need My touch to show you how to live with joy even in difficult circumstances. 
Be Still and Know that I AM God.  When you are still in My presence, when you seek Me, the desires of your heart will be conformed to look more like mine.  Sometimes human desires and effort get in the way of what you really need.
Be Still and Know that I AM God.  I don't ask you to approve of My plans for you.  But when you reach the other side, the place I alone can see at present, you will know that I AM God and will have done right by you all along, even if it's not what you wanted right now because you couldn't see the better things I had planned for all eternity.
Questions for reflection:
Everyone experiences depressing circumstances from time to time.  It's part of living in a broken world.  What direction do you spin when depression hits?
Do you know someone who is depressed, perhaps like Rachel because of infertility, or perhaps feeling like there is no hope?  How might you help that person to have hope?
The desire for babies is strong among women and infertility is a sorrow of immense proportions.  What might be some ways for infertile women to spin their sorrow outward to helping others and having that nurturing relationship they desire?