Perhaps you're thinking—basis the title—she's gone too far this time.  What does she mean we were created to BE Priests?
You don't have to take my word for it.  It's in the Bible…from the beginning to the end.
In Genesis, Adam and Eve were to work the Garden and take care of it.  This is the Lord's sanctuary;  and Adam's and Eve's combined act of worship was their serving God by taking care of the place where God met with them.  In the Garden of Eden, Adam and Eve were priests. 
A stretch, you think?  Well, take a look at this one:
Then Moses went up to God, and the LORD called to him from the mountain and said, "This is what you are to say to the house of Jacob and what you are to tell the people of Israel:  'You yourselves have seen what I did to Egypt, and how I carried you on eagles' wings and brought you to myself.  Now if you obey me fully and keep my covenant, then out of all nations you will be my treasured possession. Although the whole earth is mine, you will be for me a kingdom of priests and a holy nation.' These are the words you are to speak to the Israelites."  So Moses went back and summoned the elders of the people and set before them all the words the LORD had commanded him to speak.   The people all responded together, "We will do everything the LORD has said." So Moses brought their answer back to the LORD.  (Exodus 19:3-8)
When we obey God fully and keep His covenant, we are His treasured possession, a kingdom of priests, and a holy nation.  Maybe you're thinking, "Hmmm.  That was the Old Testament and it's talking about Israel, not Christians."  Alright, how about this next one?
Therefore, I urge you, brothers, in view of God's mercy, to offer your bodies as living sacrifices, holy and pleasing to God– this is your spiritual act of worship. (Romans 12:1)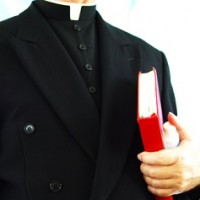 Offering sacrifices to God as a spiritual act of worship:  Isn't that the function of a priest in Old Testament language here in the New Testament?  Doesn't Scripture say that our bodies are the Temple of God  (1 Corinthians 3:16)?  By His Spirit dwelling in us, aren't our bodies the place where God meets with us?  If yes and Amen and Amen, then doesn't it follow that when we serve God with our bodies as a spiritual act of worship, we are performing the function of a priest?
Many of us find the concept of BE-ing a priest unsettling.       When I was in high school, the last thing anyone—including me—would have thought was that I'd become SeminaryGal.  Serving God?  Theologically driven?  Priest?  The chuckle would have blossomed into a full belly laugh from all of us.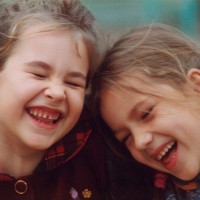 I remember two instances in which the concept of pastor/priest hit home.  The first one was when I was speaking with an individual who held a significant administration position in our community.  He is Jewish and when he heard that I was in seminary, he asked if when I got out, I'd end up wearing one of those little white collars.  We both laughed at the thought and I said that my denomination of church doesn't do the little white collars…for that matter, women don't do that kind of service.  Then he asked, "Why go through with it then?"  I responded, "I really don't know.  I guess, just because God is sending me."  Later on I thought, it doesn't have to make sense to me.  It's not my role to pass judgment on God's commission.   My role is to do it.
The other time was when I was driving for two days with my daughter, we were going to Florida for a working vacation.  When we got there, one of her friends phoned and howling with laughter, asked her, "So how was it going on a road trip with The Paaaaaasterrrrrrrr?"  I asked my daughter, "I'm still OK, right?  It wasn't all that bad…was it?"
BE-ing a priest doesn't mean donning a white color or becoming humanity's wet blanket, smothering out any semblance of humor or fun.  It does mean recognizing that stereotypes will hound the person who is seeking to serve God all the time—our being that living sacrifice.  Jokes persist about white collars and being a Holy Roller, Bible thumper, religious Zealot, or right-wing fanatic.  But the person—male or female—truly serving God wholeheartedly doesn't need to be ashamed of BE-ing a priest.  It witnesses in wonderful ways a person would never anticipate.
We can withstand the ridicule because all Christians someday will embrace the role—regardless of race or gender.  As surely as Jesus stands as King, we will all serve as priests.
And they sang a new song: "You are worthy to take the scroll and to open its seals, because you were slain, and with your blood you purchased men for God from every tribe and language and people and nation.  You have made them to be a kingdom and priests to serve our God, and they will reign on the earth."  Revelation 5:9-10
We were Created to BE Priests.