Psalm 27:1 Of David. The LORD is my light and my salvation– whom shall I fear? The LORD is the stronghold of my life– of whom shall I be afraid? 2 When evil men advance against me to devour my flesh, when my enemies and my foes attack me, they will stumble and fall. 3 Though an army besiege me, my heart will not fear; though war break out against me, even then will I be confident. 4
One thing I ask of the LORD, this is what I seek: that I may dwell in the house of the LORD all the days of my life, to gaze upon the beauty of the LORD and to seek him in his temple.
5 For in the day of trouble he will keep me safe in his dwelling; he will hide me in the shelter of his tabernacle and set me high upon a rock. 6 Then my head will be exalted above the enemies who surround me; at his tabernacle will I sacrifice with shouts of joy; I will sing and make music to the LORD. 7 Hear my voice when I call, O LORD; be merciful to me and answer me. 8
My heart says of you, "Seek his face!" Your face, LORD, I will seek.
9 Do not hide your face from me, do not turn your servant away in anger; you have been my helper. Do not reject me or forsake me, O God my Savior. 10 Though my father and mother forsake me, the LORD will receive me. 11 Teach me your way, O LORD; lead me in a straight path because of my oppressors. 12 Do not turn me over to the desire of my foes, for false witnesses rise up against me, breathing out violence. 13
I am still confident of this: I will see the goodness of the LORD in the land of the living. 14 Wait for the LORD; be strong and take heart and wait for the LORD.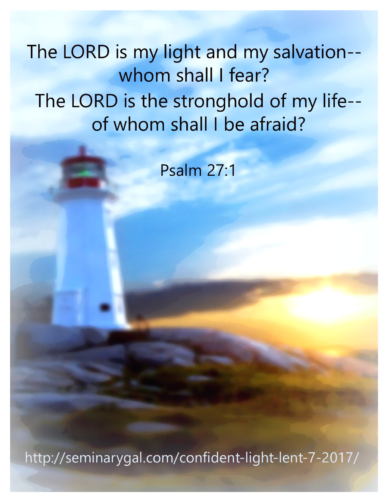 The connection between light and sight is undeniable. If darkness and blindness lead us to feelings of uncertainty and even fear, it shouldn't surprise us that both light and sight can lead us to confidence.
Reading through this psalm of David, the connection of light to sight to confident hope repeats in a rhythm from verse to verse.
What do you do when you face great opposition like David did? Do you retreat or hide?
Or do you consult your GPS (God Positioning System) to orient yourself? Do you press into the light so you can see the face of God and have confidence to face a new day?
Light has a way of providing orientation of our lives and in that same way, God's light leads us to life, even salvation.
Fun fact of light: Did you know that sea turtles and moths use the light of the moon and the stars to help navigate at night? When baby sea turtles are born, they must move from the relative safety of the buried nest of eggs as they hatch and make their way to the greater safety of the sea. Their migration is rather remarkable. It has been known for a while that street lights can create enough light to mask any turtle's natural means of orientation and lead to its death, but now educational efforts are paying off with "darkened beaches" so that nature's light can orient the little hatchlings to safety.
For further thought:
How can the light of God help to orient our lives?

What other distractions can lead us astray and lure us to death?

Read Psalm 27 again and see how clearly the psalmist encourages a focus upon God to bring us light and salvation.
Thank You, Father, for the way Your light guides us and orients our lives. Thank You, Jesus for being our light and our salvation. Shine, Jesus, shine in our lives! May we reflect Your glory and always be confident in sharing You with a watching world. Amen.