Christian, tame your tongue– your light was meant for good, not arson.
I've been praying a long time on this one.  Hard words: Tame your tongue… (sigh).  Sometimes, I don't like my role in the body of Christ too much. But, I understand now. I am a watchman of sorts. A semi-permeable membrane, one little person standing outside of the church with everyman's Christian mission:  to let Christ's light shine brightly from the Light of the World into a world of evil…while doing my level best to keep the fuel of an evil culture from mixing with it to burn the whole place down.  Through the prophet Micah, God spoke of a day when people would turn away from the ways of God.
Micah 7:1 What misery is mine! I am like one who gathers summer fruit at the gleaning of the vineyard; there is no cluster of grapes to eat, none of the early figs that I crave. 2 The godly have been swept from the land; not one upright man remains. All men lie in wait to shed blood; each hunts his brother with a net. 3 Both hands are skilled in doing evil; the ruler demands gifts, the judge accepts bribes, the powerful dictate what they desire– they all conspire together. 4 The best of them is like a brier, the most upright worse than a thorn hedge. The day of your watchmen has come, the day God visits you. Now is the time of their confusion.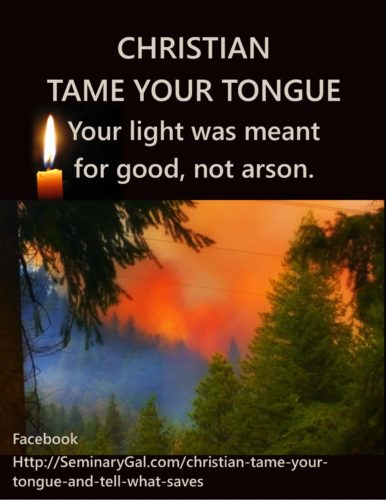 5 Do not trust a neighbor; put no confidence in a friend. Even with her who lies in your embrace be careful of your words. 6 For a son dishonors his father, a daughter rises up against her mother, a daughter-in-law against her mother-in-law– a man's enemies are the members of his own household. 7 But as for me, I watch in hope for the LORD, I wait for God my Savior; my God will hear me.
Do you not see what's happening?
Christians are losing track of words, losing sight and perspective, and worse, losing their light of witness.  Words, they're spreading fire and propagating confusion.
James 3:5b Consider what a great forest is set on fire by a small spark. 6 The tongue also is a fire, a world of evil among the parts of the body. It corrupts the whole person, sets the whole course of his life on fire, and is itself set on fire by hell.
Tame your tongue.  It's not unloving to point that out. It's what God also spoke to Ezekiel: Ezekiel 3:17 "Son of man, I have made you a watchman for the house of Israel; so hear the word I speak and give them warning from me. 18 When I say to a wicked man, 'You will surely die,' and you do not warn him or speak out to dissuade him from his evil ways in order to save his life, that wicked man will die for his sin, and I will hold you accountable for his blood. 19 But if you do warn the wicked man and he does not turn from his wickedness or from his evil ways, he will die for his sin; but you will have saved yourself. 20 "Again, when a righteous man turns from his righteousness and does evil, and I put a stumbling block before him, he will die. Since you did not warn him, he will die for his sin. The righteous things he did will not be remembered, and I will hold you accountable for his blood. 21 But if you do warn the righteous man not to sin and he does not sin, he will surely live because he took warning, and you will have saved yourself."
I am not perfect. I do not speak perfectly, but my heart genuinely wants to turn us all to the One who is perfect…and to remember what He has called us to do: Tell of Him, Jesus Christ, who is the Way, the Truth, and the Life.
No Christian should choke his fellow man for 100 denarii (Matthew 18:28). 
Shouldn't you have had mercy on your fellow servant just as I had on you?' (Matthew 18:33)

From the lips of Jesus, about refusing to be merciful

"This is how my heavenly Father will treat each of you unless you forgive your brother or sister from your heart." (Matthew 18:35)
Be one of those who watches in hope for the LORD, who waits for God as Savior, who trusts that God will hear his prayers, and will see his efforts as carefully speaking and spreading only the truth.
The point is simple really.  Good news saves people. May we all learn how to tame the tongue and use our light to tell words of hope…of the One who saves.