This Sunday, 21 August
2011, will be the first day of Sunday morning chapel services at
The Nemmers Family Chapel at Advocate Condell Hospital
.  I am very excited about presenting a series of messages with the theme "God is My Deliverer."  In my volunteer role as coordinator of these services, I have elected to share this blessing with others, including those who have wanted to serve God in a greater capacity than their current church involvement allows.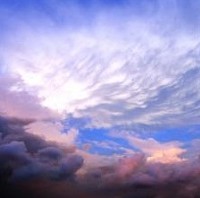 Our worship in song and Scripture will be unified by this theme of hope and deliverance.  Each week, we will have the privilege of hearing from different volunteers from area churches representing different Christian denominations.  We hope to give patients, visitors, and the staff at the hospital a taste of various worship expressions ongoing at area churches in addition to opportunities for being encouraged by the Gospel each week.
 A diversity of people unified under the banner of Jesus Christ–all worshiping God–is like a little glimpse of heaven. 
I am particularly thrilled at the answer to a Seven Year Prayer to be able to use the gifts God has given me in service to Him.  A clear Gospel presentation will offer hope to those who presently face life's tough questions, who find themselves in difficult circumstances, or who just need a little bit of peace at this time in their lives.
There is no better place to bring the encouragement of the Gospel, the love of Christ, and assurance of God's faithfulness than directly to those most in need.  Patients will be able to view chapel services via closed circuit television.  The preaching schedule for the fall term is posted below.
Please join me in prayer for God's favor upon this important ministry of worship, presentation of the Gospel, and offering of hope and encouragement.
For His glory,
Barbara Shafer <><
Schedule of Messages:  August – December 2011
21-Aug … Deliverer in the Garden—Barbara Shafer, Christ Church Highland Park
28-Aug … Noah's Deliverer—Rev. Rick Sutton, Lakeview Presbyterian
4-Sep … Abraham's Deliverer—Part 1—Dr. Nathan Clayton, Christ Church Lake Forest
11-Sep … Abraham's Deliverer—Part 2—Rev. Chris Gearhart, Lakeview Presbyterian
18-Sep … Abraham's Deliverer—Part 3—Barbara Shafer, Christ Church Highland Park
25-Sep … Abraham's Deliverer—Part 4— Rev. Chris Gearhart, Lakeview Presbyterian
2-Oct … Jacob's Deliverer—Matthew and Kate Haslar, Trinity Evangelical Divnity School
9-Oct … Joseph's Deliverer–Rev. Dr. Brian R. Paulson First Presbyterian Church (Libertyville)
16-Oct … Moses' Deliverer—Part 1—Jeremy Woods, Crossroads Church, Grayslake
23-Oct … Moses' Deliverer—Part 2—Barbara Shafer, worship choir from Libertyville Covenant Church
30-Oct … Ruth's Deliverer —Rev. Pat Handley, Christ Church Lake Forest
6-Nov … David's Deliverer—Part 1—Rev. Jason Tan, Christ Church Lake Forest
13-Nov… David's Deliverer—Part 2—Rev. Chris Gearhart, Lakeview Presbyterian
20-Nov… in honor of Thanksgiving (Nov 24)—testimonies of God's deliverance through Jesus Christ:  Bill Slater, Mary Hamrick
27-Nov… Jesus, God's Ultimate Deliverer (Expectancy/Hope)—Toni Groshek special music program
4-Dec … Jesus, God's Ultimate Deliverer (Prince of Peace)—Gerard Long, ALPHA USA
11-Dec… Jesus, God's Ultimate Deliverer (Gaudette–Rejoice!) —Adam Dolezal, Trinity Evangelical Divinity School
18-Dec… Jesus, God's Ultimate Deliverer (For God So Loved the World) —Barbara Shafer, Christ Church Highland Park
25-Dec… Jesus, Emmanuel, God's Ultimate Deliverer –Jennifer Aycock, Trinity Evangelical Divinity School