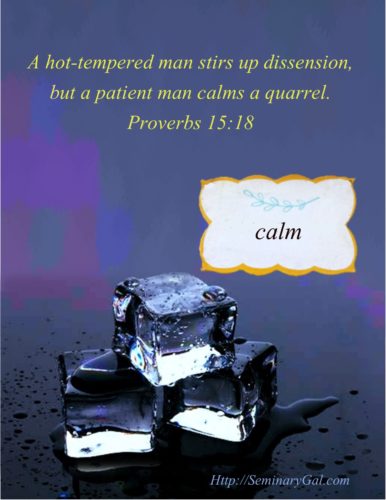 One of the Tiny Virtues for Exemplary Christian Living can easily go unnoticed, a character virtue of being calm. Just think how easy it is to become riled up over the latest atrocity or scandal. How easy to fly off the handle at some perceived insult. How quickly we can unfriend or hide posts of those with whom we disagree. How easy it is to panic. To rush in and play the fool. Cultivating a spirit of calm is wisdom and the cure for all that.
Abigail possessed a spirit of calm.
1 Samuel 25 tells her story.
1 Samuel 25: 2 A certain man in Maon, who had property there at Carmel, was very wealthy. … 3 His name was Nabal and his wife's name was Abigail. She was an intelligent and beautiful woman, but her husband, a Calebite, was surly and mean in his dealings.
Nabal means Fool and he lived it to the last inch. Abigail, however, heard that his foolish actions threatened the lives of many at the hand of King David. One of her servants relayed this urgent request: 1 Sam 25: 17 "Now think it over and see what you can do, because disaster is hanging over our master and his whole household. [Nabal] is such a wicked man that no one can talk to him."
Many people would panic. Not Abigail. She had a spirit of calm even when pressed. 1 Samuel 25:18 Abigail lost no time.… [She prepared gifts and brought them to King David.] 24 She fell at his feet and said: "My lord, let the blame be on me alone. Please let your servant speak to you; hear what your servant has to say. 25 May my lord pay no attention to that wicked man Nabal. He is just like his name– his name is Fool, and folly goes with him. But as for me, your servant, I did not see the men my master sent. 26 "Now since the LORD has kept you, my master, from bloodshed and from avenging yourself with your own hands, as surely as the LORD lives and as you live, may your enemies and all who intend to harm my master be like Nabal. 27 And let this gift, which your servant has brought to my master, be given to the men who follow you. 28 Please forgive your servant's offense, for the LORD will certainly make a lasting dynasty for my master, because he fights the LORD's battles. Let no wrongdoing be found in you as long as you live."
Her crowning words were, 1 Samuel 25:30 When the LORD has done for my master every good thing he promised concerning him and has appointed him leader over Israel, 31 my master will not have on his conscience the staggering burden of needless bloodshed or of having avenged himself."
King David not only acknowledged the gift, relenting from avenging himself over the offense of Nabal, but he also praised Abigail's selfless spirit of calm, her wisdom, and good judgment.
Ponder today: the ways you can keep your attitudes, actions, and emotions calm as an expression of wisdom
Proverbs 15:18 A hot-tempered man stirs up dissension, but a patient man calms a quarrel.
Bible characters of the day: Abigail, Nabal, and King David