I can't tell: am I angry or grieved?  Maybe both.  Both, I suppose, are suitable responses to Discrimination.  In my recent series of Asking All the Wrong Questions, I've stated that Good Theology Must Answer Hard Issues…and it does so with the redemption of the Gospel.  It does so with Truth and Love.
In the last few weeks I've seen television coverage of the shootings at the Sikh temple in Wisconsin, the carnage at a movie theater in Colorado, Trayvon Martin's death, Chicago gang shootings, and even an act of violence against the American Family Institute.
I've been comparing and contrasting what drives the American curiosity and concern.   It's not good.  And I'm appalled.
On top of that, out of the blue I've encountered people who are unabashed segregationists and separatists who believe that desegregation has only contributed to problems.  Furthermore on TV, we have witnessed an increasing number of self-proclaimed supremacists—and that makes me angry.
What happened to the dream of Dr. Martin Luther King, Jr.?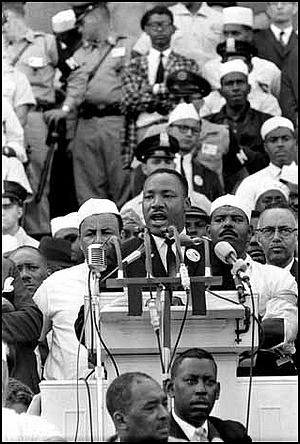 (Click here to listen to the full audio of this powerful speech, excerpted below)
"And so even though we face the difficulties of today and tomorrow, I still have a dream. It is a dream deeply rooted in the American dream.
I have a dream that one day this nation will rise up and live out the true meaning of its creed: "We hold these truths to be self-evident, that all men are created equal."
I have a dream that one day on the red hills of Georgia, the sons of former slaves and the sons of former slave owners will be able to sit down together at the table of brotherhood.
I have a dream that one day even the state of Mississippi, a state sweltering with the heat of injustice, sweltering with the heat of oppression, will be transformed into an oasis of freedom and justice.
I have a dream that my four little children will one day live in a nation where they will not be judged by the color of their skin but by the content of their character."
Regarding that dream, there are those who say, "We're already there.  We are completely desegregated.  Racial discrimination is a thing of the past." 
I would disagree.  Rather, I'd say that over and over again, we've traded one form of discrimination for another and yet in America, we haven't really dispensed with any.
It's why—in a shameless act of indifference—the news media gave a giant yawn over the Sikhs and don't even blink an eye at the ongoing violence in the City of Chicago, but can't get enough of Trayvon Martin, the issue of amnesty for illegal immigrants, or throwing down "the race card" whenever it might possibly deflect responsibility from those who don't want to accept legitimate criticism or when racial guilt or fears of being called the epithet racist might fill in the gap for insufficient qualifications.  No person of color I know wants lower or higher standards set for someone basis skin color alone.  This is at the heart of racial discrimination and it is not good.
Diversity, however, is good!  We see the beauty of human diversity throughout Scripture. 
Plenty of people purportedly want a "color-blind society."  I want a "color-full society" in which each person's beauty shines in a biblical kind of diversity.  Yes, with every skin tone, a "color-full" display of moral excellence and accomplishment in advancing truth, love, knowledge, and faith.
But for far too many Americans, this diversity has become diminished in quality, filtered through the lens of racism.  It's a thin diversity.  And it only goes skin deep. 
If so many people want discrimination to end, why is it still an issue?
Because racism and discrimination sell–that's my guess.  Perpetuating division sells newspapers, gains fundraisers, secures votes, increases viewership, and employs special interests.  Do we see it in the unwillingness of certain television networks to show political convention speeches—even little soundbytes from these quite eloquent speakers—because they are people of color who believe differently than the stereotype?
That's discrimination, is it not?
What would Martin Luther King Jr. say about the ongoing trumpeting of our President's being the "first black President?"  I can only imagine both he and our President would want his legacy to reflect better things than just being born of a darker skin color, as if melanin might constitute his highest and greatest achievement on behalf of the American people.  Celebrate a milestone, yes!  But as one who had a milestone event of my own, rather than rest on that rock forever, I pray for God to use me to change our culture in the best possible ways: stopping evil's insidious creep, and seeking God's favor to advance truth and love. A turning point, not a journey's end.
Discrimination—whether in favor of one or against another—is wrong.  It matters little whether it's racial or gender discrimination.  If it grieves the heart of God who created this glorious diversity, shouldn't I be angry or grieved, or both? 
If civil rights marches and media coverage can't change this problem, how can it be changed?  Good Theology Answers Hard Issues when we see each other through the Gospel's truth and love.
The wrong question for our culture is, "Has Racial Discrimination Disappeared from America?"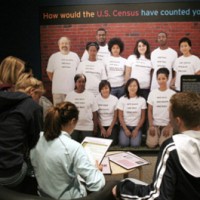 It clearly has not.  Skin color, race, or ethnicity trumps character in so many ways.  Polls, crime statistics, educational standards, affirmative action, the Census, and an administration that "looks like America":  these determinations are almost always basis characteristics that are skin deep.
That's why the Right Question—for changing a culture—is, "How well do we see the Image of God in our fellow man?"
Or as Dr. Martin Luther King Jr. dreams, have we ceased judging others—favorably or negatively—by skin color and are we free at last to judge by "the content of their character?"
A deep understanding of the Image of God ought to inform our judgments.  Seeing the Image of God in our fellow man ought to make issues of race disappear.  Let's go beyond skin deep on the next page.