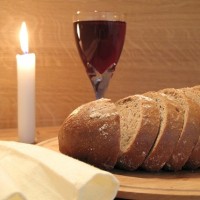 1 Corinthians 11:23 For I received from the Lord what I also passed on to you: The Lord Jesus, on the night he was betrayed, took bread, 24 and when he had given thanks, he broke it and said, "This is my body, which is for you;  do this in remembrance of me." 25 In the same way, after supper he took the cup, saying, "This cup is the new covenant in my blood; do this, whenever you drink it, in remembrance of me." 26 For whenever you eat this bread and drink this cup, you proclaim the Lord's death until he comes. 27 Therefore, whoever eats the bread or drinks the cup of the Lord in an unworthy manner will be guilty of sinning against the body and blood of the Lord. (NIV)
Do this in remembrance of me."
On the very night He would be betrayed by those He came to save, the Lord Jesus gave us a way of remembering Him. 
 This way remembers His death.
Most of us cherish memories of the life of our loved ones—happy times we had together, favorite places we would go, vacations we took, laughter we shared, or hobbies we enjoyed with them.
What does Jesus want? 
He wants us to cherish His death—indeed, to proclaim it.
Isn't it strangely beautiful?  Rather than asking us to remember happy things we could only know second-hand from reading Scripture, the Lamb of God—Jesus Christ—shows us that His sacrificial death is for us, in whatever age we live.
In a sense, we transcend time because we were there in the betrayal as far back as Eden. 
We were there in spirit the night Jesus was betrayed. 
We were alongside those shouting, "Crucify Him!," not knowing what we were doing.   
We share in the inheritance of sinners.
But followers of Christ also share in salvation's beautiful hope by the blood of the Lamb: His death for us.
So, Jesus calls us to communion with Him as we share the bread and cup and remember His death.
While they were eating, Jesus took bread, gave thanks and broke it, and gave it to his disciples, saying, 'Take and eat; this is my body.'" (Matthew 26:26)
In the Garden of Eden, we took and ate…and received separation from God.  In the Passover, Jesus says, "Take and eat" and by the New Covenant in His blood, He restores us to fellowship with our Father.  Come to Jesus' table and come to the Cross where love and judgment meet.
Unlike some pilgrimage to a distant holy site, this coming home to our Father is inward. We transcend our generation through a timeless fellowship meal during which we proclaim Jesus' death.
It's a spiritual pilgrimage to the heart where His death whispers salvation to all who hear and believe.  This is My body, broken for you.  This is My blood, shed for you.  A simple act.  A simple meal.  Yet what an amazing remembrance!
======
Questions:
Imagine having to pack up for a trip to a designated location once a year to worship God.  How is the Passover meal more accessible to everyone in the world?
Are there ways in which the concept of eating the body and drinking the blood of Christ seems repulsive?  Why do we feel that way?
The Passover Meal we celebrate as Communion is sometimes called The Eucharist (coming from the Greek word meaning "give thanks" and closely related to the word meaning "grace").  Ponder the many ways in which the terms Eucharist and Communion are appropriate.
=====