The world is filled with people who don't know contentment. They aren't content with their jobs, their spouses, their children, their diets, their accomplishments, or their political candidates. (Figured I might as well add that one since everyone's thinking it anyway.) In many cases, they feel as if they're owed something better, something more.
What a difference it would make if we all excelled in one of Tiny Virtues for Exemplary Christian Living, the one called Contentment!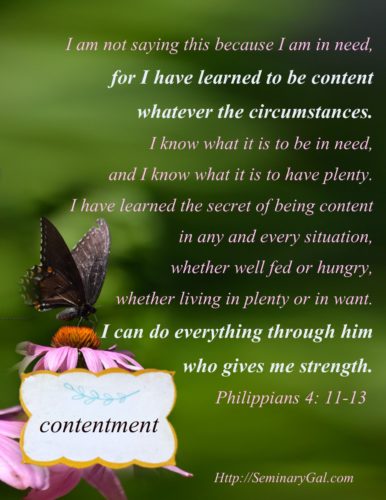 The Apostle Paul knew contentment and spoke about it often. Philippians 4: 11 I am not saying this because I am in need, for I have learned to be content whatever the circumstances. 12 I know what it is to be in need, and I know what it is to have plenty. I have learned the secret of being content in any and every situation, whether well fed or hungry, whether living in plenty or in want. 13 I can do everything through him who gives me strength.
Paul tells us the secret and it involves God and recognizing His provision. Yet so many people today refuse to embrace God and know the contentment He can cultivate in our hearts. Instead, they rely upon false doctrines, teaching them of what other people owe them. Some of these false doctrines are being taught by people who are supposedly pastors.  God has something to say about that:
1 Timothy 6:3 If anyone teaches false doctrines and does not agree to the sound instruction of our Lord Jesus Christ and to godly teaching, 4 he is conceited and understands nothing. He has an unhealthy interest in controversies and quarrels about words that result in envy, strife, malicious talk, evil suspicions 5 and constant friction between men of corrupt mind, who have been robbed of the truth and who think that godliness is a means to financial gain. 6 But godliness with contentment is great gain. 7 For we brought nothing into the world, and we can take nothing out of it. 8 But if we have food and clothing, we will be content with that.
Ponder today: the connection between ongoing strife and the continual absence of God in one's life
Bible character of the day: Paul